What Is Stassi Schroeder's Real Name?
Featureflash Photo Agency/Shutterstock
Stassi Schroeder was an original cast member on "Vanderpump Rules," and she had that polarizing ice princess thing down to a tee. For the first eight seasons of the show, the OG SURver was a master at shade-throwing and off-the-cuff one-liners. But in June 2020, her reign as a reality TV queen came to a screeching halt when Schroeder was fired from the Bravo hit amid a racism scandal. 
Schroeder wrote all about her fall — and cancellation comeback — in her 2022 book, "Off With My Head". As she got vulnerable about her past mistakes and biggest regrets, fans got an inside look at her post-"Vanderpump Rules" life as well as her new chapter as a mother after Schroeder gave birth in January 2021 to her first child, a daughter she named Hartford.
But even with this purging of information, do fans know the real Stassi Schroeder? Turns out, even her name isn't the total real deal.
Stassi Schroeder's real name has a lot of syllables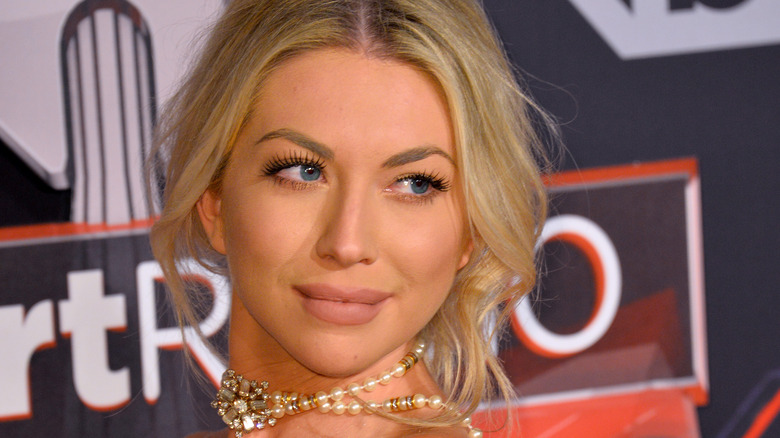 Featureflash Photo Agency/Shutterstock
Stassi Schroeder is not the same girl who grew up in New Orleans, Louisiana. After Schroeder moved to Los Angeles and joined "Vanderpump Rules," she admitted to having chin implant surgery to change her face, per Bravo. Schroeder is open about her plastic surgery transformation, which took place when she was 19 years old and was a graduation gift from her parents. In her first book, "Next Level Basic," Schroeder admitted she was "desperate" for a larger chin and defined jawline, per Bravo.
However, Schroeder has been less forthcoming about some of the more basic things, like her real name. While Stassi was the name she used on 'Vanderpump Rules," in reality, that's just a nickname. According to Bustle, the former Bravo star's actual name is Nastassia Bianca Schroeder. Add her married last name, Clark, to the mix, and that is one long moniker.
Schroeder has said very little about the meaning behind her real name, but in 2017, she tweeted, "Nastassia Bianca Schroeder. (What was my mom thinking?)."
Stassi Schroeder gave her daughter a long name, too
Stassi Schroeder did a lot of thinking when it came to her daughter's name, but it all started with a dream. In January 2021, Schroeder and her husband, beau Clark, welcomed daughter Hartford Charlie Rose Clark. Schroeder's baby's name was inspired by family members on each side of Hartford's family.
A Reddit thread noted that Schroeder once told fans on Instagram that the baby's first name came after Clark had a dream that they named their daughter Hartford, and that once they learned the baby had a hole in her heart (which has since healed, per Reality Blurb), the name just "stuck." According to People, the name Charlie was used in honor of Clark's father, and Rose was Schroeder's grandmother's name.
Early on, Schroeder gave her daughter a funny nickname. "We call her 'Velo' (short for velociraptor), bc she has major baby dinosaur vibes, ESP when she cries, whines or tries to poop," the new mom wrote on Instagram in March 2021. Now that Hartford is a toddler, she is often called "Beaut" by her proud mama, who clearly loves a good nickname.