The Truth About Hunter Schafer And Jacob Elordi's Alleged Feud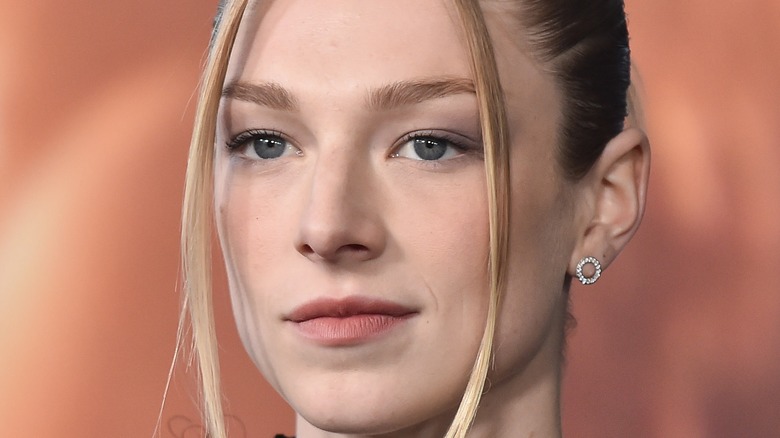 DFree/Shutterstock
Hunter Schafer and Jacob Elordi's characters in HBO's "Euphoria" have a lot of drama on-screen. However, some fans believe that the pair's relationship in real-life is just as complex. The teen drama series sees Schafer and Elordi star as Jules Vaughn and Nate Jacobs, respectively. The characters, both students at the fictional East Highland high school, have a complicated dynamic. In Season 1, Nate discovers a sex tape of Jules and his fairly trouble father, Cal Jacobs (played by Eric Dane). Nate then joins a dating app and begins to actively pursue Jules, using the name Tyler. Upon their first meeting, Nate reveals that he is behind the profile, and blackmails Jules in an attempt to protect his father's secret.
To make matters even more complex, Elordi's character appears to have developed feelings for Jules during his catfishing venture, which left many fans yearning to see their relationship develop further in Season 2. However, some believe that Schafer and Elordi are feuding behind the scenes, causing further turmoil on-set.
Hunter Schafer and Jacob Elordi's feud explained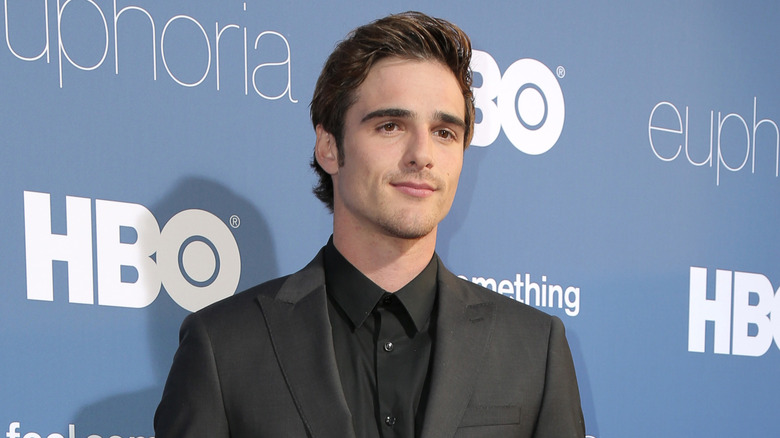 Kathy Hutchins/Shutterstock
Following an extremely successful first season, fans of "Euphoria" were undoubtedly waiting to see what drama would unfold in the second installment. However, internet sleuths claim that additional precautions were taken so that Hunter Schafer and Jacob Elordi did not have to film together. The unconfirmed theory was outlined by a Reddit user, who noted that Schafer and Elordi — who star as Jules Vaughn and Nate Jacobs — appear less close than before.
According to the post, Schafer and Elordi once had a strong relationship that included sharing images of each other online, and Elordi referring to his co-star as "his favorite person in the cast." The Reddit user goes on to theorize that the images of Elordi and Schager were deleted after the actor was romantically linked to "Euphoria" frontwoman, Zendaya. Fans later noted that Schafer and Elordi had unfollowed each other on social media. And while their reported feud is largely based on speculation, some believe that the drama between the two became so grave that the writers altered the script as the pair refused to film together.
The drama appears to be over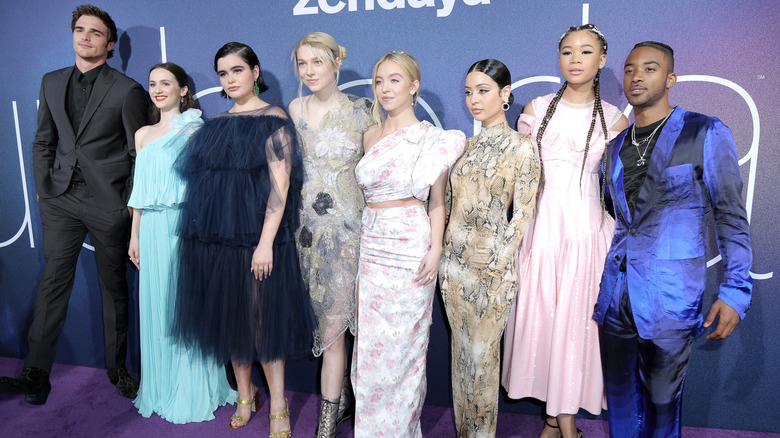 Kathy Hutchins/Shutterstock
Hunter Schafer and Jacob Elordi have never publicly addressed the speculation surrounding their alleged on-set feud, but it does appear that the two have reconciled. Despite reports that the pair had unfollowed one another on social media, both actors are now following the other on Instagram. Schafer even shared an image of herself and Elordi — along with the rest of the "Euphoria" cast — from the Season 2 premiere in January.
And while Schafer nor Elordi have even explicitly confirmed or denied their rumored feud, Elordi has previously explained the importance of Schafer's role on the popular show. "If you want honesty and truth and you want to portray people properly," Elordi told GQ, on casting a trans actor in the role — as Schafer is trans herself. Elordi added, "You have incredible actors out there — it's the way that it should always be done."
No word yet on if fans will get to see a more detailed follow-up to the Jules and Nate storyline, but for now, things at least appear amicable.