What Is One Tree Hill's Jackson Brundage Doing Today?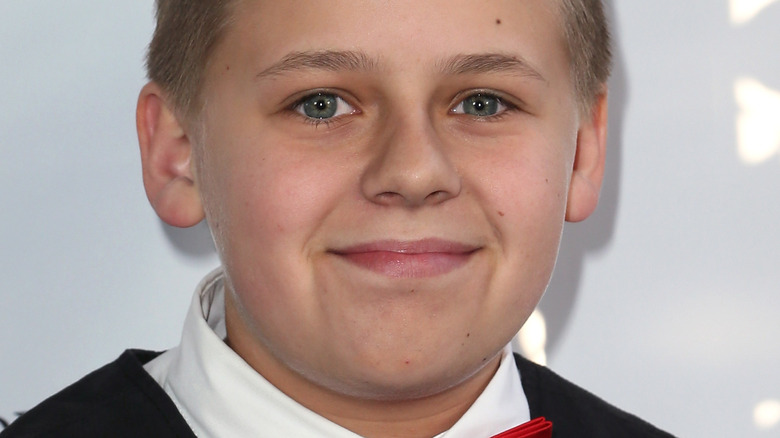 David Livingston/Getty Images
Ranked one of the best teen TV dramas of all time by Seventeen, "One Tree Hill" explored many different themes cutting across basketball, love, friendship, betrayal, and of course, the ever-so-chaotic lives of teenagers-slash-young adults trying to find their place in the world. Having premiered in 2003, "One Tree Hill," was no doubt, an integral part of growing up for many American millennials of today. And while most of the cast — including Chad Michael Murray, who ended up walking away from the show — were teenagers transitioning into adulthood at the time, a few others were literally just starting off their lives. Take, for instance, Jackson Brundage.
Introduced to the show in Season 5 as 9-year-old Jamie Lucas Scott — Nathan and Hayley Jamie Scott's son — Brundage quickly rose to become a fan favorite. Witty, adorable, and wiser beyond his years, Brundage's character went on to become a regular, appearing in a total of 99 episodes, per IMDb. By the time "One Tree Hill" ended in 2012, Brundage was only 12 years old. So yeah, it's no wonder fans are interested in what he's been up to since then.
Jackson Brundage continued acting
In the years since "One Tree Hill's" ended, Jackson Brundage continued pursuing his acting career, albeit with a focus in TV. Per IMDb, in 2012, the same year "One Tree Hill" ended, Brundage landed a role on the sitcom, "See Dad Run," where he appeared alongside veteran actor Scott Baio, who acted as his father. Not only did these two give us a good laugh on the show, Brundage apparently had a good time working with Baio. "Working with Scott is so awesome," Brundage told Sweety High in 2013. "He is really funny and supportive of everyone. It's great to work with someone who started in the business when he was young also, so he understands what we kids have to go through with work and school."
His last acting credit came in 2015, but In Hollywood, it is not uncommon to see actors pivoting to the director's chair. Could Brundage make that jump? Possibly — if his words from 2010 are anything to go by. When asked if he would be interested in directing in the future, the young actor told Hollywood the Write Way: "Yeah, I would like to do it. I can't put enough work hours to do it now but I have provided ideas for the directors." Now, it isn't certain if Brundage's interest in directing still stands, but whatever it is, he pretty much would be awesome. No doubt about that one!
Jackson Brundage is officially legal
You might have a hard time thinking of Jackson Brundage as anything other than little Jamie Lucas Scott but believe it or not, presently the young actor is anything but little. In January, Brundage turned 21 and shared the news in, well, the most Gen Z way possible. "21 today! Any alcohol recommendations?," he quipped on his Instagram Story (via E! News).
And even though "One Tree Hil" ended a decade ago, Brundage has seemingly maintained a close relationship with his former co-stars. In 2020, the Daily Mail reported that the young actor received a birthday shout out from Barbara Alyn Woods — who played the role of Deb Scott, his on screen grandmother on the show. Also, taking a scroll through his Instagram page, you are most likely to catch images of Brundage hanging out with some of the "One Tree Hill" cast members. Either that, or fans gushing over the actor's glo up. Oh well, if this does not scream close bond, we don't know what does!