Startling Confessions From Demi Lovato's Documentary Simply Complicated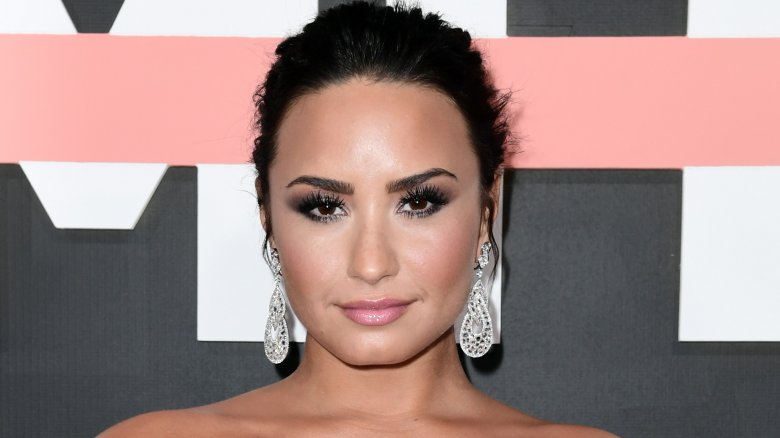 Getty Images
Demi Lovato has been an open book and an activist pretty much forever. Indeed, over the years, she's raised awareness of eating disorders, self-harm, mental illness and substance abuse by being candid about her own struggles. On top of all that, she's even documented her love life on social media. 
And yet, as it turns out, there's a lot we actually never knew about the "Confident" singer.
With the help of friends and family, including the Jonas Brothers, her sober coach and her mother, Lovato came clean about everything from getting clean to her struggles with sobriety and mental health in the surprisingly candid YouTube documentary, Demi Lovato: Simply Complicated. 
Here's everything we learned about Lovato and her tumultuous, yet ultimately inspiring life from the jaw-dropping doc.
Her relationship with her father was heartbreaking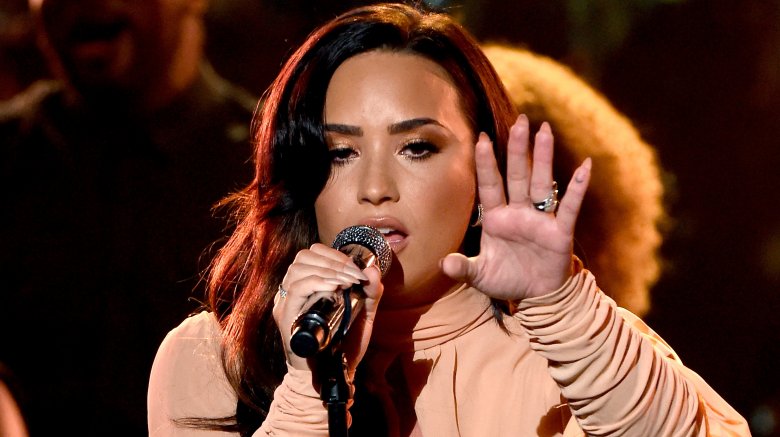 Getty Images
Lovato sings about "Daddy Issues" on Tell Me You Love Me, and hers are no joke. Her mother, Dianna De La Garza, revealed that she struggled with the decision to leave Lovato's father, Patrick. According to the documentary, Patrick struggled with addicted to drugs and alcohol, which gave him a bit of a Jekyll and Hyde persona — sweet when sober, monstrous when not. In heart-wrenching footage, Lovato can be seen telling her stepfather that he was "better" than her "other daddy."
Lovato's sister Dallas said that Patrick "would rage and yell and throw things, and Demi saw that." One of Lovato's childhood friends, Marissa Callahan, revealed, "He would tell them he had cancer when he didn't. Or he would tell them he's dying tomorrow, when he wasn't."
Patrick's addictions helped to mold Lovato's, and she believes that's what led her to substance abuse at a young age. "My dad was an addict and an alcoholic," she said, "and I guess I always searched for what he found in drugs and alcohol because it fulfilled him and he chose that over a family."
The New York Daily News reported that Patrick passed away from cancer in 2013. Lovato paid tribute to him with her song "Father" off of her album Confident.
She struggled with depression and severe bullying as a kid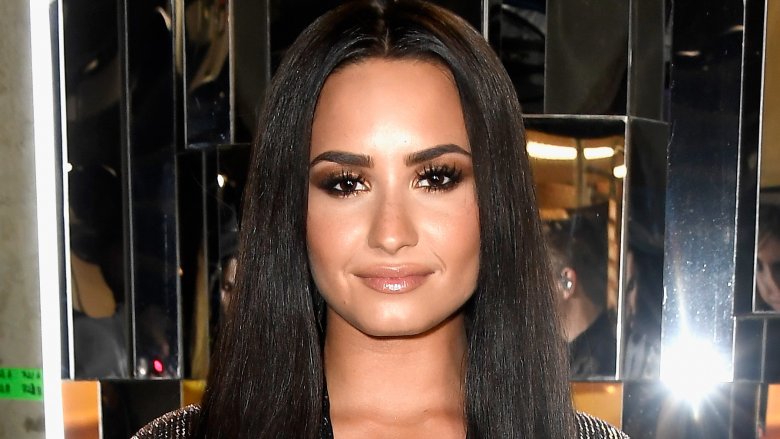 Getty Images
When Lovato was young, she was obsessed with death and dying, and it wasn't until later that she realized it was likely because of her mental illness.
"Even though the dynamic in our family was always very loving and very open, on the other hand, we were also very closed off and secretive as well," she said. "I was depressed at a very, very young age, fascinated with death, wondering what it would be like to have a funeral. I never knew why I would think so darkly and it took me a long time to figure out what was actually going on."
Lovato's issues were likely exacerbated by the severe bullying she experienced when she was just 12 years old.
"When I was 12, I was bullied. I developed a social anxiety where I didn't trust other girls my age," she said. "Then one day, this girl who was popular started saying, 'Demi should kill herself. She should slit her wrists.' And it resulted in a suicide petition that got passed around and she had other classmates sign it," she revealed. "When I asked them why, nobody could give me a specific reason why they were treating me the way they were. I had no friends. I was alone. So I went off of what they were calling me, which was a w***e and being fat." Lovato described the girls as "pure f**king evil," which, honestly, sounds about right.
Her biggest demon is her relationship with food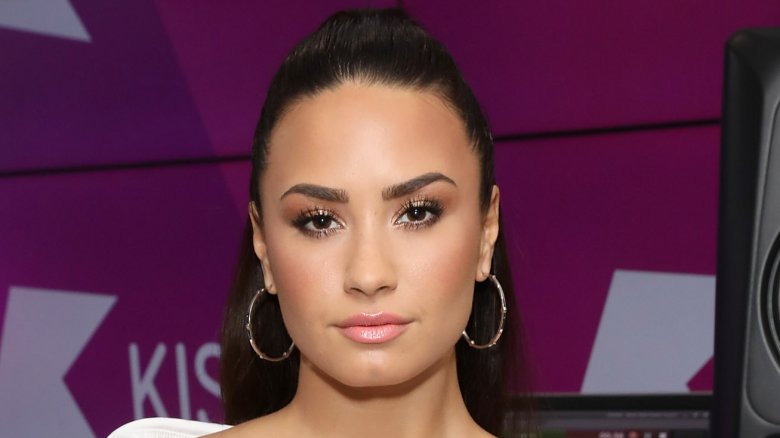 Getty Images
Though Lovato struggled with bipolar disorder, self-harm and drug abuse, she's still having the hardest time with the recovery from her eating disorder, which she said was a problem before any of her other issues were.
"The food came first," she said. "When I was 8 years old and my little sister was born, a lot of the attention was taken off me and onto my little sister. I had started working at that time and was under a lot of stress, so I would bake cookies for my family and I would eat all of them and nobody would have any to eat. That was my first memory of food being that medicine for me."
Today, Lovato says, "Food is still the biggest challenge in my life ... I don't want to give it the power that it controls my every thought, but it's something that I'm constantly thinking about. Body image, what I wish I could be eating, what I wish I could be eating next, what I wish I didn't eat — you know, it's just constant. I get envious towards people who don't struggle with an eating disorder because I think my life would be so much easier."
De La Garza, a former Dallas Cowboys cheerleader, admitted that she had her own issues with food, which she may have passed along to Lovato.
"I may have passed that along to my kids — that [feeling of] wanting everything to be perfect and the need to be thin and beautiful to be successful," De La Garza said. "[I should have told Lovato] 'This isn't what you need to aspire to be like. This is not healthy.' I never thought to say those things to her, because I didn't know myself."
She first tried cocaine at 17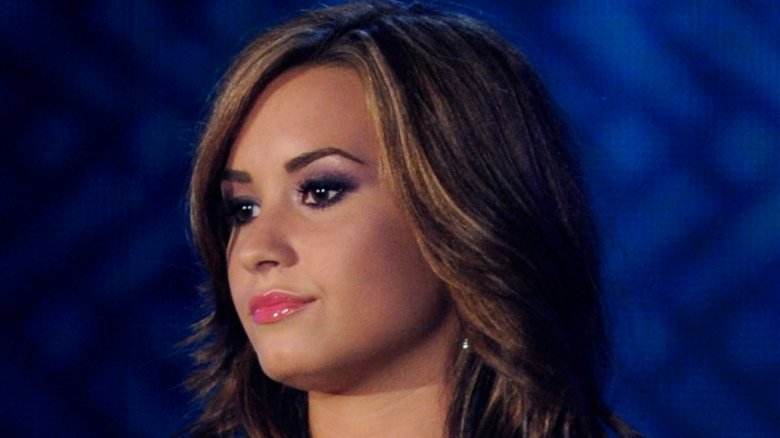 Getty Images
Lovato's first experiences with cocaine began before she turned 18.
"My first time doing coke, I was 17 working on Disney Channel, and I was with a couple of friends and they introduced me to it," Lovato confessed. "I was scared because my mom always told me that your heart could just burst if you do it. But I did it anyways and I loved it. I felt out of control with the coke the first time that I did it."
The Jonas Brothers tried to intervene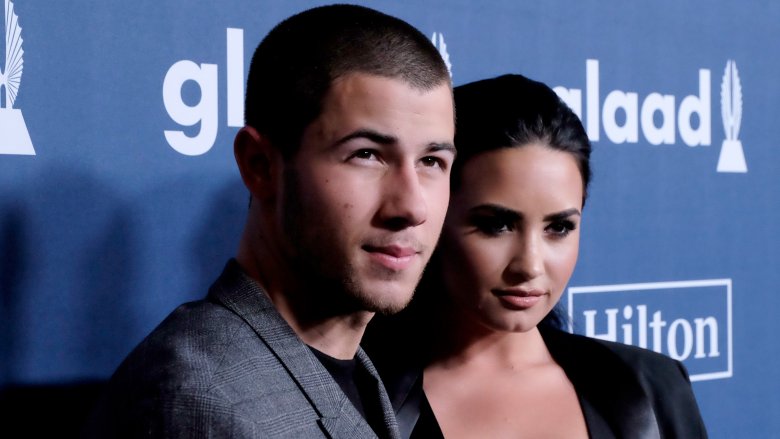 Getty Images
Lovato's manager, John Taylor, revealed that in 2010, Lovato's Disney Channel pals the Jonas Brothers began to see the "Skyscraper" singer "veering in a different direction." Specifically, Nick Jonas took the lead when Lovato's relationship with his brother, Joe, "had become really complicated."
"I was playing the bridge [between Joe and Lovato] ... It became really good between she and I for a while, growing closer than we've ever been," he explained. "I remember thinking in my head, I felt a bit of pride about it, like selfishly maybe I was helping her [get] back to being the Demi we know and love. [I was like] 'She's not going to do anything crazy. She'll be fine.' And then this episode happened."
'The episode' was even worse than the world knew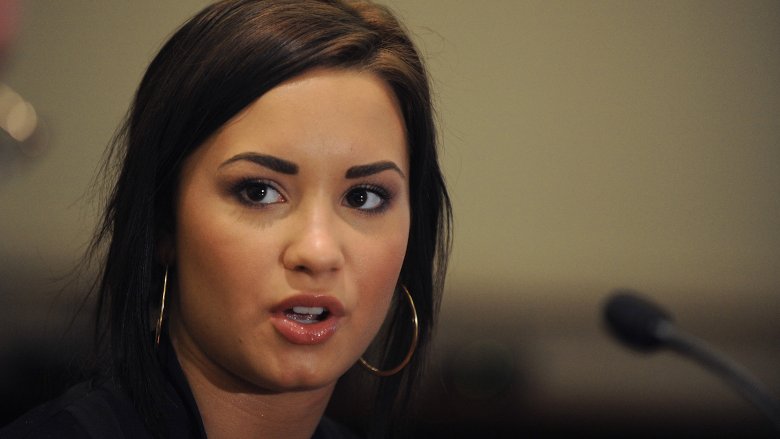 Getty Images
By now you've likely heard the story of how Lovato punched a backup dancer while on tour with the JoBros in 2010, but no one really knew the details until Simply Complicated dropped. In the film, Lovato reveals that she had bought everyone in her band and all of her dancers dinner, complete with a ton of booze. That's how everything began.
"Somebody ended up getting weed," Lovato said. "I was on Adderall, and we had trashed the hotel. The hotel was threatening us. They went up to some of the dancers and asked what happened ... I think somebody told on me using Adderall. Someone told Kevin Jonas Sr." Lovato revealed that the next day, when she knew was in trouble, she asked the Jonas patriarch who had told on her because she wanted to thank them for looking out for her. He admitted that it was Alex "Shorty" Welch, with whom Lovato had been close. That confession turned out to be a huge mistake.
"I manipulated him into telling me who it was," she said, adding, "I remember thinking, 'I'm about to beat this b***h up.'" Lovato punched Welch square in the face, then went to sleep. Her team promptly checked her into rehab for the first time in November 2010.
Her prolific songwriting may have been a result of her bipolar disorder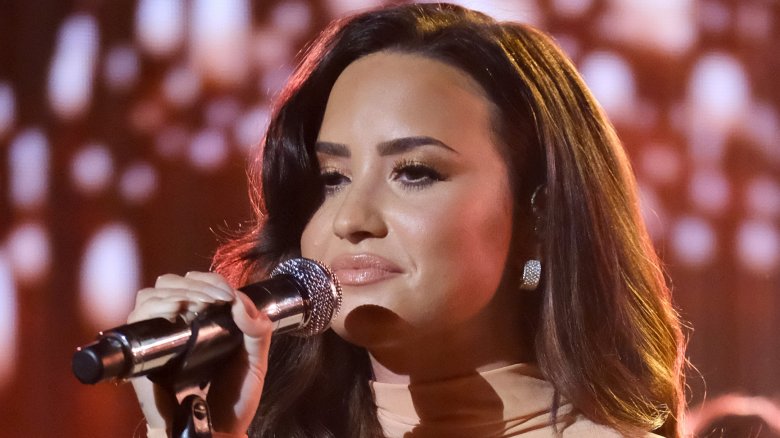 Getty Images
Lovato's first rehab stint was when she was diagnosed with bipolar disorder, which she'd struggled with for her entire life without realizing it.
"I was 18 when I first went into treatment. When I got diagnosed with bipolar disorder, it just made sense," she explained. "When I was younger I didn't know why I would stay up so late writing and playing music, and then I learned about episodes of mania, and I realized that's probably what it was. I was manic. In a way, I knew that it wasn't my fault anymore. Something was actually off with me."
She attempted suicide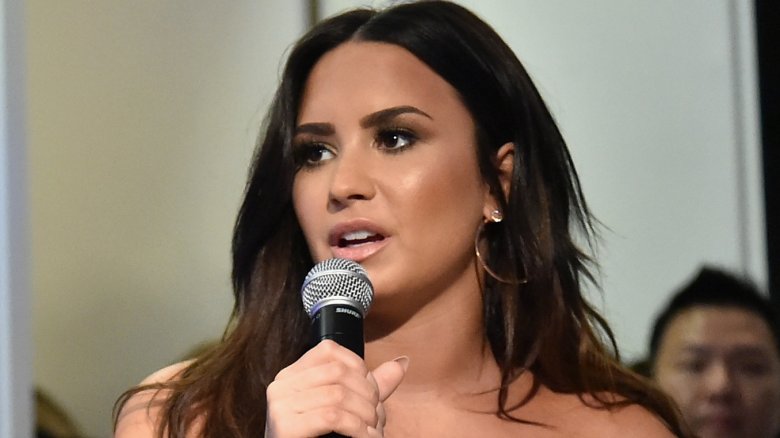 Getty Images
Lovato and Mike Bayer, Lovato's sober coach and CAST Centers partner, revealed that she attempted to kill herself by taking half a bottle of pills during one of her lowest points.
"Demi was on a road to suicide. She'd have like, bags of pills and an eight-ball of coke," Bayer recalled. "We were in Palm Springs, and she locked her bedroom door. She had just taken a bunch of pills." 
"We kicked down the door. She gets taken to the hospital, the nurse is checking her in," he continued. "The bottle of pills is there. She grabs the pills, she then downs all the other pills and says, 'You f**king b***h, if I just tried to kill myself, why would you give me access to pills?'"
Lovato was then sent to a psychiatric ward temporarily before being released.
She almost overdosed while preaching about sobriety
Getty Images
While promoting her 2012 documentary Stay Strong, in which Lovato totes the values of a sober lifestyle, she was still using drugs and even almost overdosed.
"I wasn't working my program, I wasn't ready to get sober. I was sneaking [cocaine] on planes, I was sneaking it in bathrooms, sneaking it throughout the night ... I went on a bender of like, two months where I was using daily. There was one night when I used a bunch of coke and I popped a few Xanax bars, and I began to choke a little bit. My heart started racing, and I thought to myself, 'Oh my God, I might be overdosing right now.' ... I was using while I had a sober companion, and I went through about 20 different sober companions."
Lovato's manager, Phil McIntyre, was disgusted but also not surprised. "We were in New York and she clearly was on something," he recalled. "She was on air promoting this new way of life, and I was like, 'You're so full of it.'"
Her entire team almost left her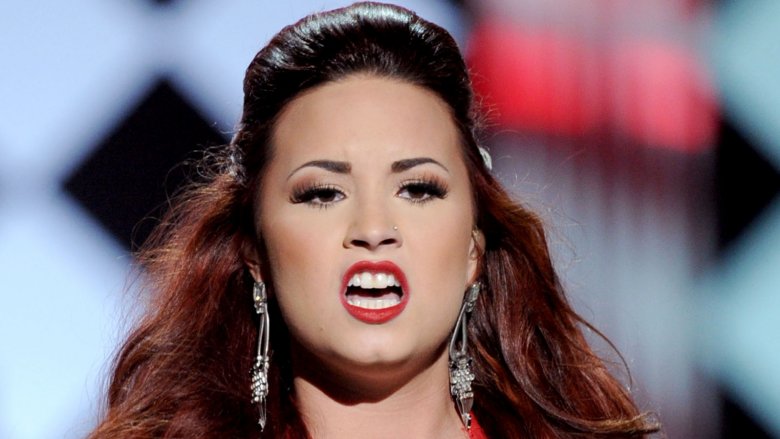 Getty Images
Lovato officially hit rock bottom in 2012. "The very last night that I drank, I was at a hotel, and I invited two random people and basically just drank with them," she said. "I got really, really drunk until it was time to get on a flight, and I was so drunk that I threw up in the back of the car service on the way to the airport to perform on American Idol."
Lovato confessed that she was miserably hungover during her performance (though you'd never guess based on her powerhouse pipes), and her professional team was so fed up that they almost quit at the behest of Bayer and McIntyre. McIntyre revealed, "I worked with everyone on the team — business managers, agents, attorneys, everybody, to say, 'If Phil walks, we walk.' This was the showdown of all showdowns."
Bayer told Lovato they'd stay if and only if she destroyed her cellphone, which was rife with drug dealer contacts and access to poor influences and triggers. Bayer forced her to drop the phone into a vase full of water in front of her team, which was painful, but effective for Lovato.
She explained, "It's embarrassing to look back on the person that I was ... I think that approach worked for me because ... it was the beginning of the process of surrendering."
She lived in a sober house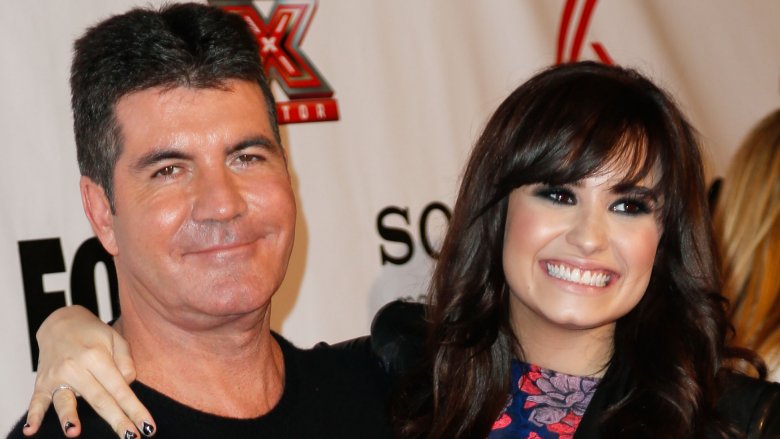 Getty Images
While everyone saw Lovato as a perky, Simon Cowell-pestering judge on The X Factor, no one knew that behind the scenes, she was in recovery again. "What nobody knows is, while she's a judge [on The X Factor], she's living in a sober apartment, with roommates," Bayer said. "She's having to do chores, she has no cell phone, she is completely and totally submitted to the process of recovery."
She's not over Wilmer Valderrama ...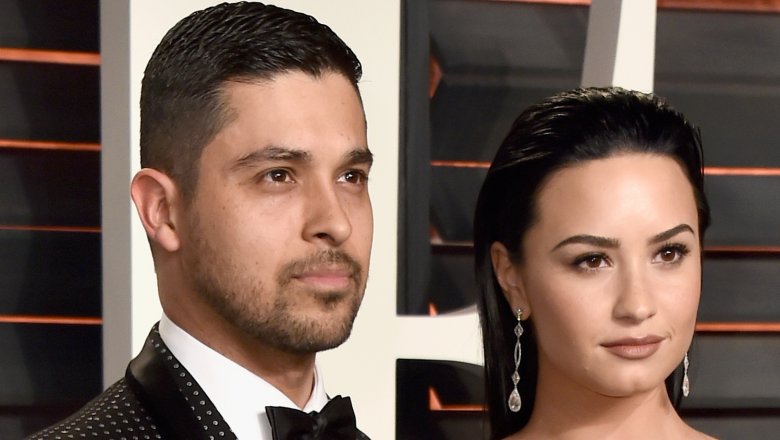 Getty Images
Lovato broke up with Wilmer Valderrama in June 2016, more than a year before her documentary was released — but she's clearly still in love with him.
"I've never loved anybody like I loved Wilmer and I still love him," she said. "I met him on January 11, 2010 ... When I turned 18, we started dating. I think it was love at first sight, we connected on a level that I've never connected with anybody before. He was just my rock, my everything. [Our breakup] had nothing to do with falling out of love. We decided together that we're probably just better as friends."
Lovato revealed that seeing Valderrama and Bayer's party in the summer of 2017 made her "heart ache." "It's hard enough dealing with a breakup, but when you put it in the public eye, it feels violating," she said. "The sparks never faded but there are issues that I haven't conquered yet that I know I won't conquer if I'm relying on somebody else to take care of the loneliness. I just wasn't ready and there was so much in my life that I hadn't explored yet ... That was one of the reasons why we broke up because I've never been alone."
... and she may never be over him completely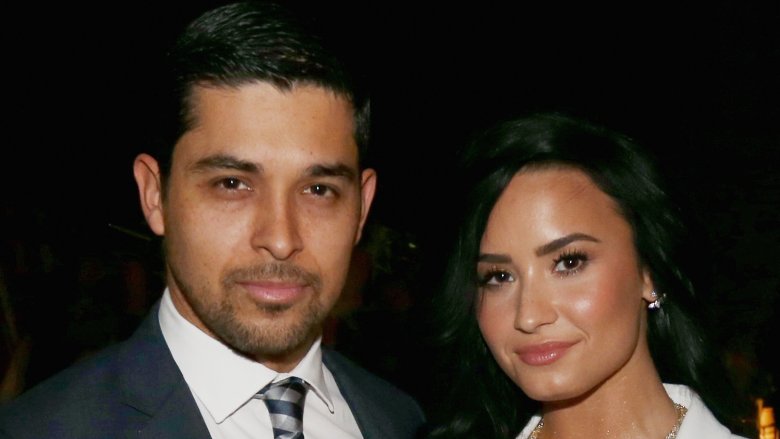 Getty Images
Lovato admitted she wonders what may have been if she and Valderrama stayed together, or if they'll reunite in the future.
"I do have moments where it's late at night and I'm lonely and I wonder if I made the right decision because love is a gamble," she said. "I don't know if I'll lose him for the rest of my life. I think my heart is always with Wilmer, I think it was with Wilmer, I think it is with Wilmer, I think it will be. Because you don't share six years with somebody and not give them a piece of your heart and vice versa. I'm pretty sure that I'm not going to meet anybody that compares to him but I'm trying to keep an open heart and open mind when it comes to that."
She relapsed after she and Wilmer split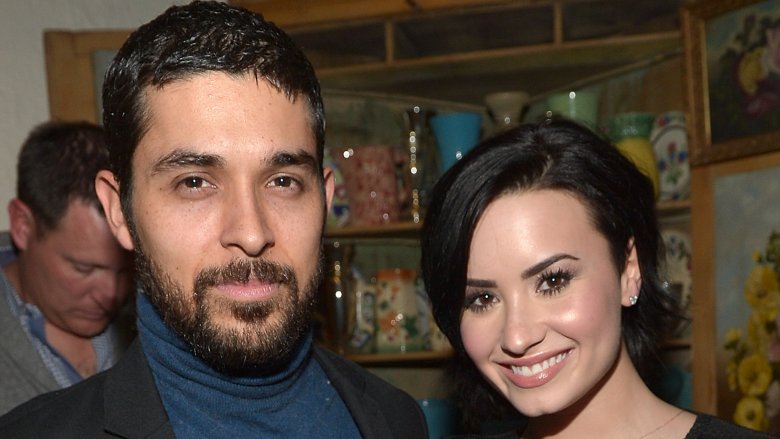 Getty Images
Lovato is proud of the fact that she hasn't relapsed with drugs since getting sober more than five years ago, but she's still struggling with her eating disorder, especially in light of her split from Valderrama.
"When I was in a relationship with Wilmer I went three years without purging, and when we broke up, that's one of the first things I did," she confessed. "The less I have to think about food, the easier it is to go about having a normal life and I don't want to let anybody down so when I do have moments when I slip up, I feel very ashamed. What started the relapse was missing Wilmer. And when I feel lonely my heart feels hungry and I end up binging."
She's looking for love, not labels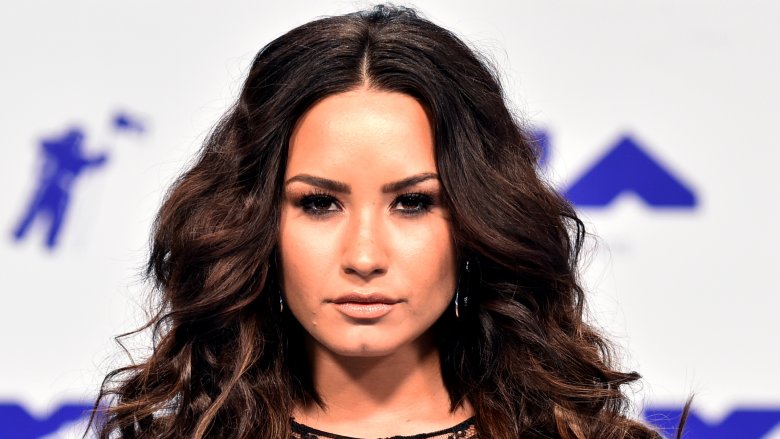 Getty Images
Lovato revealed that she's on the celebrity dating app Raya, and that she's looking for love of any gender, so long as the person clicks with her. "I am on a dating app with both men and girls" Lovato said. "I am open to human connection so whether that's through a male or female, it doesn't matter to me."
As for whether she has a type, Lovato, who's dated MMA fighters Guillermo "Bomba" Vasconcelos and Luke Rockhold, admitted, "I do like athletes! There is something sexy about someone putting in all of their physical strength into their passion."
Though she hasn't settled down with anyone yet, Lovato is down for a casual hookup if it feels right, and she doesn't care if that upsets anyone. "There's a certain stigma around women having casual sex, and for me, I feel it's my body, it's my choice. It's exciting. It's a connection with somebody and it's fun," she said. "When I'm comfortable in my own skin, I feel confident and when I feel confident, I feel sexy — and when I feel sexy, watch out!"
Lovato revealed to her pals that though she's open for romance, one man that she hasn't named isn't eligible for her affections anymore. She met up with the anonymous jerk at a club, where she recalls, "Right when we got there, he did a line of coke ... the bottle service comes up, and he [grabs] her boobs. Then he started pouring vodka down other girls."
She's come a long, long way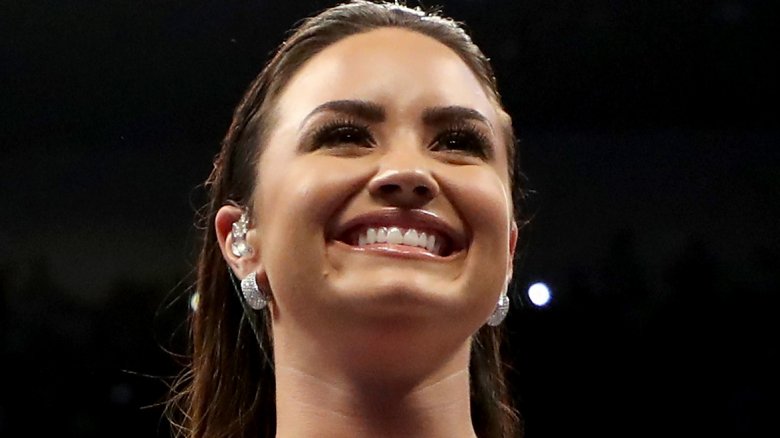 Getty Images
Lovato revealed that she was under a tremendous amount of pressure as her family breadwinner during her Disney days. "Looking back, it was hard on anyone, let alone a kid," she said.
McIntyre agreed. "I could connect the dots and see there was an immense amount of pressure. She was living two lives," he said. "Here she was, squeaky clean on the Disney Channel, all types of moral clauses, and just intense [scrutiny] around behavior. Once the camera stops rolling, she's living another life, and she couldn't really be herself. She couldn't be a normal teenager."
Thankfully, she's come a long way in less than 10 years. "The last decade has taught me a lifetime of lessons," Lovato admitted. "I've learned that secrets make you sick. I'm learning how to be a voice and not a victim. I've learned sex is natural. I've learned that love is necessary, heartbreak is unavoidable and loneliness is brutal. I've learned that the key to being happy is to tell your truth and be OK without all the answers."