Jason Statham And Rosie Huntington-Whiteley Have A Bigger Age Gap Than You Think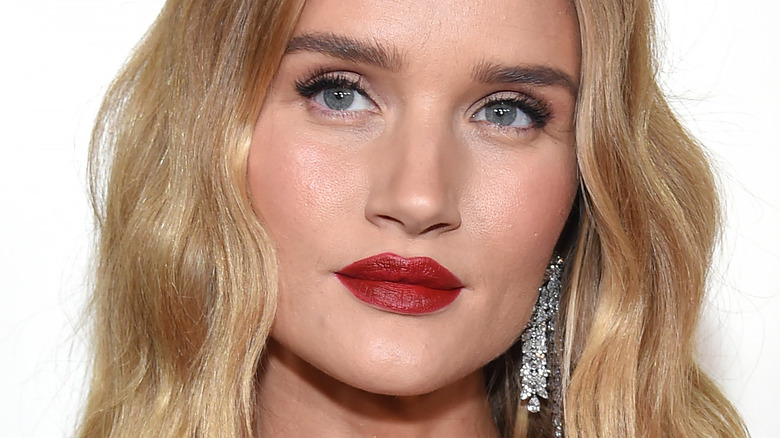 DFree/Shutterstock
One of Victoria's Secret It-Girls of the last decade, British model Rosie Huntington-Whiteley, has been in a long term relationship with Jason Statham since 2010. According to The Knot, the pair met on the set of "Transformers" and dated for several years before getting engaged in 2016. 
Still, Whiteley and Statham didn't seem to be in any rush to walk down the aisle. In 2017, Us Weekly reported that they welcomed son Jack, with daughter Isabella following in 2022. And unlike marriage, motherhood had been something that Whiteley had long considered. "Look, I think my career is very self-indulgent. It's all about me," the former model told Elle UK in 2012. "I think there is naturally a point where you think, 'I don't care about myself as No. 1 anymore. I want to care about other things.'"
As it turns out, Statham, Jack, and Isabella might just be those meaningful 'other things,' but Whiteley still manages to keep her private life under wraps. "I don't really want to be more exposed than I am right now," she explained in a 2021 interview with Elle UK. "I'm aware of what I'm willing to share and I've found a place where I feel really comfortable with that, which doesn't allow me to be exposed in a way that I wouldn't be able to manage the chatter." Perhaps the chatter is due to her somewhat unconventional relationship with Statham — who she met at 23, and is significantly older than she is.
Age is just a number for Rosie Huntington-Whiteley and Jason Statham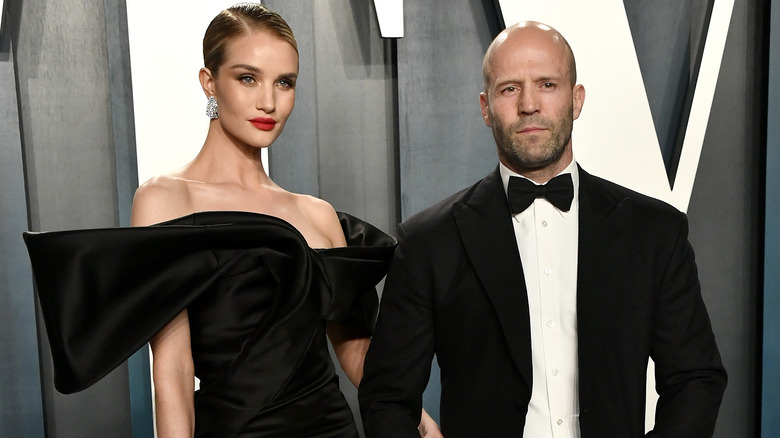 Frazer Harrison/Getty Images
Rosie Huntington-Whiteley and Jason Statham have taken a long time to marry — and reports vary as to whether or not they actually walked down the aisle! But that's not the only non-traditional aspect of their relationship. According to Us Weekly, Statham is 19 years older than Whiteley. The "Fast & Furious" actor celebrated his 54th birthday in 2021, while Whiteley turned 35 in April 2022. Decades aside, age difference was never an obstacle for these two. In a candid Instagram "Ask Me Anything" session in 2020 (via The Daily Mail), the model addressed fan questions about the age gap. "It's never been an issue! Age is nothing but a number," she wrote in her stories.
It could be that the question of age wasn't pressing because Whiteley was so young when she met the love of her life, and the two immediately clicked. "We're best mates," Whiteley dished in an interview with Self in 2015 (via The Daily Mail). "[Jason] makes me laugh every day. I almost feel like I never had a proper boyfriend before!" She further added that they share plenty of commonalities, like their British nationalities, and tendencies to fiercely protect each other's privacy. "My relationship is not a branch of my brand. It's my private life. Certainly, that's how [Jason] feels, too," Whiteley added. 
Naturally, spending over a decade together, getting engaged (and possibly married), in addition to welcoming two children has undoubtedly made their bond even stronger.
Rosie and Jason have always done things their own way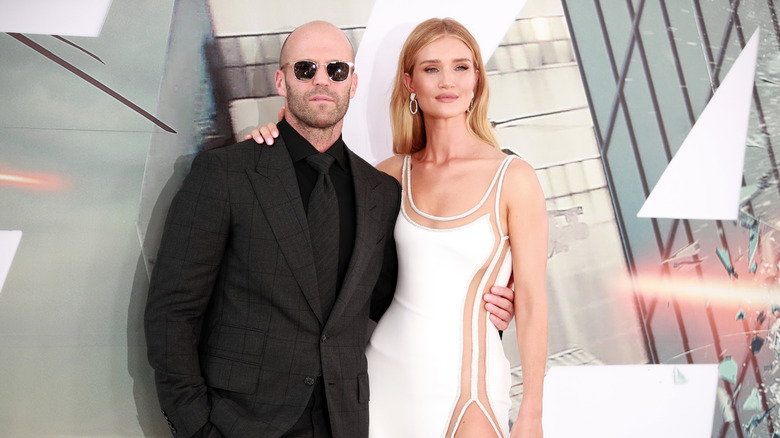 Rich Fury/Getty Images
A one-size-fits-all approach doesn't exist for any relationship. This is evident in Rosie Huntington-Whiteley and Jason Statham's partnership, which sees the couple tackle everything in their own way. 
Whether they're blocking out haters who critique the pair's nearly two-decade age gap, or placing less emphasis on the institution of marriage, Whiteley and Statham have found a lifestyle that works for them. In 2015, Whiteley told Self (via The Daily Mail) why she and her fiancé weren't racing down the aisle, alluding to "massive pressure" for "any couple that's been together for a certain amount of time." She explained, "I totally believe in marriage, but being in a happy relationship is much more important to me." When Extra! asked for a wedding update in 2018, Whiteley again reiterated her point that the duo were already fully committed to one another. "I think the time will come. We've been so focused on our work for so long, and Jack came along," she said.
While it remains unclear whether the pair is married today, they remain in as committed and loving a relationship as ever. Whiteley gushed to Extra! about Statham's parenting abilities, calling him "very hands-on, he's a brilliant dad ... he's a great partner." In 2020, the former Victoria's Secret model offered fans another glimpse into their home life on Instagram (via The Daily Mail), in which she jokingly noted that her son Jack has "the same booming loud voice as Jason." Aww!