The Tragic Detail Just Revealed About Demaryius Thomas' Death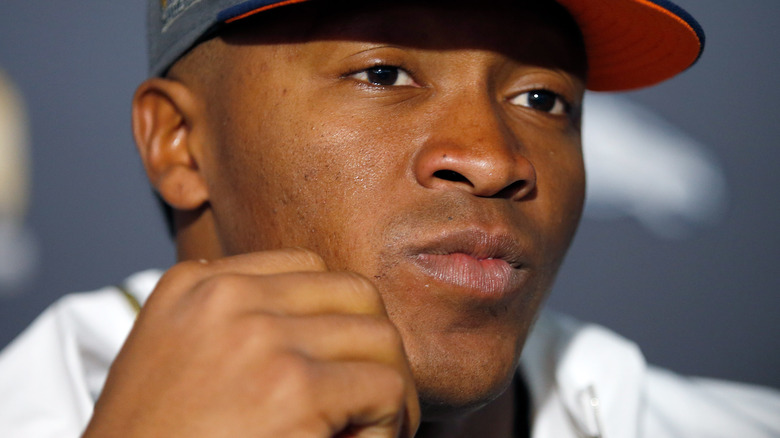 Ezra Shaw/Getty Images
In December 2021, Denver supporters and football fanatics were shocked to learn that former wide receiver for the Broncos, Demaryius Thomas, had died. The 33-year-old was found dead in his Georgia home just months after he announced his retirement from professional football, according to ESPN. 
The news prompted crestfallen responses from his team and fans. The Broncos tweeted a statement which read in part, "We are devastated and completely heartbroken ... We were very much looking forward to celebrating Demaryius for years to come as one of the greatest players in franchise history." One Twitter user chimed in that Thomas was "such a good soul and always went out of his way for the fans."
In the days that followed, more details about Thomas' tragic death began to emerge. Benjamin Allbright, a reporter for the Broncos, shared that Thomas likely passed away from a seizure which was "suspected to be a medical complication from his car wreck in 2019." Thomas' cousin seemed to support this theory, telling AP News, "He had been suffering from seizures for over a year, and we believe he had a seizure when he was showering." She also shared that one of Thomas' friends had a key to his home because of these seizures. When he wasn't returning the friend's calls, the man entered Thomas' home and found him in the shower. Now, the completion of a post-mortem brain scan has lent fans and family new heartbreaking insight into the athlete's suffering. 
Demaryius Thomas had stage 2 CTE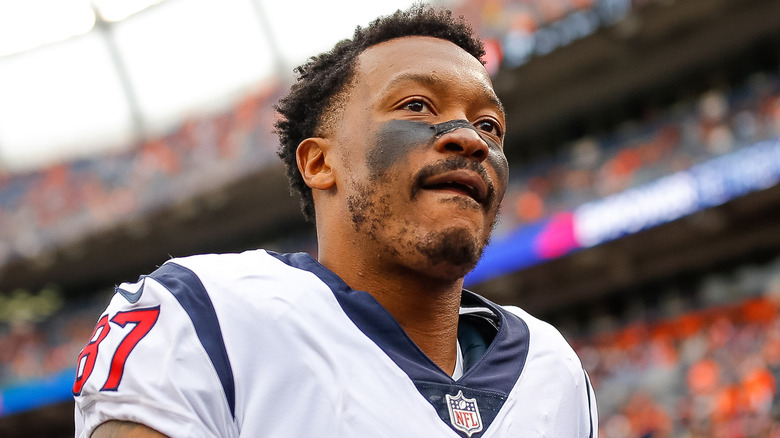 Justin Edmonds/Getty Images
On July 5, the Concussion Legacy Foundation (CLF) and Demaryius Thomas' parents announced in a press release that a posthumous brain scan showed the star football player had stage two chronic traumatic encephalopathy (CTE). CTE is a brain injury common among athletes who suffer frequent blows to the head. According to the CLF, stage two is characterized by progressive changes in behavior, cognitive function, and mood.
Katina Smith, Thomas' mother, was not surprised by the diagnosis. "Once I became aware of CTE and began to familiarize myself with the symptoms, I noticed that Demaryius was isolating himself and I saw other changes in him." The press release also notes that Thomas had developed depression, memory problems, and anxiety. Beyond the seizures, he also experienced panic attacks in the years leading up to his death. In an interview with the New York Times, Smith also recalled Thomas' inability to celebrate the Broncos' 2016 Super Bowl win. The wide receiver had taken many hard hits and said he had a headache.
Notably, the 2019 car crash that Benjamin Allbright pointed to early on in the investigation could have still played a role. Dr. Ann McKee told the New York Times that Thomas "had two different conditions in parallel," and also clarified that seizures are not typically a symptom of stage two CTE. However, his diagnosis and the confirmed hardship it brought him has doctors once again taking a close look at the dangers of football. 
Demaryius Thomas' parents and doctors are calling for change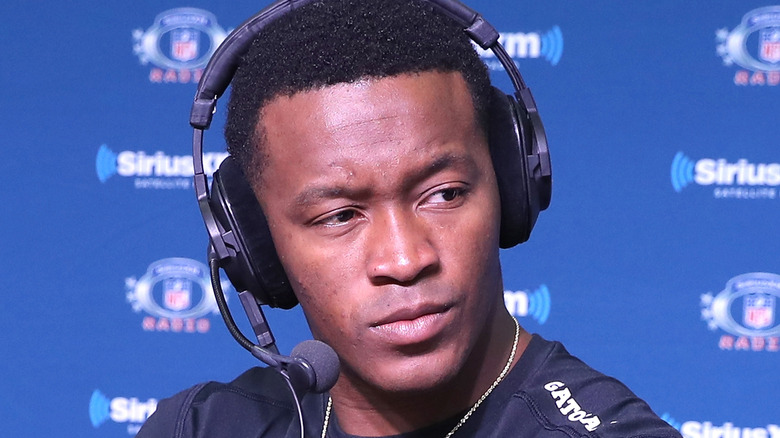 Cindy Ord/Getty Images
Demaryius Thomas' mother is hopeful that his death will not have been in vain. "He was just so young, and it was horrible to see him struggle," Katrina Smith is quoted as saying in the Concussion Legacy Foundation's press release. "His father and I hope all families learn the risks of playing football. We don't want other parents to have to lose their children like we did." 
Their sentiment echoes that of Dr. Ann McKee, who has been fighting to raise awareness about the danger of CTE and hard-hitting contact sports for many years. In a 2017 interview with the New York Daily News, McKee said, "I'm concerned about the future of football, because we have paid a lot of attention to concussions ... But it's really the minor injuries, the ones that are asymptomatic that occur on almost every play of the game, the sub-concussive hits, that's the big problem for football ... I think we are ultimately going to have to change some of the major rules of the game."
With those changes yet to be made and this latest high-profile CTE diagnosis, McKee once again spoke up to the CLF, saying, "When will enough be enough? When will athletes, parents and the public at large stop ignoring the risks of American football and insist that the game be changed to reduce subconcussive hits and that the athletes be comprehensively evaluated at the beginning and end of every season?"