Why Did Carlos Santana And His First Wife Really Split?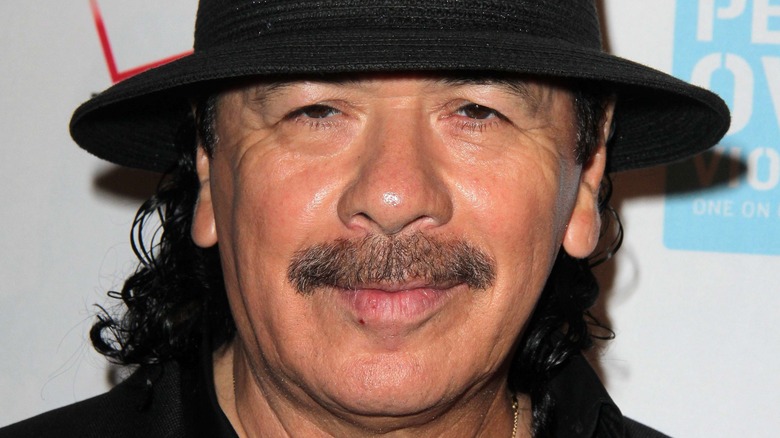 s_bukley/Shutterstock
Carlos Santana has led an epic life — filled with Grammy awards, chart-topping singles, and platinum albums. Since his rise to superstardom in the early '70s, the acclaimed guitarist has become known for fusing together rock 'n roll, blues, and jazz to create a unique and versatile sound. He and his band (of the same name) have crooned listeners for years with hit songs like "Maria Maria" and "Smooth."
The music legend has also garnered attention for his romantic relationships. In 2010, Santana married Cindy Blackman, a jazz and rock drummer known for her work with Lenny Kravitz. In a case of opposites don't attract, Santana said of his wife, "Cindy is a match with everything that I am, from fire of passion to vulnerability," per People. Blackman shared similar sentiments, telling Berklee Online, "When Carlos came along, I really loved where he was at, in terms of the spiritual path he was on, and that was really key for me in terms of flowering a relationship."
Before marrying Blackman, there was another woman in the picture for Santana. In 1973, he married his first wife — author, business manager, and social justice activist Deborah Santana. During their 34-year marriage, the duo were business partners, teaming up for charitable causes including a nonprofit organization supporting underprivileged children. In fact, the two also had three kids together.
But why did the longtime couple ultimately split?
Carlos Santana owned his mistakes in his first marriage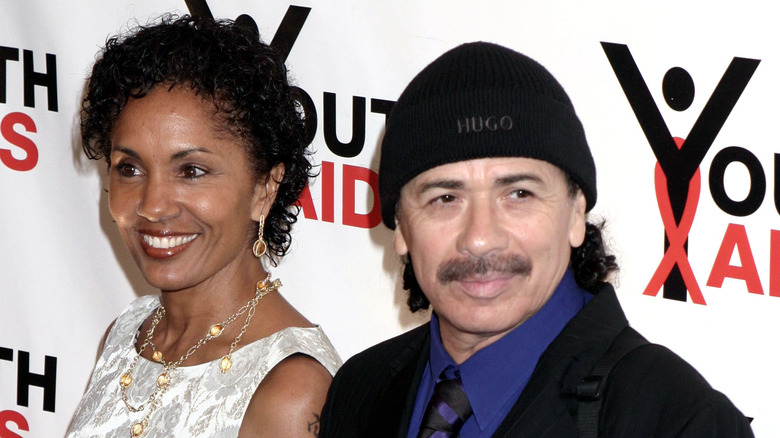 Everett Collection/Shutterstock
Being married to a famous musician can have its cons. For Deborah Santana, Carlos Santana's rockstar lifestyle came with a price, as fans weren't exactly vying for her attention. In a 2004 interview with San Francisco Gate, Deborah said, "I developed this stoic personality in public with him. He's the star, I'm the closed smiling face."
In 2007, Deborah filed for divorce, attributing the split to "irreconcilable differences." In her 2005 memoir "Space Between The Stars," Deborah called her husband unfaithful. After the book was published, Carlos owned up to his mistakes. He said, "I sincerely apologized to her and to my kids when I wasn't in my right mind and did something hurtful. It has helped me become more humble and to try harder to be the man she wants me to be" per The Hollywood Reporter.
According to Deborah, there were ups and downs before their separation. In her interview with San Francisco Gate, Deborah said that Carlos would "sleep with people on the road." She continued, "Carlos' partner was music. My partner was the family." It sounds like these key differences raised challenging questions about their relationship. She later explained, "He would want to grow, and he would make some effort in his life. And then I would fall in love with him again. I feel as if I've been married a few different times to the same person."