The Truth About Carlos Santana And Michelle Branch's Iconic Collaboration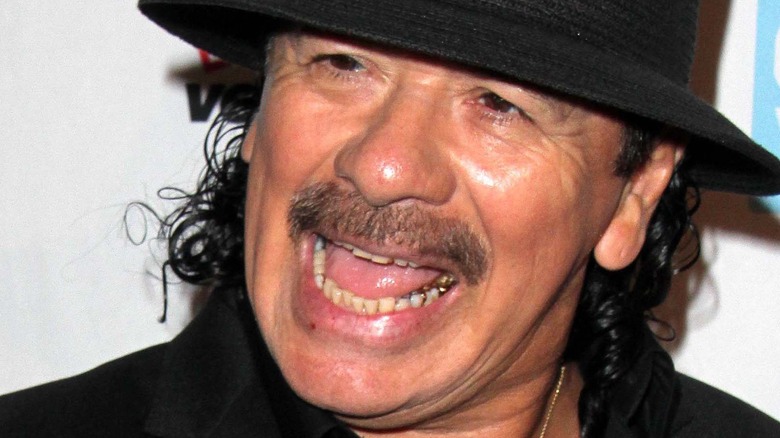 s_bukley/Shutterstock
Carlos Santana could play the violin at 5 and mastered the guitar at 8, while other kids were still struggling with the recorder. His mariachi father taught him music while growing up in Mexico. Santana admitted he'd only learned the violin to please his dad, but playing the guitar made his heart soar. "[It's like] flying saucers, seeing the first White Whale like Moby Dick and at the same time discovering the S.O., the spiritual orgasm," Santana told Guitar World. He said hearing the electric guitar for the first time was "an assault on the senses" and "gateway to [his] eternity."
He moved to San Francisco and started the Santana Blues Band in 1966. Per Traveller, Santana lived in Haight-Ashbury, he drew inspiration from the hippy utopia, with its psychedelics, free love, peace, art, and music. Janis Joplin, The Grateful Dead, and Jimi Hendrix lived in the 'hood — as well as The Manson Family and Hell's Angels.
Santana's ever-developing and globally encompassing music has won him 10 Grammys, 3 Latin Grammys, and many other accolades. He's sold over 100 million records and was inducted into the Rock & Roll Hall of Fame in 1998. In 2002, Santana released "The Game of Love," featuring 19-year-old Michelle Branch. She was born in 1983 and had been just a twinkle in her father's eye during the peak of Santana's career. So, how did the unlikely couple collide? The truth about Carlos Santana and Michelle Branch's iconic collaboration is deep, man, real deep.
Carlos Santana and Michelle Branch's collaboration made in heaven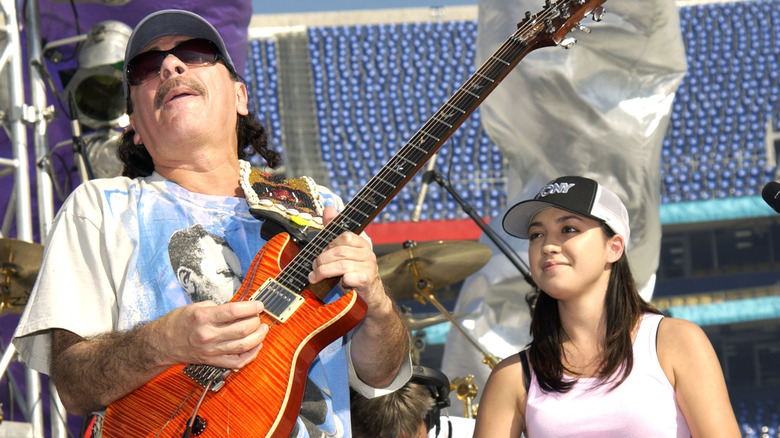 Kmazur/Getty Images
Carlos Santana and Michelle Branch's iconic collaboration resulted in a dreamy concoction. When "The Game of Love" was released in 2002, Branch was a fresh-faced 19-year-old with one album under her belt, while Santana was a grizzly 55-year-old with 18. Despite his pride in constantly evolving, it was still an unexpected pairing.
Santana explained the collaboration was decided by "inner invisible ones, angels and archangels," proving you can take the hippie out of the Hashbury, but can't take the Hashbury out of the hippie. "The songs just create crystal slippers that would look for Cinderella or Cinderfella. The songs cry what kind of person we should look for," he told MTV, totally clearing up any lingering questions.
Meanwhile, fans hope angels are watching over their idol as they worry about Santana's health after his on-stage collapse during a Detroit performance. Per Deadline, thankfully, it was just a nasty case of heat exhaustion. The iconic musician is alive and well and resting in his crystal slippers. It's unlikely Branch has the luxury of relaxing much these days, though, as it's been a wild few years. Branch got engaged to her longtime boyfriend, Black Eyed Peas drummer Patrick Carney, in 2017. A year later, the couple announced Branch was expecting their first child together. They married in a romantic New Orleans ceremony in 2019. She also released two albums — 2017's "Hopeless Romantic" and 2021's "The Spirit Room" 20th-anniversary edition.