Pink Recounts Time Former Rival Christina Aguilera Took A Swing
The "What About Us" singer has no problem talking about the past.
Appearing on Bravo's Watch What Happens Live, Pink (real name Alecia Moore) played host Andy Cohen's game "Plead the Fifth." And, though she had the option of staying silent for one of his questions, Pink answered every single one—including an interesting one about Christina Aguilera.
When asked about the issues she's had with her former "Lady Marmalade" collaborator, Pink said, "We were super young and super new at the whole thing. I think I'm an alpha and she's an alpha, and I'm used to taking my altercations physical and she's used to having them verbal. We just are very different."
The 38-year-old added, "Women have to learn how to support each other. It's not taught to us on the playground."
After Cohen inquired as to whether Pink had ever tried physically fighting with her one-time rival, Pink revealed that Aguilera had been the one to actually try to start a brawl. "She swung on me in a club, which was hilarious," Pink recalled, laughing. "I was like, 'What's happening right now. What are you...What's happening?'"
Fortunately for all involved, Pink and Aguilera have since made amends. "We're fine. Look, she's so talented, and deep down, I've had bad days, too. She's a really sweet person," she explained. "We made up on The Voice, because I hadn't seen her in years and years and years and we became moms. We grew up and we hugged it out."
Later on in the episode, Pink answered a question from a caller and revealed that she and Aguilera may have collaborated on a new song together, though she remained quiet on the details (via E! News).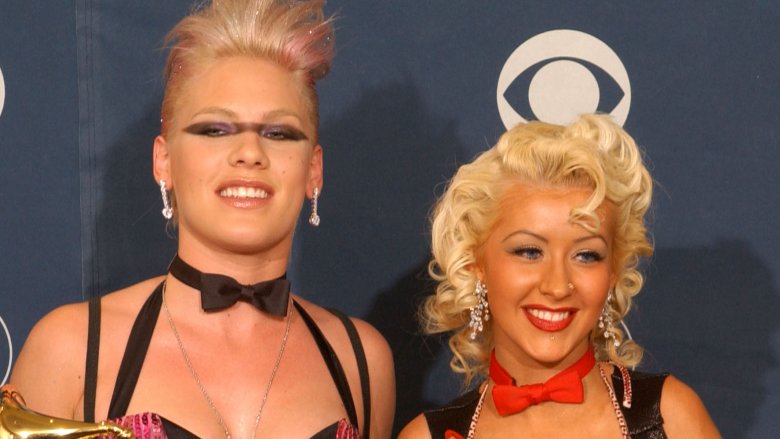 Pink and Aguilera's feud first started in 2001 after the two teamed up, along with Lil' Kim and Mya, for "Lady Marmalade," a song on the Moulin Rouge! soundtrack. In a Behind the Music interview (via Fuse), Pink revealed that she'd argued with Aguilera over their parts in the song. Pink later found issue with Aguilera's working relationship with her frequent writing partner Linda Perry, finding it "annoying." The two later found opportunities to make subtle swipes at each other over the years before ultimately getting over their beef.
As Nicki Swift previously reported, Pink revealed that she'd made up with Aguilera back in August 2017. "Music brings us all together," she had tweeted out. "The best part of music is- there's room for everyone to win at the same time."
Glad to know that this feud is finally over!