Selling Sunset: Inside Amanza Smith And Mary Fitzgerald's Friendship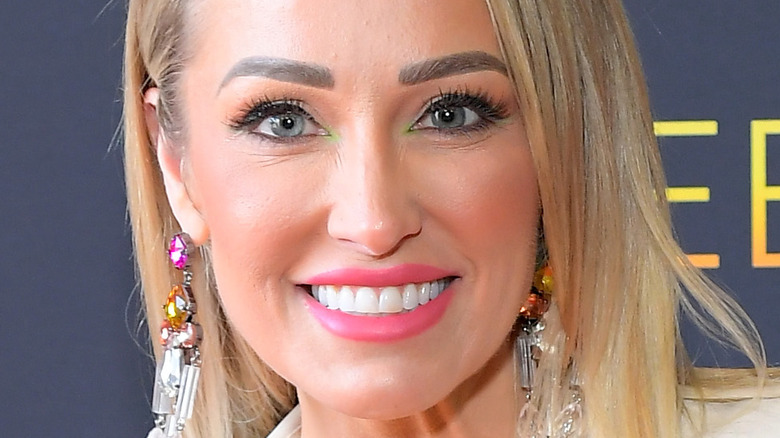 Charley Gallay/Getty Images
Throughout Netflix's reality TV show "Selling Sunset," viewers get to watch the drama unfold between the real estate agents that work in the Oppenheim office. As some cast members, like Chrishell Stause, joined the group while the show was filming Season 1, the other girls have a history of working with each other, as they have been a part of the group for years.
Two of these agents are Mary Fitzgerald and Amanza Smith. "I'm the newest agent at the brokerage but I'm definitely not the newest trend," Smith told Good Housekeeping in 2020. "I've known Jason, Brett, and Mary separately for about 20 years, so I have definitely been around the group."
In Season 1 of "Selling Sunset," Fitzgerald and Christine Quinn were best friends. But once Quinn stirred up some drama that Fitzgerald didn't agree with, their friendship started going downhill. Throughout Season 2 and Season 3 of the show, Quinn became friends with Davina Potratz and Heather Rae Young, while Fitzgerald became closer to Stause and Smith. While Quinn thought that Smith was driving a "wedge" between her failing friendship with Fitzgerald, Smith and Fitzgerald have been friends for years.
Mary Fitzgerald and Amanza Smith go way back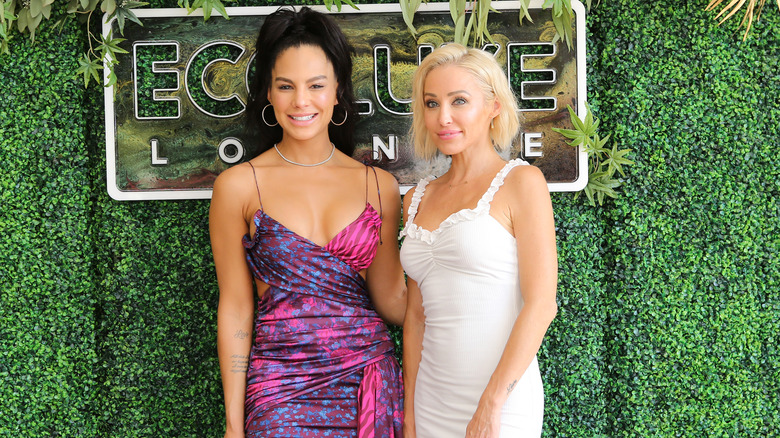 Tasia Wells/Getty Images
As Christine Quinn has problems with seemingly everyone in the office, Mary Fitzgerald started to separate herself from Quinn's drama and bond with the other girls. Especially if all she had to do was continue her great friendships she already established before the show was even a thing. Smith revealed how she met both Fitzgerald and Jason Oppenheim separately, and introduced them. Little did she know that the two would start dating.
"I met Mary first at a party and then we became fast friends," Smith said on the "Behind the Velvet Rope" podcast in 2020. "I had already met Jason. Then I introduced Mary and Jason at my rooftop barbecue. But it was all 20 years ago, so we have all known one another for that long."
The two boss ladies have been close ever since, and Smith was even the maid of honor in Fitzgerald's wedding with Romain Bonnet, per TV Overmind. According to Screen Rant, Smith dated actor Taye Diggs in 2014, who happened to be one of Fitzgerald's clients in Season 1 of "Selling Sunset." From old connections to new connections, Smith — like Fitzgerald — has bonded with the other girls in the office since she was brought on to the show.
Their friendship remains strong
Amanza Smith is first seen in the first episode of Season 2 of "Selling Sunset." Right from the start, she has an argument with Heather Rae Young over divorce and children, per Women's Health. That has since been cleared and resolved. Smith forms a bond with Mary Fitzgerald's ex-friend Christine Quinn in Season 4, but the strong friendship with Fitzgerald still remained strong. Proving that closeness, Smith wrote in an Instagram caption in 2020, "18 years strong! Just two little Indiana gals all the way out n big ole Los Angeles fumbling their way to their goals! I'm proud of you @themaryfitzgerald."
Fitzgerald has been by Smith's side as Smith dealt with personal family drama, including a custody battle, per E! News. And Smith keeps it friendly with everyone in the office, expressing to Cosmopolitan before Season 4 of "Selling Sunset" aired that she was excited for the fans to see the "two amazing women" who were joining the cast, and that she tries to stay "as neutral as possible." Fitzgerald and Quinn may have gone too far in their feud to reconcile, but we'll always have the strong bond between the two agents from the midwest.