The Truth About Selling Sunset Stars Mary And Christine's Relationship
In Season 1 of Netflix's Selling Sunset, real estate agents Christine Quinn and Mary Fitzgerald are BFFs. Fans learned that the two used to live together in Los Angeles until Mary moved out and shacked up with her now-husband, Romain Bonnet. Although the season featured some tiffs between Mary and Christine, the two seemed OK overall. But when Season 2 premiered in May 2020, it became clear that Mary and Christine had hit a rough patch in their friendship.
Christine opened up to ET Online in June 2020 about her rift with Mary, saying of the conflict: "Mary and I had started a transition away from each other, I would say, in the middle of season one, before any of the drama went down. And after we stopped filming, you know, the cameras went down and phones work both ways, and I wasn't getting calls from her, and she wasn't reaching out and she was going out of her way to make her relationship with [fellow real estate agent] Chrishell [Stause] really public, and it was something that kind of hurt my feelings."
FYI: Chrishell Stause joined Mary and Christine's place of work — The Oppenheim Group — in Season 1 as a new real estate agent. She was married to This Is Us star Justin Hartley before their split in November 2019.
Now that we've caught you up to speed, let's find out what happened with Christine, Mary, Chrishell, and the other real estate agents of Selling Sunset.
Did Chrishell Stause come between Christine Quinn and Mary Fitzgerald?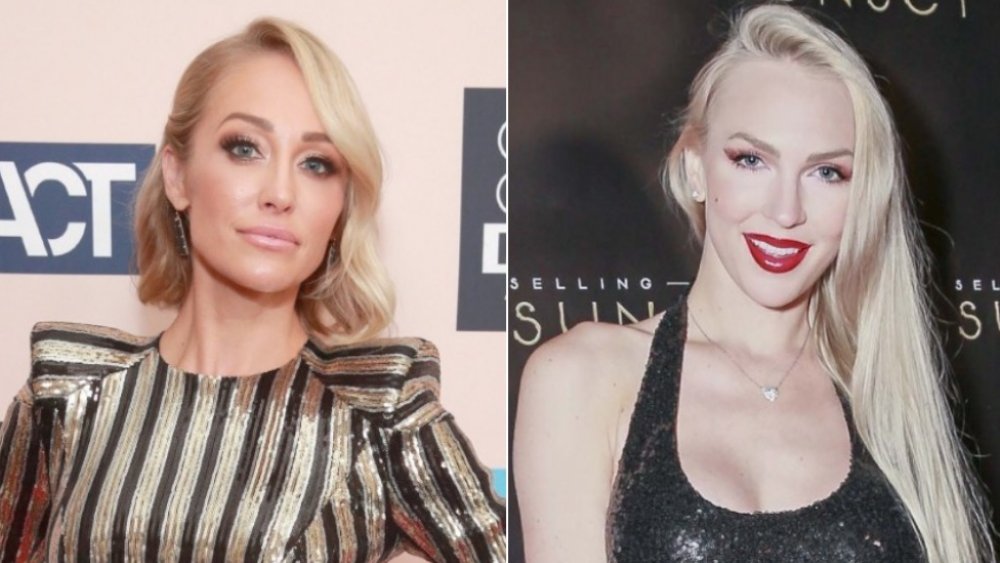 Rich Fury, Rochelle Brodin/Getty Images
Between the end of Season 1 and the beginning of Season 2 of Selling Sunset, Christine Quinn met tech entrepreneur, Christian Richard. The two had a whirlwind romance, culminating in a proposal from Christian and a wedding in December 2019. But when it came time to share the news, Christine only told Davina Potratz, another real estate agent at The Oppenheim Group. Understandably, Mary Fitzgerald felt slighted. Christine's excuse at the time was that she was traveling with Christian and planned to share the news with everybody when she got home but told Davina because they had stayed in touch during her vacation.
However, the engagement drama wasn't the only thing that caused a rift between Mary and Christine — some might argue the arrival of Chrishell Stause to The Oppenheim Group marked the beginning of the end. And considering what Christine said to ET Online, it sounds like Chrishell was part of the problem. 
Here's what went down: Chrishell and Christine immediately butted heads, with Christine insinuating that the Kentucky native is shady. Instead of Mary taking Christine's side, she became close with Chrishell instead. "She's such a strong woman, I wouldn't have been able to go through it like she did in the public eye, but she's very strong, and she's just so down-to-earth and a trustworthy person, which is hard to find here in L.A.," Mary gushed to People about Chrishell's strength during her divorce.
Christine Quinn got closer to Davina Potratz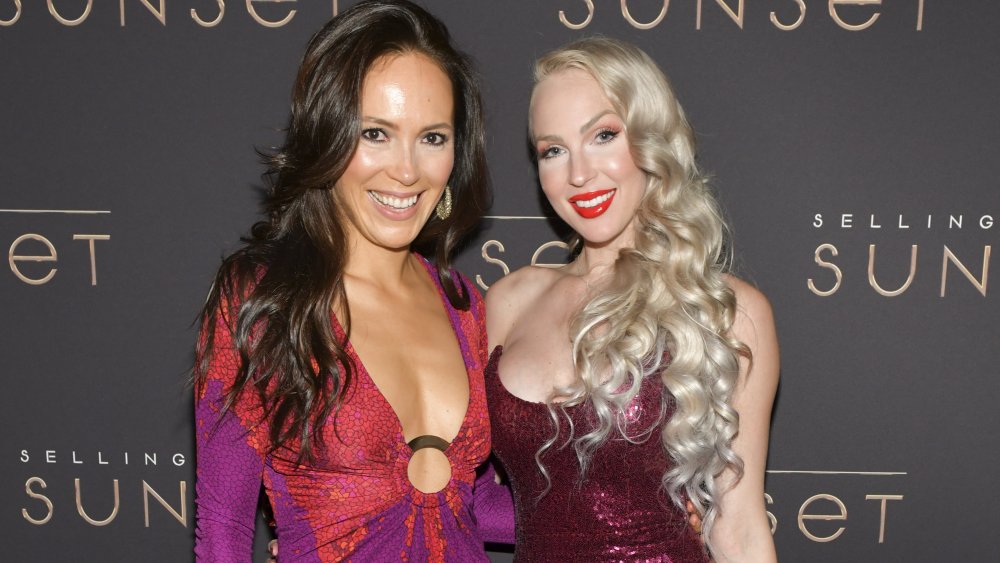 Rodin Eckenroth/Getty Images
In a blowout at the end of Season 1, Christine Quinn lays into Chrishell Stause for being two-faced, and Mary Fitzgerald chooses to defend the new agent. Mary's support of Chrishell seemingly fractured their relationship, as Christine wasn't invited to Mary's second bachelorette party. Adding insult to injury? Mary included Chrishell in both parties and claimed the second bash was a last-minute casual thing, Screen Rant noted.
The good news for Christine? Her co-worker, Davina Potratz, stepped in as her new confidante. Christine has complimented Davina for keeping it real, and she also feels a kinship with her due to their experiences on Selling Sunset. "Davina [Potratz] and I both really got read to filth in the editing room," she claimed to Nylon in May 2020. Christine added later in the interview, "It's beautiful. I'm also excited for the relationships of the real friend group. You can see me, Heather, Davina, and Maya interacting and being real, just loving each other and laughing."
So how are Mary and Christine's relationship doing now? "I got into a fight with Mary, and someone still doesn't talk to me to this day because of it," she told Refinery29 in May 2020 about being loyal. "I'm like, Mary, I had your back, you stupid b*tch."