The Truth About Jenna Fischer's Husband, Lee Kirk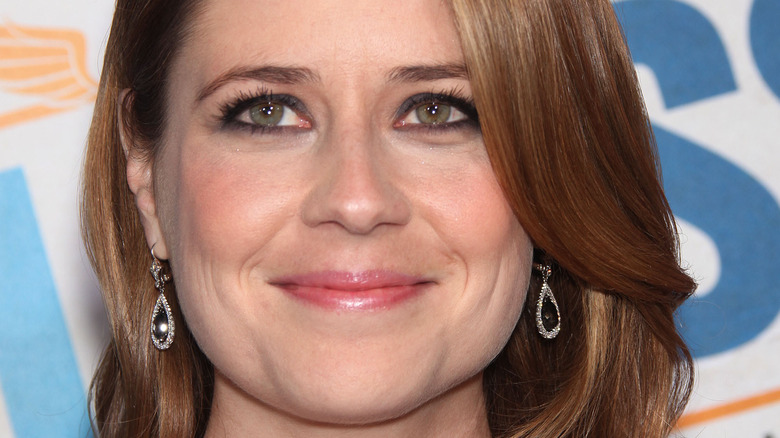 DFree/Shutterstock
Jenna Fischer is perhaps one of the more underrated actors in the entertainment industry. While she might be best known for her role as Pam Beesly on "The Office," she's also starred in a number of series over the years including "Six Feet Under," "That '70s Show," and more recently, "The Guest Book" and "Splitting Up Together."
Yet, it seems like she will always be best known as the often shy but also rather clever Pam, who often tried to find the calm in the chaos at Dunder Mifflin. Speaking to NPR about her character, Fischer recalled her audition and how she tried to be as boring as humanly possible. She said, "I gave very short one-word answers. And I tried very hard not to be funny or clever, because I thought that the comedy would come out of just, you know, the real human reactions to the situation."
And while a lot of "The Office" fans seem to correlate Pam Beesly with the on-screen love of her life, Jim Halpert (played by John Krasinki), there is very little that fans know about Fischer's real-life husband, Lee Kirk. In fact, their relationship sounds like one that Pam herself would approve of.
Jenna Fischer found her Jim in Lee Kirk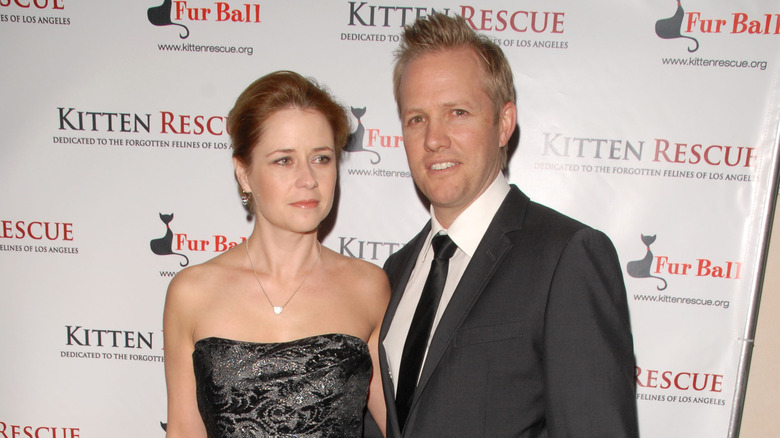 s_bukley/Shutterstock
In "The Office" Pam Beesly got to live her happily ever after with Jim Halpert. Off-screen, the character's portrayer Jenna Fischer got a pretty sweet deal when she married Lee Kirk. Together, they share two children, Weston and Harper Mae, and live a relatively quiet life away from the spotlight. That said, Fischer and Kirk did work together in the 2012 film "The Giant Mechanical Man," in which Fischer starred in.
As it turns out, Fischer was actually previously married to director James Gunn before she met Kirk, according to People. In an interview with Redbook in 2011, Fischer admitted she got the best advice about love from Paul Lieberstein, who also played Toby on "The Office." She said that Lieberstein told her, "Finding love is not as hard as picking the right person to spend the rest of your life with," while also adding, "I held on to that advice when I was searching. I'd start to fall for someone and think, But that's not a good match. The fluttery feelings aren't enough." 
Luckily, Fischer got more than just a flutter or two when she met Kirk, who also has an interesting connection to "The Office" as well.
Lee Kirk also appeared on The Office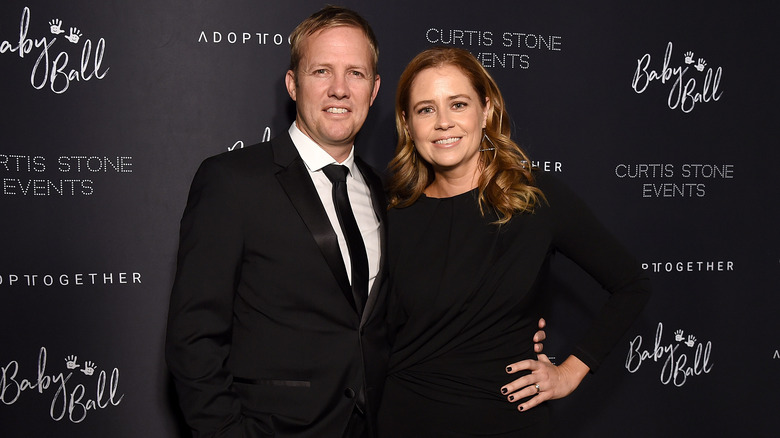 Michael Kovac/Getty Images
Little do some fans know that Jenna Fischer's real-life partner Lee Kirk actually made a cameo on "The Office." According to Screen Rant, he played Pam Beesley's lactation consultant in Season 6. In episode 18, called "The Delivery: Part 2," Pam had just given birth to a healthy baby girl named Cece, but unfortunately, she was having trouble in the breastfeeding department. Kirk played the handsy lactation consultant (he was only doing his job) but made Pam's husband Jim Halpert feel all sorts of awkward and weird emotions nonetheless.
Fischer admitted on the "Office Ladies" podcast that she would have felt differently about the scene if the guest actor were played by someone other than her husband. As she recalled, writers came up with the storyline and it was Paul Lieberstein who ran the idea by her, saying something along the lines of, "Hey, Jenna, we have this really funny idea, but it involves a man kind of like squishing your breasts around. How do you feel about that? Like, that would be a guest actor. Are you okay with it?" While Fischer thought things would be a "little awkward," Lieberstein then offered, "Well, what if that person was your fiancee, Lee? What if Lee did it?"
Thank goodness Michael Scott wasn't on hand to offer his expertise in the matter back then, right? One can only imagine what he would have done or said.