What's The Real Meaning Of Complete Mess By 5 Seconds Of Summer? Here's What We Think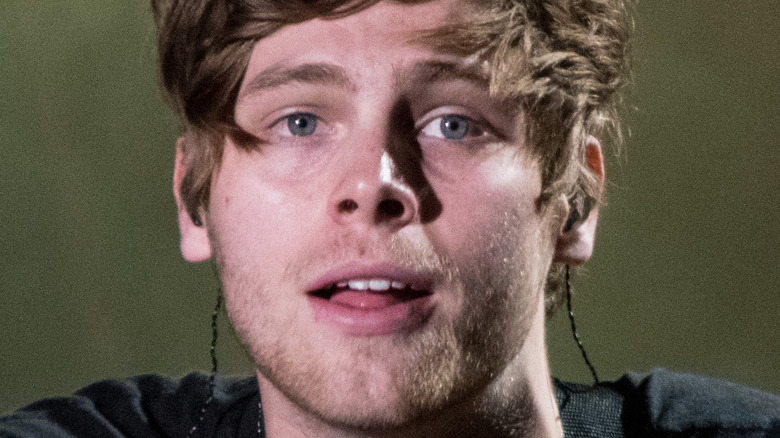 agwilson/Shutterstock
The band 5 Seconds of Summer has had their ups and downs in their music career, including some controversies that 5SOS fans didn't take lightly. But their songs never fail to hit people with a whirlwind of feelings and emotions. One of the band members, Luke Hemmings, described that he likes to make people feel emotional through his songs when he was writing the songs for his solo album.
"['When Facing The Things We Turn Away From'] was created to be listened to as a full body of work," Hemmings told Nylon. "It was created to evoke an emotional response." He then went on to describe the moments in his life that inspired each of the songs in the track list.
Much like the band's fourth album, the song "Complete Mess" from their fifth album, titled "5SOS5," has a similar theme — love and romance. Older fans who have been following the band from the beginning can possibly pick up on the song's title which is a reference to Hemmings' favorite shirt that said "YOU COMPLETE MEss" (per Song Facts).
5SOS is longing for love
The music video for "Complete Mess" was described as a "dream state" and "surrealist" by Rolling Stone. The band also wrote a statement about the process of writing their fifth studio album. "For this record, we realized if you want something done that truly represents how you feel, you've got to do it yourselves," the statement said. "We wanted that expansive sound that we naturally gravitate towards when we play together, so we had to learn how to record that. This new music is so authentically us."
It is mentioned by Song Meanings and Facts that the lyrics could have a double meaning. The narrator is saying that the love interest makes him a "complete mess" when his significant other is not around and leaves. But the narrator could also be stating that he's a "complete mess" when the significant other is with him, because "he or she is able to bring out a less-than-ideal side of [his] character."
Overall, the lyrics, "I learned my lesson when I felt you slip away / And I'm missing out on half my life," tell us that the narrator is distraught without his love interest (via Genius). Whether that love interest is good or bad for the narrator, he clearly can't live without this special person.
A hidden meaning about the band itself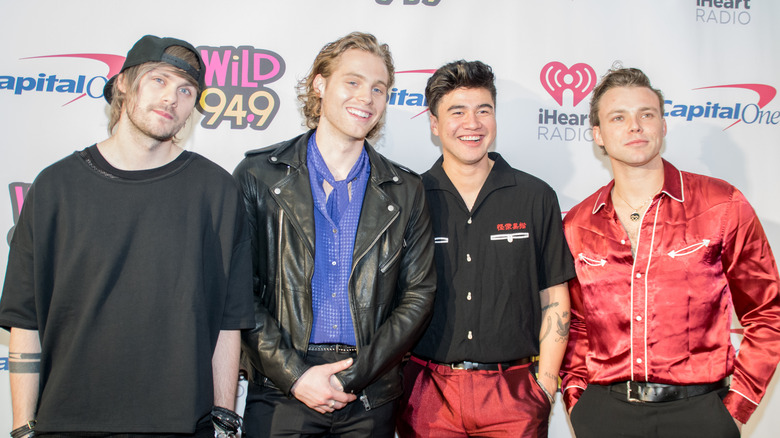 agwilson/Shutterstock
According to Sound Digest, "Complete Mess" was inspired by the sounds of Coldplay and One Republic, and the song "sounds like the perfect continuation to their previous album." It is also said that there is an "ethereal energy" to the music video, filled with emotion. "While wandering through what seems like an endless dessert, 5SOS pours their hearts out while in statement-colored suits," Sound Digest's Kelsey Sullivan describes. "It's also a lovely demonstration of the bond among the bandmates. They're hugging each other and picking each other up when they fall."
This could potentially mean that the song could be about the band and their relationship with each other, as well as with the fans. Both Luke Hemmings and Ashton Irwin have been working on their solo careers on the side, but so far, the band hasn't expressed any hints that they are splitting any time soon. They could be talking about the "complete mess" without the brother-like bond and the fans' appreciation.
"[The new album] shows a lot of hope for this band sticking around for as long as we can," Hemmings told People. "Hopefully it shows that we're trying to just connect with people even after we've just finished touring the UK and Europe — and the kind of power that an art form can hold is something that we take very seriously." In other words, 5SOS isn't going anywhere.