Hayden Panettiere Makes Devastating Comment When Discussing Her Daughter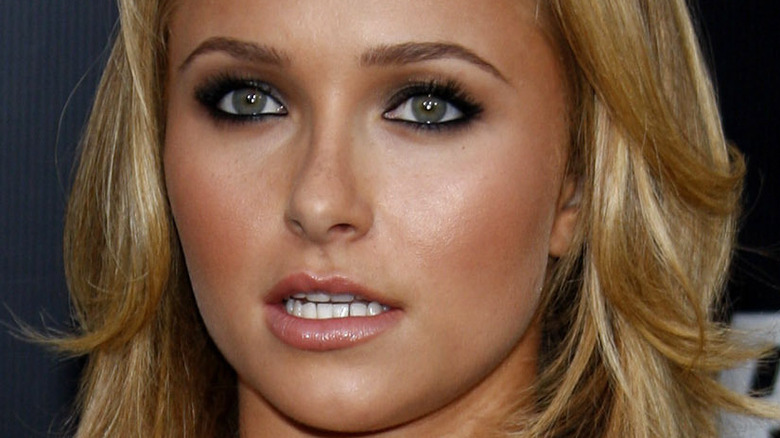 Tinseltown/Shutterstock
Hayden Panettiere has been in the entertainment industry since she was 11; her break-out role was on NBC's smash hit series "Heroes." Before long, the 16-year-old was fielding hot offers with the Hollywood elite. She began partying heavily, which led to her developing an addiction to pills and booze. In fact, in a recent interview with People, the "Remember The Titans" star revealed that she was 15 when she was first given "happy pills" to steady her nerves. "They were to make me peppy during interviews," Panettiere recalled. "I had no idea that this was not an appropriate thing or what door that would open for me when it came to my addiction."
In 2009, she met heavyweight boxing champion Wladimir Klitschko, per Page Six, and by March 2013 they were engaged. The following year, Panettiere and Klitschko welcomed a daughter, Kaya. However, due to postpartum depression, Panettiere underwent trauma therapy and in-patient treatment in 2015. She explained on "Live With Kelly and Michael," "It's really painful, and it's really scary, and women need a lot of support." Panettiere told "Good Morning America" that her addiction deepened following her battle with PPD, eventually leading to her and Klitschko calling it quits. In her daughter's best interests, the actor made the challenging decision to give full custody of Kaya to Klitschko. 
Now, clean and sober, Panettiere has made a is opening up again about her relationship with her daughter.
Hayden Panettiere's seizing her second chance at motherhood
In a recent interview with People, Hayden Panettiere shared her thoughts on awarding her ex-fiancé Wladimir Klitschko with full custody of their daughter. "I never had the feeling that I wanted to harm my child, but I didn't want to spend any time with her," Panettiere shared. "There was just this gray color in my life."
In comparison to her past, Panettiere's life today is like night and day. Although she's aware she made the right decision to award Klitschko custody, she's admitted that it doesn't make the pain any easier. "It was the hardest thing I ever had to do," Panettiere explained. "But I wanted to be a good mom to her — and sometimes that means letting them go." Kaya lives with Klitschko, who spends most of their time in Ukraine with his family. 
Back in February, after Russia began its invasion, Panettiere clarified to fans that her daughter "is safe and not in the Ukraine," according to Page Six. However, Klitschko stayed behind to fight the Russians along with his brother, mayor of Kyiv Vitali Klitschko. Meanwhile, Panettiere says she feels like she's been given "a second chance" at life and motherhood and makes the most of every minute. "[Kaya's] just an amazing child," Panettiere explained in the new interview. "I was just with her. She's just an amazing child. She's smart, and she's funny, and for whatever reason, she still loves me."
If you or anyone you know is struggling with addiction issues, help is available. Visit the Substance Abuse and Mental Health Services Administration website or contact SAMHSA's National Helpline at 1-800-662-HELP (4357).