Jennifer Aniston Is Mourning A Tragic Loss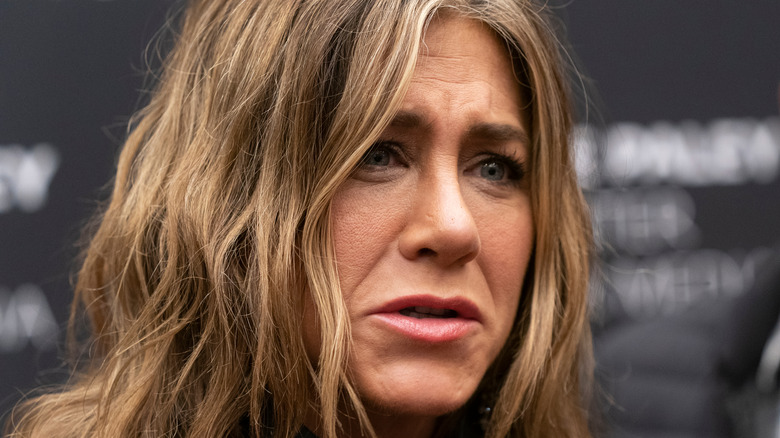 Lev Radin/Shutterstock
Jennifer Aniston reportedly didn't have the best reputation at the height of her fame. Despite her seemingly laid-back, friendly, and sunny disposition, several people allegedly didn't want to work with Aniston. According to Radar, the actor was slammed for her "diva" antics during filming. Aniston purportedly refused to join co-workers for lunch, preferring to eat alone in her luxury trailer, which was parked far from others.
"Her behavior is a clear indicator to everyone that she's not approachable," a disgruntled source alleged. "There's no reason why she has to act any better than anyone else ..." Several celebs couldn't stand Aniston and were confused as to why she was still in demand despite a slew of box office flops. Insider listed a selection of the doozies, including "Love Happens," "Rumor Has It," and "The Switch."
But with time, Aniston's career has changed for the better, cultivating in a reputation that proceeds her. 
The Morning Show helped solidify Aniston's star status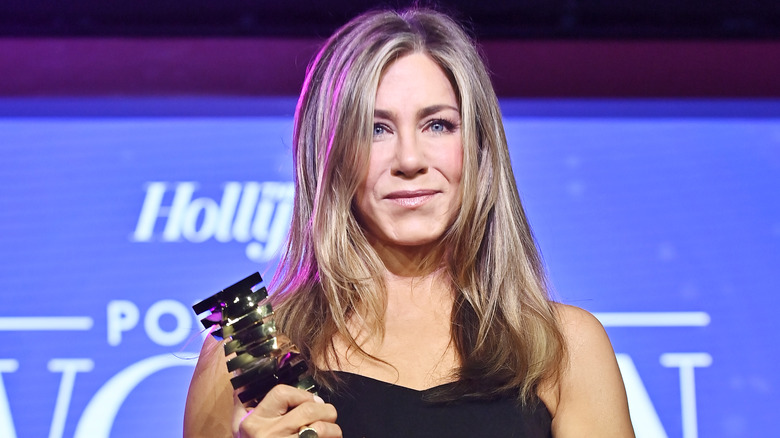 Stefanie Keenan/Getty Images
While her early career may have been fraught with varying degrees of diva-hood, Jennifer Aniston has proved her worth tenfold, with "The Morning Show" being a huge aspect of her acting renaissance. 
In November 2019, Aniston began co-starring in "The Morning Show" with Reese Witherspoon and Steve Carell, bringing an impressive performance to the screen. It's been both critically and commercially successful, earning a Rotten Tomatoes audience rating of 80%. Aniston's life today contrasts sharply with the fame-ravaged and paparazzi-packed crazy days of old. Per The Hollywood Reporter, she evolved over time, both in front of and behind the camera. For one: Despite previous allegations, Aniston seems to be more approachable now. In fact, it appears she's formed close bonds on "The Morning Show," resulting in Aniston mourning the tragic loss of a co-worker.
Jennifer Aniston pays touching tribute to co-worker killed in tragic accident
Jennifer Aniston took to Instagram to mourn the tragic loss of her coworker. Page Six reports Erik Gunnar Mortensen was a camera assistant on "The Morning Show," which co-stars Aniston and Reese Witherspoon. Mortensen was killed in an accident after crashing his motorbike on a California highway. He's survived by his wife Keely and their 2-year-old son, Lars. 
"This past week, we suddenly and tragically lost Gunnar Mortensen. One of the bright lights on our @themorningshow set. As camera assistant, he was so skilled and dedicated to his job," Aniston wrote in a post on her Instagram Story. She included some sweet photos of Mortensen with his family and shared that he would be missed. The actor had previously thanked "The Morning Show" cast and crew in a post she wrote in September 2021. Aniston said that she and Witherspoon were "grateful for our team and this crew for their hard hard work, sensitivity, and commitment to telling this story with care."
A GoFundMe page in Mortensen's honor had set a goal of $20,000. At the time of posting, it had raised over $130,000. "I worked with Gunnar only once, many years ago. Since then, every time we'd see each other at industry functions, he always remembered me and had a smile to share. Rest In Peace," one donor wrote. Another commented, "Will miss you, Gunnar, hoping for the best for your family. We're already worse off without you."