The True Story Of Travis Barker's Tragic Plane Crash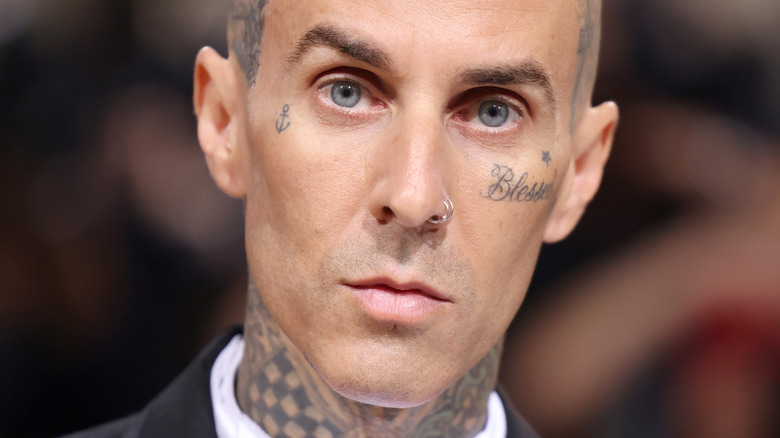 John Shearer/Getty Images
Travis Barker rose to fame as the drummer of popular punk-rock band Blink-182, which was similar in nature to groups like Weezer and Green Day. When Blink-182 broke up in 2005, the musician went on to star in a short-lived reality show alongside then-wife Shanna Moakler. These days however, he's known for his high-profile relationship with Kourtney Kardashian. In May, Barker and Kardashian wed in a lavish Italian ceremony alongside her children — Mason, Penelope, and Reign Disick, with ex Scott Disick — as well as Barker's children from a previous relationship.
On the surface, things might appear to be all roses and champagne for the Blink-182 frontman, but he's endured his fair share of difficult moments. In his 2015 memoir, "Can I Say: Living Large, Cheating Death, and Drums, Drums, Drums," Barker recounted how he lost his mother when he was only a freshman in high school. "From the moment after my mom passed away, I really followed the last words she told me. 'Play the drums and don't care about anything else in life but doing the things you love.' I almost felt like she was orchestrating things upstairs," Barker wrote (via Vice). The musician also confessed to excessive drug use, telling Billboard one of his "lowest" moments came in 2004, when he was "so addicted to Oxycodone" that his security watched him at night to ensure he was still breathing. 
However, it's the story of Barker's plane crash that has truly shaped his adult life.
Travis Barker and DJ AM suffered severe injuries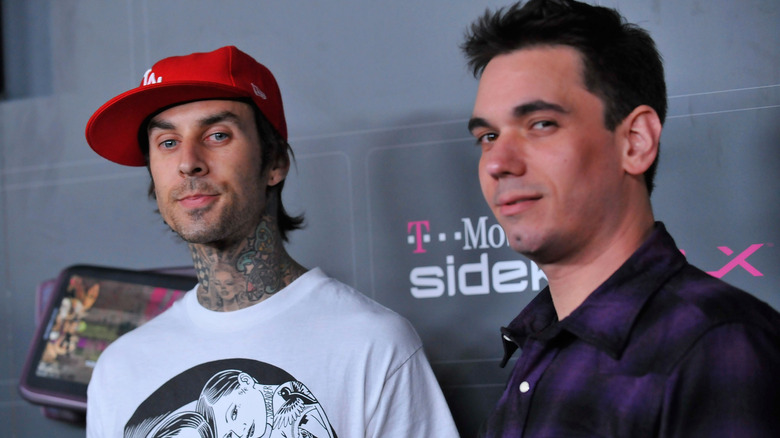 Charley Gallay/Getty Images
In 2008, Travis Barker was involved in a tragic plane crash when his aircraft "skidded off the runway and burst into flames after striking an embankment," according to Today. An investigation conducted by the National Transportation Safety Board later revealed that the plane's tires burst during takeoff, leading the pilot to abort the flight at high speed. For Barker, who already had an existing fear of airplanes, he was living his worst nightmare. In an interview on "Larry King Now" from 2015, he told the host how the "plane spiraled out of control," hit the ground, and burst into flames. Barker's assistant, his security guard, and both pilots onboard were killed in the crash, leaving Barker and his friend DJ AM to flee for their lives.
On the "Joe Rogan Experience" in 2019, Barker explained how he and DJ AM opened the plane's emergency door to escape, but not without devastating consequences. "When I jumped through the emergency exit ... I was in such a hurry to exit the plane I jumped right into the jet, which is full of fuel. My whole body lit up. I had jet fuel in my whole body," he said. Barker and DJ AM were the only survivors, and both suffered second- and third-degree burns, per CBS News. Barker struggled with PTSD and survivor's guilt in the aftermath. His emotions were further complicated when he learned that DJ AM died a year later from a drug overdose, per ABC News.
Travis Barker learned how to face his fears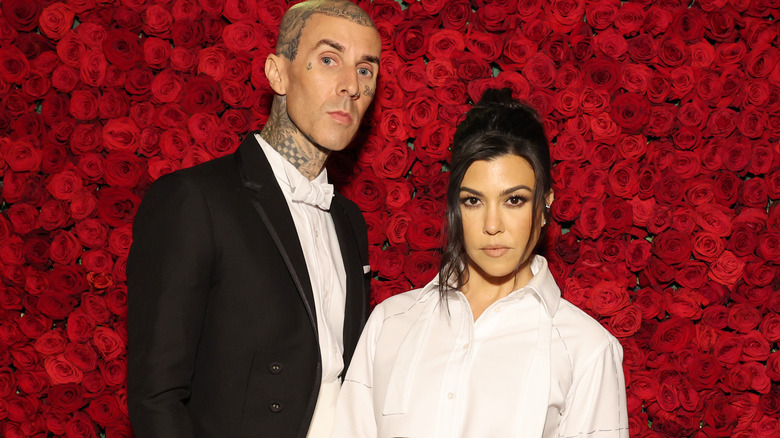 Cindy Ord/mg22/Getty Images
Despite the tragedy of the plane crash, there is a silver lining to the story. Nearly dying gave Travis Barker a new lease on life, one that motivated a decision to become his best self by quitting prescription drugs. "People are always like, 'Did you go to rehab?' And I [say], 'No I was in a plane crash.' That was my rehab. Lose three of your friends and almost die? That was my wake-up call. If I wasn't in a crash, I would have probably never quit," the drummer revealed in an interview with Men's Health in May 2021. He's also now deeply committed to living a healthy lifestyle that includes regular running, weight training, and meditative work.
But with the specter of the crash still looming large, Barker knew he needed to get on a plane again, if only to prove to his children that he could face his fears. "I tell my children, 'When you're ready to fly, I'm ready to fly," he said in 2015, per ABC News. "I don't want it to be a handicap for them," he added.
Though the musician hadn't been on a plane since the crash, his relationship with Kourtney Kardashian provided the catalyst to do so. "With you, anything is possible," Barker captioned a 2021 Instagram photo that showed him embracing Kardashian in front of a private jet. He's also said that his wife makes him feel "invincible," so it seems like true love really does conquer all.