The First Thing Oprah Winfrey Splurged On When She Became Famous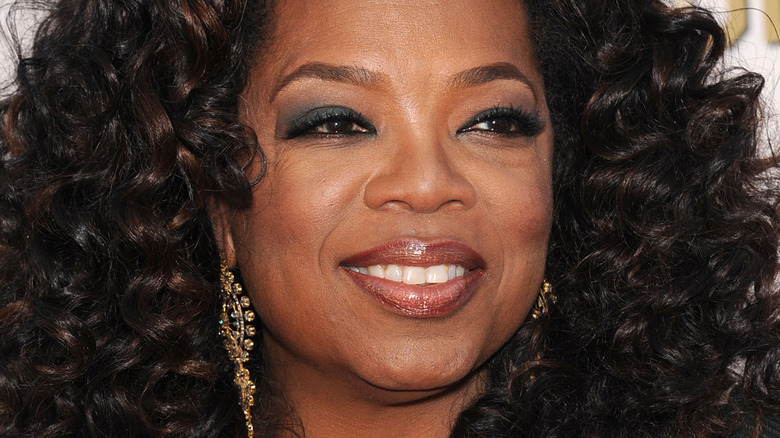 DFree/Shutterstock
Oprah Winfrey is one of the most successful and wealthy women in the world, but she came from notably humble beginnings. The media mogul was born in Kosciusko, Mississippi in January 1954 to Vernon Winfrey and Vernita Lee, via The Washington Post, and as a child, she was shuffled between her parents' homes and those of other family members in Milwaukee and Nashville.
Oprah told The Post that she realized she was poor while living in Milwaukee with her mother. "I was bused to school. I'd get on the bus in the evening and go home and the white kids would go to the pizza parlor and drive their cars and stuff," she said. Oprah also told Feminist.com she was "the poorest kid in the class." 
Amid a rebellious teenage period, Oprah moved in with her father at age 14. She has credited her strict dad for "saving" her. Fast forward five decades, and Oprah is now a full-on media mogul, with credits as a host, producer, actor, and author to her name. Oprah first became a millionaire in 1989, and today she's worth an estimated $3.5 billion, per Celebrity Net Worth. But, what did Oprah do after reaching that auspicious milestone?
Oprah Winfrey splurged on something special after earning her first million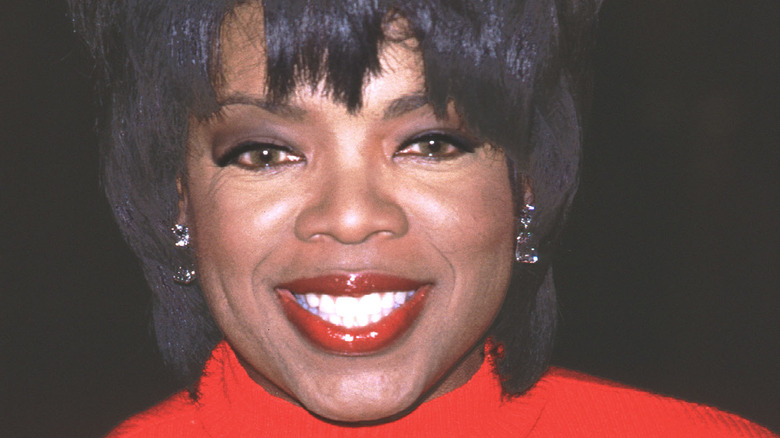 Trevor Gillespie/Getty Images
After living her early years in poverty, Oprah Winfrey found fame and fortune as host of "The Oprah Winfrey Show." The popular talk show ran for 25 seasons, from 1986 to 2011, per IMDb, and it made Winfrey a millionaire.
Winfrey has talked about what she bought when she made her first million in the late 1980s and her first major splurge wasn't a fancy car or house. Instead, she dropped big bucks on bath towels. "But not just any bath towels. Ralph Lauren bath towels. A whole entire set," she wrote in O, The Oprah Magazine in 2018. "For a girl who grew up sharing a bath towel with two half-siblings, to have a closet of lush Ralph Lauren towels in every color, in an apartment overlooking Lake Michigan, was a beautiful thing indeed."
Winfrey elaborated in a YouTube video for her magazine after she was asked by a fan what she splurged on when she first became rich. "The thing that I splurged on was really good, fluffy towels," Winfrey replied. "I love great towels. Towels that are so big and fluffy you can wrap your whole self, your whole body in. So I splurged on really good, fluffy Ralph Lauren towels." The talk show queen added that she also posed for a photo when she received her first big paycheck. "The first thing I did when I got my first check for a million dollars is I took a picture of it," she said. "So there's a picture of me holding the check for a million dollars."
Oprah Winfrey made a much bigger splurge in the 1990s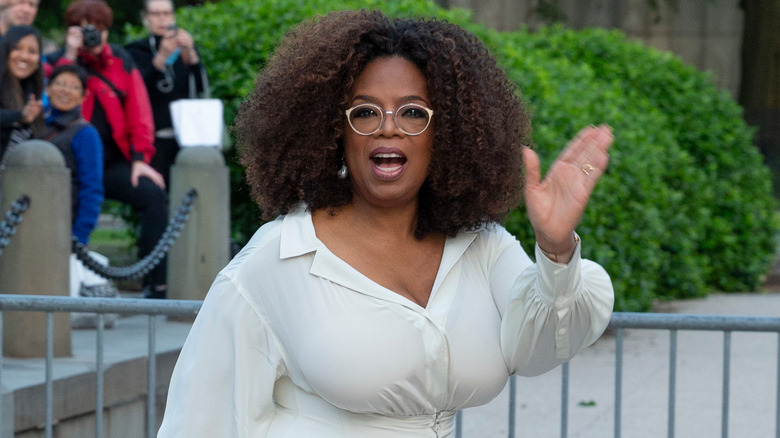 lev radin/Shutterstock
Oprah Winfrey owns homes all over the world and can indulge in any luxury she desires. It was in the early 1990s that she decided to make a purchase that went way beyond fluffy towels. Winfrey once told British Vogue that her biggest splurge ever was buying her own plane. "I would say having your own airplane is the greatest luxury," she said. "Because it means one minute you're in New York, and then the next minute you say ...'I think I'll fly to London.'"
In 2019, Winfrey told The Hollywood Reporter that she finally decided she needed her own plane when a woman came up to her at the airport and expected her to act the way she did on her TV show. "So I stood up and I gave her a hug and then I went to the phone and called my lawyer and I said, 'I'm going to do it, I'm going to get the plane. This is going to be my last time waiting four hours in the Chicago O'Hare Airport," she explained.
The talk show star added that she knew she could never justify the expense because it was such a huge luxury, but she did it anyway — and she didn't even go on a payment plan. "I wrote that first check — because I can't stand bills — for my first G4 [jet] for the full $25 million," Winfrey revealed.