Christina Hall And Her New Husband Prove Their Romance Isn't Cooling Off Anytime Soon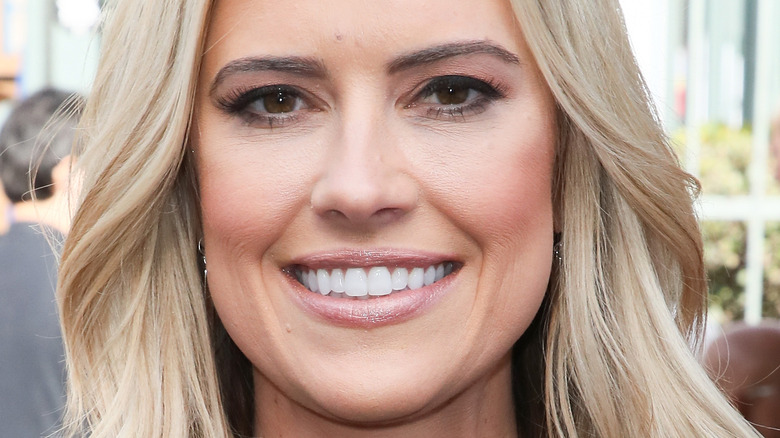 David Livingston/Getty Images
Christina Hall and her husband Josh Hall fell for each other hard when they started dating. After divorcing ex-husband Ant Anstead, the HGTV star was spotted with her new beau in July 2021. The relationship had been ongoing behind closed doors. "They've been dating for the last few months," a source told Page Six at the time. A couple months after their relationship was made public, the "Flip or Flop" host gushed over her beau on Instagram for his birthday. "You give me that teenage kinda love vibe and manly protection. It's a combo for a lifetime of happiness + success," she wrote in the caption alongside a photo of the couple embracing on the beach posted in September 2021. A day later, Christina announced in a separate Instagram post that she and Josh were engaged.
The couple decided to forego an extravagant wedding and wound up tying the knot in secrecy. In April, TMZ revealed that Christina and Josh were married "sometime over the last 6 months."
Shortly after their marriage was confirmed, Josh posted a poolside of him holding his wife to Instagram. "This woman I get to call mine is nothing short of incredible," he wrote. "She doesn't need anyones validation and certainly doesn't let anyones [sic] disapproval affect what she does with HER life." A couple months later, the newlyweds continued to fawn over each other as their love seemed to grow even stronger. 
The couple shared touching posts
Christina Hall and Josh Hall went on a romantic getaway to celebrate the "Christina in the Country" star's birthday. The pair visited the scenic Post Ranch Inn in Big Sur, and uploaded snaps with multiple picturesque settings. On July 8, Christina posted an Instagram photo of herself and Josh sharing a passionate kiss in the water. "Last year of my 30s ... going out with a [bang emoji]," she wrote in the caption. The couple appeared to relish their time together, as the HGTV celebrity added several slides to her Instagram Stories that included a picture of her and Josh holding hands while at a restaurant. Another snap showed Josh wrapping his arms around his wife while they stood near a cave. Christina re-shared a video her husband uploaded of him following her down a beach with "Can't get enough of her" in the caption.
Josh commemorated his wife's birthday with an Instagram post on July 9. The couple held each other while posing outside a lodge on the Post Ranch Inn. For the caption, Josh mentioned how the pair decided to keep the festivities relatively low-key. "No party, no crazy event, just you + me celebrating," he wrote. "Closing out my 30s + forever with you," Christina replied in the comment section.
On her previous birthday, in July 2021, the "Flip or Flop" host took the opportunity to gush over Josh. Christina wrote on Instagram, "When we met this past spring, the synchronicities hit us so hard and fast they were impossible to ignore."