Who Is Christina Haack's New Husband, Joshua Hall?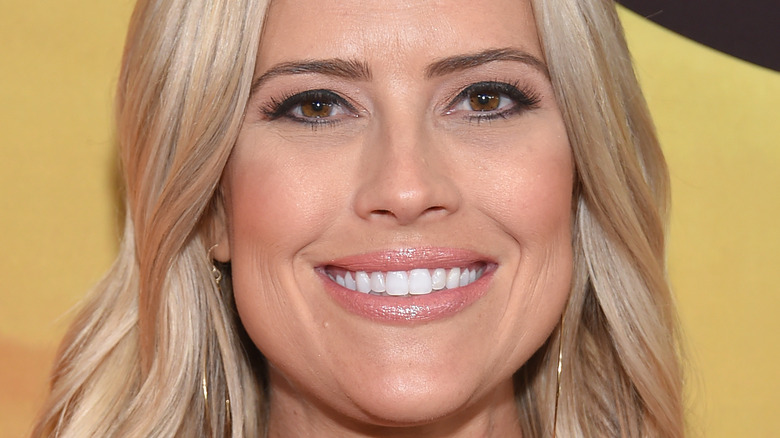 DFree/Shutterstock
Let's just say, Christina Haack isn't afraid to flip or flop relationships to find the perfect fit. After revealing she and Ant Anstead called it quits in 2020, fans noticed the realtor quickly began dating a new man, Joshua Hall. But before we dive into Haack's new husband, let's refresh our memories of the boyfriends of Haack's past.
After meeting in the early 2000s while working in real estate, Christina Haack and Tarek El Moussa tied the knot in 2009 — a year after starting their own real estate business, per Insider. By 2013, the two began their hit reality show "Flip or Flop" on HGTV. But three years after the show's premiere, their own relationship flopped. Announcing their separation to Us Weekly, the two said they had tried counseling, but decided separating would be best to "reevaluate the future" of their marriage. From there, Haack began dating and married Ant Anstead. But as we know, the relationship with Anstead didn't work out either, and the two split two years later.
Now, Haack is married to Joshua Hall, an Austin-based real estate agent. Given her past romances that haven't worked out have been with fellow celebrities, Haack has chosen to settle down with Hall, who prefers a quieter life. While the private life seems to be working well for Haack and Hall, it has left her fans wanting to know more about her new hubby. So, who is Joshua Hall? 
Joshua Hall is related to famous sisters
Joshua Hall is an Austin-based real estate agent who stays out of the limelight. Before he was a real estate agent, he grew up in Southern California and worked as a police officer. However, injuries in the line of duty ultimately led to an early retirement. 
But while Joshua doesn't like to be in the spotlight himself, he is definitely used to being in the periphery of fame. He has two sisters, Jessica Hall and Stacie Adams, who are reality TV stars in their own right. Jessica is well-known for her time as a Playboy model, and for starring in Kendra Wilkinson's reality shows, per People. Stacie, on the other hand, was a staple in MTV's "The Hills" — though it wasn't always for the best reasons. On "The Hills," Stacie was known as "Stacie the Bartender" as she was constantly serving and flirting it up with Spencer Pratt — causing lots of drama, as Pratt was dating co-star Heidi Montag.
While Joshua's sisters happily took on the fame, the connections they made within the industry may have served him well. For example, one of Jessica's best friends is Heather Rae El Moussa. Yes, that Heather Rae El Moussa — the new wife of Tarek El Moussa, Christina's ex. Jessica and Heather are such good friends they even had a podcast together. Now, whether the podcast played a game of matchmaking for Hall and Haack is unknown. Either way, it may pave the way for some awkward interactions.
Joshua Hall puts his new family first
Knowing her new husband is used to living on the edge of stardom, it seems Joshua Hall was the total package for Christina Haack — they've even started a production company together. But Hall and Haack share a deeper connection than both just understanding the intricacies of reality fame and being real estate agents. While the two have chosen to keep their relationship relatively private, from one look at their social media pages, these two have plenty of similarities. For example, since announcing their relationship, the two have taken both of their loves for traveling, animals, and growing their careers together.  
Despite all of Haack and Hall's similarities, Hall — unlike Haack — does not have children, despite being previously married. However, he has quickly taken on — and loved — his role as step-dad. "I am not these kids' biological father, they have those," he wrote on Instagram. "What I will be is the best example of a quality human being, always show them how to treat their mother with respect and support them in any way I can." From this alone, it's no surprise that Haack fell in love with Hall. Here's to the happy couple!