The Truth About Keanu Reeves And Charlize Theron's Relationship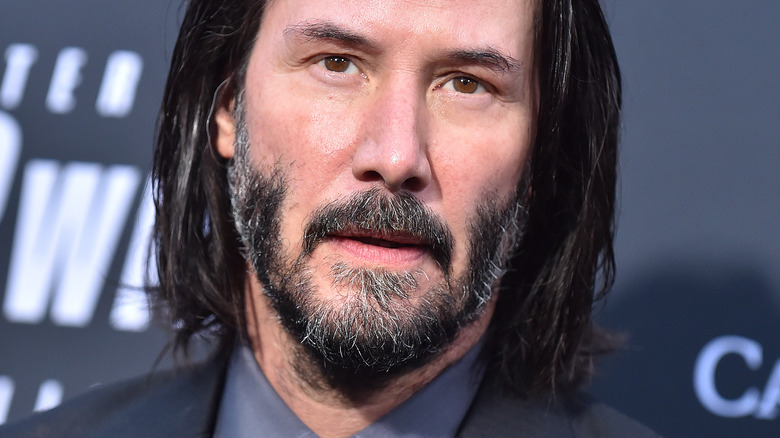 DFree/Shutterstock
People love to gossip about celebrities and their romantic lives almost as much as they love to tune into their latest movies. But Keanu Reeves, despite being a major movie star for decades, has always rejected the Hollywood lifestyle. When it comes to his personal relationships, especially his love life, the "Matrix" star has always kept things close to his vest. Reeves has garnered a bit of a reputation for going stag, but Reeves has had several romances over the years.
Sadly, the actor has also faced immense tragedy in his life. In the early 2000s, his then-girlfriend Jennifer Syme had a stillbirth and later died in a tragic car crash. The back-to-back tragedies shocked the actor. In a 2006 interview, via People, Reeves said, "Grief changes shape, but it never ends. People have a misconception that you can deal with it and say, 'It's gone, and I'm better.' They're wrong. When the people you love are gone, you're alone."
Reeves has always been one Hollywood actor that everyone loves, including his good friend, "Stranger Things" star Winona Ryder, who he accidentally married for real on the set of "Dracula." Ryder told Entertainment Weekly, "In that scene, Francis [Ford Coppola] used a real Romanian priest. We shot the master and he did the whole thing. So I think we're married." But it's Reeves' potential pairing with Charlize Theron that remains the most muddled. 
Keanu Reeves and Charlize Theron appear cozy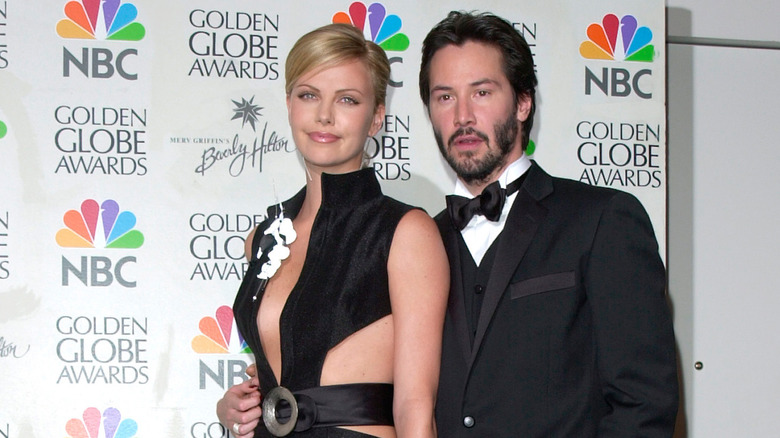 Featureflash Photo Agency/Shutterstock
Since Keanu Reeves remains so private, the public is in the dark on whether he and Charlize Theron were actually an item. But what we do know is that Reeves and Theron have remained close for more than two decades; both actors starred in "Sweet November" and the "Devil's Advocate." But according to Celebrity Vibe, the couple first appeared in public together in 2001. Reeves and Theron got cozy, with Theron's mother in tow, at the Golden Globes and its after-party. Romance rumors continued to swell even nine years later in 2010. According to the Daily Mail, Reeves and Theron had an intimate dinner in Beverly Hills with "a series of kisses and hugs." At the time, Theron was just getting out of a nine-year relationship.
While the two have never spoken publicly about any relationship rumors, Theron isn't afraid to publicly declare her affection for Reeves. In 2020, the "Atomic Blonde" actor shared a heartfelt birthday post on Twitter to Reeves. "I love this handsome human so much!" she wrote alongside a photo of the two getting pretty close. It was enough to make fans' heads turn. "Happy birthday, Keanu. You're just the best!" Of course, they may just be good friends, because Reeves has been officially linked to someone else.
Keanu Reeves finds love with long-time friend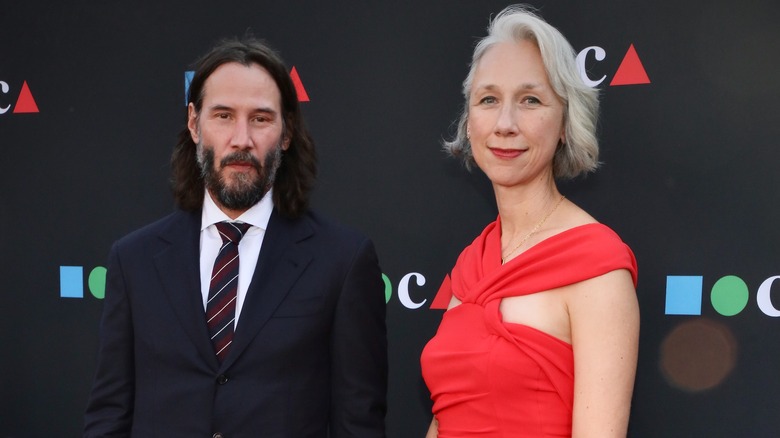 Robin L Marshall/Getty Images
In 2019, Keanu Reeves went public with a relationship with longtime friend and artist Alexandra Grant. As per People, the two were first spotted together holding hands while at a Los Angeles film event, the LACMA Art + Film Gala. Reeves and Grant have reportedly known each other for years. They both worked together on Reeves' books "Ode to Happiness" and "Shadows." In 2017, the couple founded a publishing house called X Artists' Books. 
According to US Weekly, the couple has been together since at least 2017. So that pretty much closes the door on Reeves and Charlize Theron, to the disappointment of many shippers. But who knows what the future holds for anyone including the actors. Reeves shared his views on marriage back in 2006 in a People interview where he said, "I want to get married. I want to have kids. That's at the top of the mountain. I've got to climb the mountain first. I'll do it." 
So could there be wedding bells in Reeves' future? An insider told US Magazine that Reeves may be planning to pop the question in the near future, but the "Speed" star also doesn't need a piece of paper to be happy. "They're soulmates and totally committed to the long term." It's good that Reeves finally found love even if that's not with Theron.