Fans Are Taking Jessica Simpson To Task Over Her Parenting Decision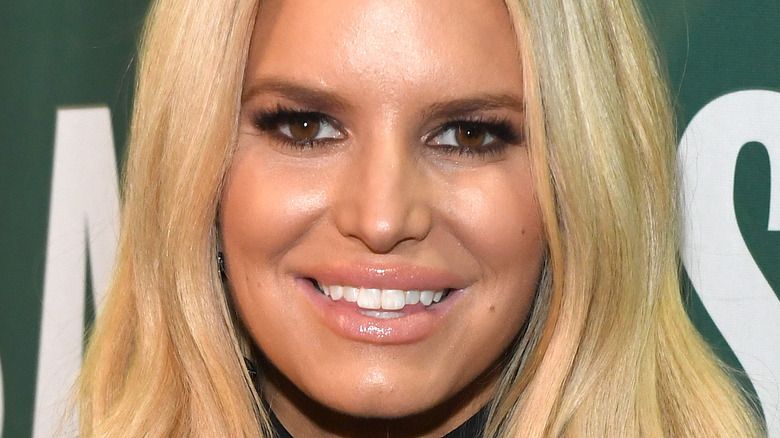 Kevin Mazur/Getty Images
Jessica Simpson has had a lot of titles in her life — including music chart topper and fashion maven — but if there's one role that she perhaps loves the most in her life, it's her role as a mother.
Together with her husband Eric Johnson, they share three children — Maxwell, Ace Knute, and Birdie — and according to her fans and social media followers, they have been growing up fast in the spotlight. Back in 2019, Simpson told People that raising three small children is no walk in the park. She said at the time, "Three kids is no joke. It is definitely constant, and the biggest challenge for me is trying to be present when I am pulled in so many directions. They are all in such different phases now."
That said, Simpson is getting some heat for a photo that she posted of her daughter, Birdie. While the young girl looks totally content in her father's arms, a lot of Simpson's social media followers are calling her out for what they think looks like a questionable parenting decision.
Fans are calling out Jessica Simpson for her daughter's pacifier
Jessica Simpson is getting a lot of heat for a family photo that she shared via her Instagram account on July 9.
The photo series, which she captioned simply with "The lake life," shows both Simpson and Eric Johnson enjoying a fun day out on a boat with their family and friends. However, one particular photo shows Johnson holding their 3-year-old daughter Birdie, who happens to have a pacifier in her mouth. When one follower wrote, "Birdies a little old for a binkie don't you think," it didn't take long for others to respond as well. Another comment included, "I know right 1st thing I noticed that's why her top teeth are arched." (The American Academy of Pediatric Dentistry suggests that parents begin weening their children from their pacifiers anywhere between the ages of 2 and 4.) 
While Simpson herself has not made any comments about the social media controversy, it looked like she and her loved ones were enjoying their much-needed family time together. There's a good chance that Birdie's smile might one day be just as beautiful and content as her mom's, regardless of what anyone has to say about the tot's pacifier habit now.