What Emma Mackey Really Thinks About Her Resemblance To Margot Robbie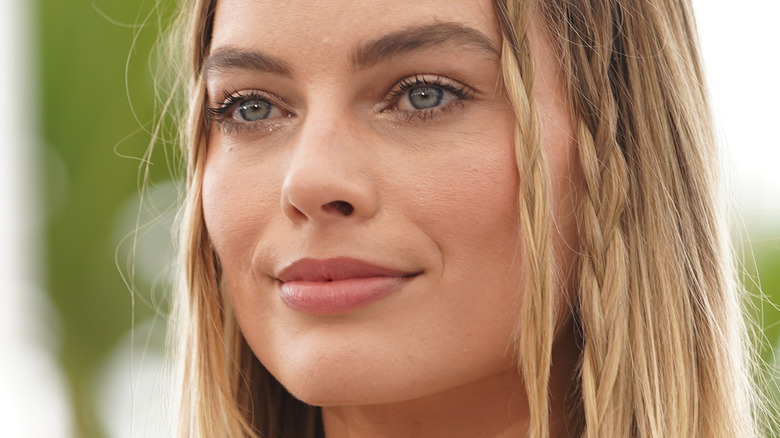 Denis Makarenko/Shutterstock
French-British actor Emma Mackey is best known for her role as Maeve Wiley in the Netflix series "Sex Education." She also got a bit of experience in blockbuster films by starring as Jacqueline de Bellefort in "Death on the Nile" based on the Agatha Christie novel of the same name, per IMBd. Although Mackey may be just starting out as a young actor, she also enjoys downtime.
"I'm realising it more and more, how bizarre it is, to spend a lot of your waking hours dressed up as someone else," she told The Guardian in 2021. "Wearing clothes that aren't yours, you don't get a lot of agency. I think what I'm saying is: the simpler, the better."
According to Hunger TV, Mackey hinted that she may not be starring in "Sex Education" much longer, stating that she "can't be 17 [her] whole life." She also expressed interest in being a writer or a director someday. But Mackey has received some exciting news and will be getting to work with her "movie icon," per Vogue, Greta Gerwig, whom she describes as "phenomenal."
Emma Mackey wants people to stop comparing
According to Cosmopolitan, fans have noticed a resemblance between Emma Mackey and Australian actor Margot Robbie for years. Even @morphy_me, an Instagram account dedicated to morphing and comparing celebrities' facial features, posted a photo about it (3rd slide). But Mackey isn't too fond of the comparisons.
"I genuinely just don't see it at all," Mackey told Independent in 2020. "But it's fine. I wish people would stop comparing. Like, it's lovely to be compared to Margot Robbie, but mostly I'd rather people focus on the jobs that we're both doing rather than what we look like. Hollywood churns out people who look the same and we love to put people in boxes. It's just a thing that we do as a species, we categorise people, we always have."
The internet went berserk when it was announced that the two actors would be in the new live-action Barbie movie together, per The Hollywood Reporter. Although it could have been just a coincidence, this casting choice could also be hinting at something about the plot of the Barbie movie.
The comparison may be an advantage for the Barbie movie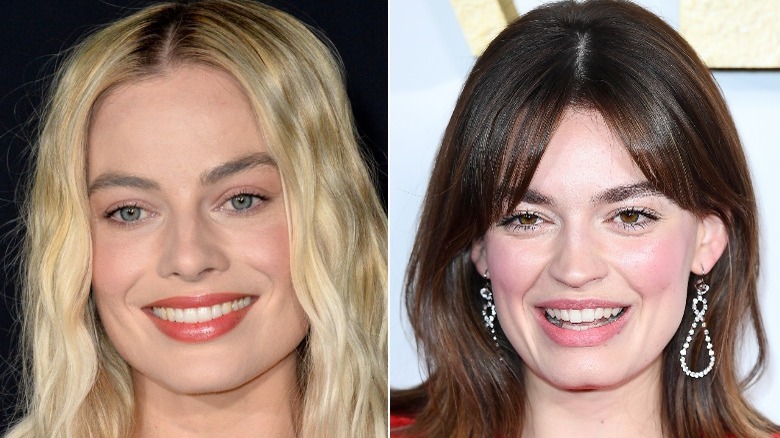 Jeff Spicer/Getty & Featureflash Photo Agency/Shutterstock
When Elle hopped on the bandwagon and pointed out the "uncanny" resemblance between Margot Robbie and Emma Mackey, it was in 2020 when the two reportedly hadn't met. It was just internet memes and comparisons, and the two talking about how people mix them up a lot.
"Someone came up [to me] a few weeks ago, I was eating a burger," Robbie told BBC Radio 1 in 2019. "They were like, 'I loved you in Sex Education. That show is so cool, we just started watching it.' And I was like, 'I'm so sorry, it's not me.'"
That all changed when Mackey joined the cast of the new Barbie movie directed by Greta Gerwig. According to entertainment.ie, fans are speculating that Mackey could be playing Barbie's sister, as they could pass as sisters in real life. After Mackey explained how they had a "Barbie sleepover," per Empire, fans are also believing that there could be different versions of Barbie, possibly using different actors for different ages of the blonde beauty.