How Old Was Kaia Gerber When She Made Her Modeling Debut?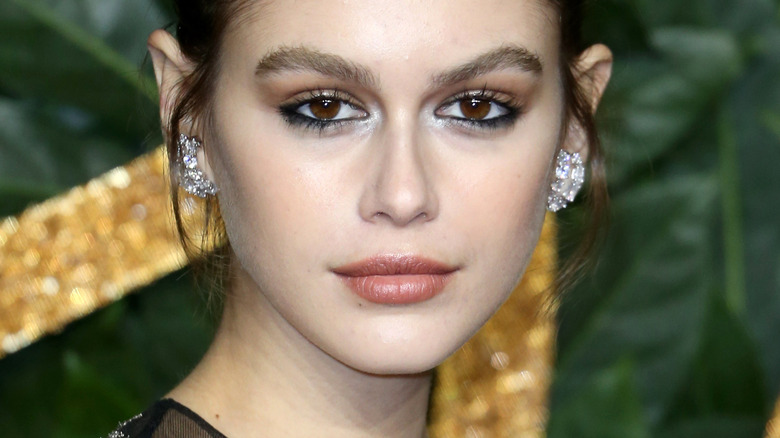 Cubankite/Shutterstock
As the daughter of two professionally beautiful people — fashion icon Cindy Crawford and model-turned-entrepreneur Rande Gerber — perhaps Kaia Gerber was always destined to walk the runway herself. "From day one, people in the industry were often taken aback by my resemblance to my mom," she revealed in a Vogue essay. But deciding to pursue a modeling career herself was a brave move for the nepotism baby; it put Kaia at risk of finding herself stuck in the shadow of an esteemed supermodel.
Her supermodel mom has opened up previously about her fears for her young daughter. "In the modeling world I hit the top and if she doesn't it might be a lot of pressure for her," Crawford told Vogue Australia (via Hello!). "If you have a successful parent and you go into the same business but you're not successful then what?" But Gerber would go on to join Kendall Jenner and the Hadid sisters as one of the supermodels of the Instagram era.
Kaia has become a Fashion Week fixture and landed campaigns with Coach, Miu Miu, and Marc Jacobs Daisy, just to name a few of the luxury brands she's worked with. She can also boast that her career began with one of the world's most renowned fashion houses when she was just a tween.
What Kaia Gerber struggled with in her modeling career
Rachel Murray/Getty Images
At age 10, Kaia Gerber made her modeling debut in a 2012 Versace campaign. Described as a "baby supermodel," she was photographed rocking an edgy black leather jacket and miniskirt from the label's childrenswear line. "Like her mother, Kaia has a very special gift," Donatella Versace told Vogue. Cindy Crawford had worked with Versace before (via Grazia), so she knew what Gerber could expect. "I chaperoned her and I knew besides getting great pictures, she would have fun," Crawford said in a Teen Vogue interview.
Gerber signed with the IMG modeling agency at age 13, but as Crawford explained to Net-a-Porter, she had to be 16 years old to appear in runway shows — so when Gerber put the brakes on her career, it wasn't because her mom forced her to. After Gerber celebrated her Sweet 16, Crawford told AP, "My daughter just got her driver's license. I'm a lot more concerned about her driving by herself than her entering the world of modeling."
However, Gerber confessed to Vogue that the jet-setting lifestyle of a model was initially overwhelming. "I found myself in situations where I was, like, I actually don't have the life experience that I need to handle this," She revealed. This included navigating Paris alone. "My driver had to check me into my hotel room — I couldn't even do it on my own," she recalled.
How Kaia Gerber is similar and different from her mom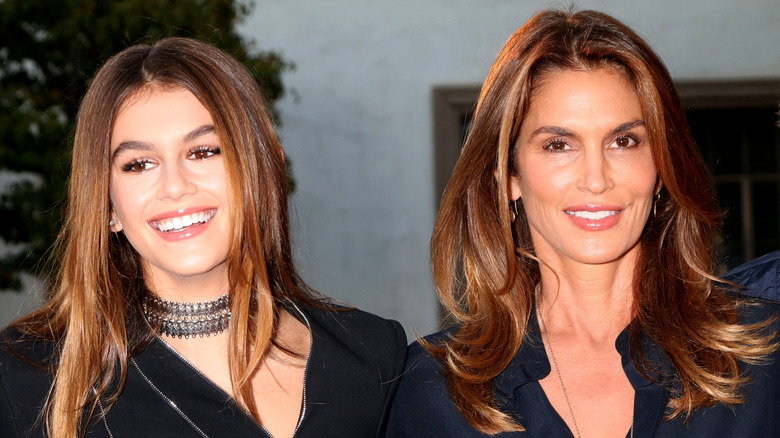 Kathy Hutchins/Shutterstock
Cindy Crawford was much older than Kaia Gerber when she embarked on her career as a model. When the pair did a joint interview with Teen Vogue, Crawford told her daughter, "You're so much more confident than I was! I didn't start modeling until I was nearly 17. You have a sense of what feels right for you." According to Gerber, she's also embraced a different aesthetic from the bombshell-next-door style that her mom is often associated with. "I'm definitely a bit more of a tomboy than my mom was," she told Lifestyle Asia.
 "I think I'm a bit more of a rule-breaker than my mom," she told Allure. "I think I got a little bit of an edgier side from my dad." For proof of this edginess, look no further than the tattoo Gerber gave herself, per Glamour.
One thing the two models have in common is their respectful, considerate behavior, as Gerber revealed to People. "She also taught me it's important to be nice to everyone, to learn everyone's names [on set] no matter if it's the photographer or the assistant," she said of her mom. And while we'll probably be hearing observations about the physical similarities between Gerber and Crawford for years to come, Gerber told Vogue, "But the biggest compliment is when someone says I act like my mom."