What Lola Tung Was Doing Before Starring In The Summer I Turned Pretty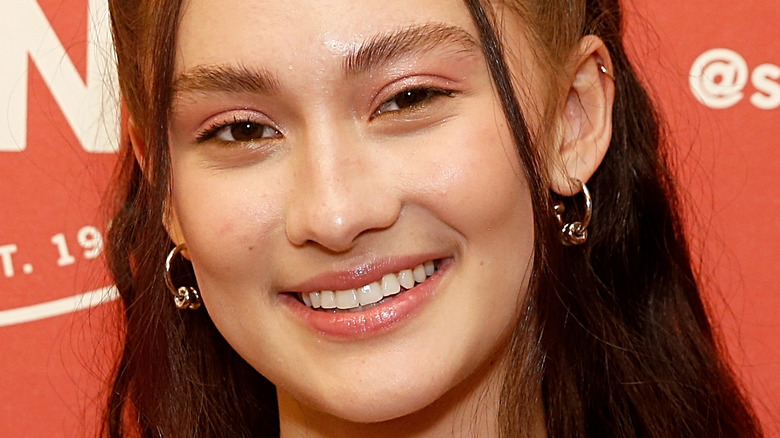 Dominik Bindl/Getty Images
Actor Lola Tung has recently taken Hollywood by storm with her standout performance as Isabel "Belly" Conklin in the popular series, "The Summer I Turned Pretty." The adaptation of the Jenny Han novel follows Belly's eventful summer story as she visits Cousins Beach with her family and the Fisher family. During a 2022 chat with People, Tung discussed how she felt connected to her character's experiences throughout filming the first season of the show. "This was the summer that she was really discovering who she was and who she wanted to be and creating her own path and finding her independence," Tung said of Belly. "And I related to that a lot." She added that her character faced "experiences [she] could understand so well," which further influenced her acting for the part.
Also in 2022, Tung told Seventeen that she was a fan of Han's, who also wrote "To All the Boys I've Loved Before," prior to being chosen for the lead role of the TV adaptation. "It's unbelievable, I can't believe [I'm part of 'The Summer I Turned Pretty']," Tung said. "Jenny's also the best, so it's really wonderful and wild that I've formed that relationship with her too." Here's what Tung was up to before she earned this dream part.
Lola Tung was attending college before she was cast in The Summer I Turned Pretty
Although she's now focused on her Hollywood career, it wasn't long ago that actor Lola Tung was pursuing higher education at a prestigious university. The "Summer I Turned Pretty" star was studying acting in her first year at Carnegie Mellon when she auditioned to play Belly in the Amazon Prime series. In a 2022 interview with Glamour, Tung explained that her talent agent sent her an audition for the show, but she was so dedicated to her studies that she didn't initially anticipate taking the gig. 
"I was like, 'Alright, I'll submit tapes for this audition, but I'm really focused on school because it's really important to me,'" Tung said. "I heard back about testing for the role of Belly very quickly after ... I feel very, very grateful." Glamour also wrote that Tung was still enrolled at the university but had taken a year off while shooting Season 1 of "The Summer I Turned Pretty." When she spoke to the New York Post in June, Tung described it as feeling "so magical" to have scored this lead part for her first professional acting gig. "The first day of filming was a really amazing moment, because everything was so new and exciting," Tung added. Thus far, the series' cast and crew has performed so well that they received some very positive news before "The Summer I Turned Pretty" even aired.
Lola Tung will return for a second season of The Summer I Turned Pretty
"The Summer I Turned Pretty" has catapulted Lola Tung to fame, and it looks like her Hollywood success will only continue to thrive. Season 1 of the Amazon series has been well-received by viewers and, as Deadline wrote in June, the show was renewed for a second season prior to the debut of Season 1. In celebration of the premiere of the show, Tung posted an Instagram photo of herself hugging some "The Summer I Turned Pretty" costars, Christopher Briney, Gavin Casalegno and Sean Kaufman.
"Our show is out today on @primevideo & I'm feeling many emotions right now but I just wanted to say thank you," Tung wrote befoe adding, "I am so incredibly grateful for this experience ... Cheers to Season 1 & to being able to continue the journey in season 2." Tung additionally expressed her enjoyment in working alongside her fellow actors while speaking to Today in July. "Both Chris, who plays Conrad, and Gavin, who plays Jeremiah, are wonderful people and so easy to work with and so much fun to just be around," Tung said. "So I feel very lucky that we had such a wonderful friendship and it worked out." In the end, Tung's decision to leave school and pursue this full-time acting opportunity has paid off big time!