Meghan Markle Reportedly Earned An Eyebrow-Raising Nickname From Her Neighbors
Max Mumby/indigo/Getty Images
Prince Harry and Meghan Markle are making headlines once again after news broke that the prince will be the keynote speaker at the U.N. General Assembly's event in New York for Nelson Mandela International Day on July 18. The Duke and Duchess of Sussex were a big hit on their November trip to the Big Apple. Meghan stunned at the Intrepid Air & Space Museum Salute to Freedom Gala in a V-neck Carolina Herrera gown, per ET. But the 40-year-old duchess also made headlines for her big heart as she spoke at a panel for The New York Times Dealbook Online Summit. According to the outlet, Meghan said, "Even before I had any sort of privilege in my life — when my life and my lifestyle were very, very different — I always stood up for what was right."
Meghan and Harry back up their words with actions, and even renowned humanitarian Chef José Andrés sings their praises. "I love them ... For me, it is a pleasure to call them friends," Chef Andrés told People. "We have to make the most of the opportunities of goodness, and I believe that with people like Meghan and Harry, we can make it happen." So why is Meghan admired in the United States but still controversial across the pond? U.K. royal historian Penny Junor explained Meghan's perception gap to The New York Times, "We tolerate success in this country, but we don't celebrate it," Ms. Junor noted. "In America, they glorify success." So what is Markle's new eyebrow-raising nickname from her neighbors?
Meghan Markle nicknamed Princess of Montecito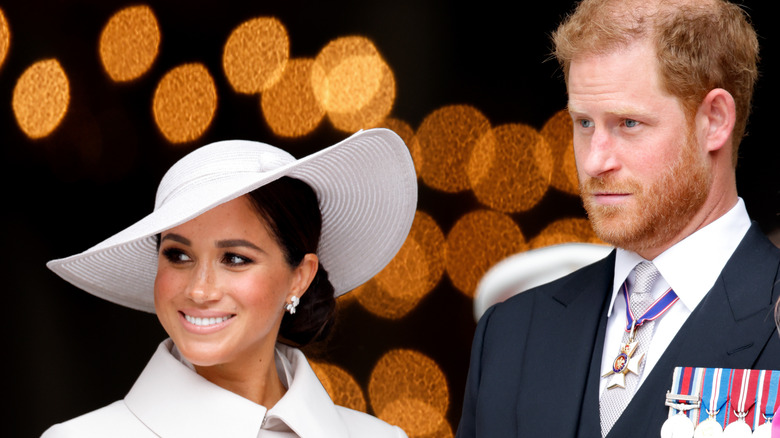 Max Mumby/indigo/Getty Images
U.K. outlet Closer reported that her neighbors call Meghan Markle the "Princess of Montecito." A source told the British outlet, "Meghan has been slowly carving out a new lifestyle, which has seen locals dub her 'The Princess of Montecito.'" The "inside" source told Closer that Meghan's royal status "gives her a lot of leverage" to get perks normally reserved for A-list celebrities. The source added, "If she's going into Beverly Hills or West Hollywood for lunch or dinner, she'll generally call ahead and request a table that is completely secluded." The source also noted that Harry is "up at the crack of dawn getting the kids fed, washed and dressed" while his wife is busy working or going into L.A. for meetings that "Harry often chauffeurs her to."
While the new nickname from the Closer report sounds funny, in light of the British media's coverage of Meghan and Harry, take this report with a grain of salt. CBS News reported the British press has been upset with the Duke and Duchess of Sussex, especially after their Oprah interview. U.K. journalist Ayesha Hazarika told CBS News, "British culture is still incredibly socially conservative," further explaining, "And the British tabloids and British polite society — they prefer to see women in the royal family seen but not heard." Yahoo royal expert Omid Scobie took things further on July 5 when he called out the firm for throwing out gossip about Meghan and Harry to distract from royal family scandals! Yikes.