Was Julianne Hough Really In Harry Potter?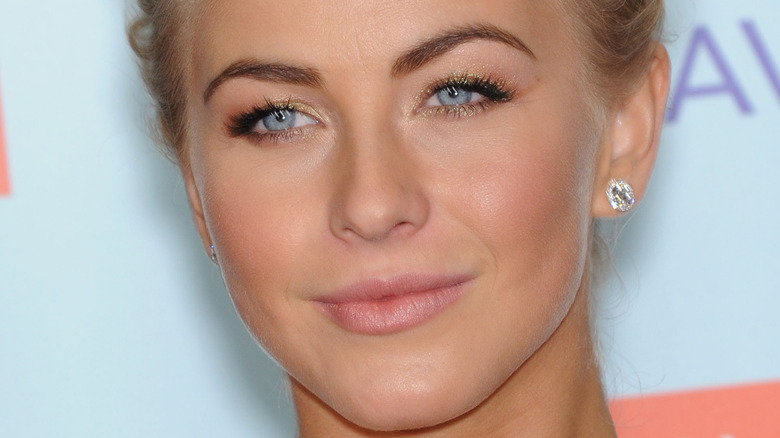 DFree/Shutterstock
Julianne Hough is quite the multi-hyphenate. The star shot to fame as a professional dancer alongside her brother, Derek Hough, on "Dancing with the Stars," before later rising through the ranks to sit on the judging panel for a few seasons. But that's far from where her talents end. The star is also a singer (she released her self-titled album in 2008, plus a Christmas EP that same year, per Discogs) and has also seen plenty of success as an actor. In fact, she initially turned down the show that made her a household name because she wanted to pursue acting over dancing and be taken more seriously.
"I thought that being on a reality show would hurt my credibility. But what I've come to realize is that being on that show completely launched my career and gave me a family and a built-in audience," she told Interview in 2012. "My biggest fear is that people think, 'Oh, just because she was on 'Dancing with the Stars,' she thinks she can act now.' But I've been acting my whole life, which people don't realize. I just haven't had the opportunities that I've had with my dancing."
As for where you may have seen Julianne on the big screen? She has some big movies to her name, per IMDb. The star popped up in "Safe Haven," "Burlesque," and "Rock of Ages," but did you know she was also in a Harry Potter movie?
Julianne and Derek Hough both appeared in the wizarding world
DFree/Shutterstock
Yep, just call her Julianne Hufflepuff, because Julianne Hough and her brother, Derek Hough, both had small roles in the 2001 movie "Harry Potter and the Sorcerer's Stone." The two appeared in the blockbuster because they attended a performing arts school in London when they were younger and spent a few months on the set as extras.
Derek admitted to People in 2016 that they used to get into a bit of trouble and has plenty of mementos from filming, despite being asked not to. "I was in Ravenclaw — I stole the robe, the tie, the scarf, and I stole cutlery from the Great Hall! I was like, 'I'm taking this!'... It was funny because we knew those movies were gonna be such a big deal." As for Julianne, her time was more spent on her crush on Harry Potter himself, Daniel Radcliffe, and she even sent him a toy for Valentine's Day! Or, at least, she tried to. "I didn't personally give it to him because I was just an extra, but I gave it to his assistant or PA that was working with him. I don't know if he ever got it," she recalled.
Derek dished a little more to Entertainment Weekly in 2018, sharing that he was actually a stand in for Tom Felton's character, Draco Malfoy. "We'd have dance-offs during breaks in our full robes. We'd battle it out in between takes!" he revealed.
What Harry Potter scenes were Julianne and Derek Hough in?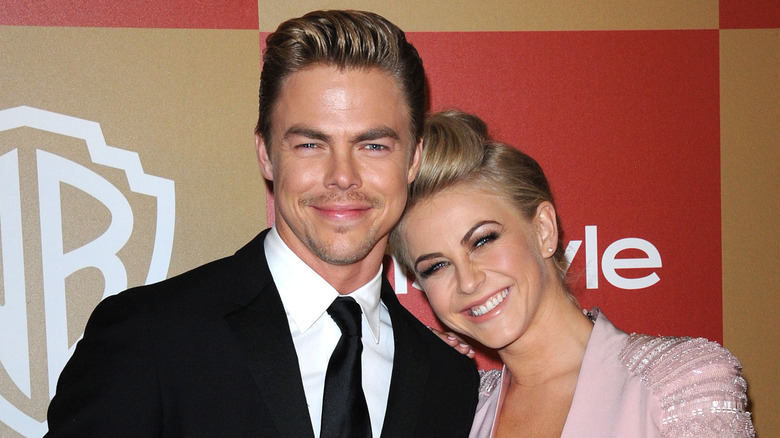 DFree/Shutterstock
If you're looking to find Derek Hough and Julianne Hough in "Harry Potter and the Sorcerer's Stone," you may need to look closely, but you should be able to spot them. "There's a specific scene where Hermione is leaving for Christmas while carrying her suitcase. We pass in the hallway. I was holding an owl. That's my big moment," Derek told Entertainment Weekly. As for Julianne's big moment? She was in the famous Quidditch scene. The siblings didn't appear in every further movies because they were traveling a lot competing in dance competitions.
Julianne in particular seems to have fond memories of her time on the set, though. In June 2017, she celebrated 20 years since the film's release on Instagram with two screenshots of herself in the blockbuster. "Happy 20th Anniversary Harry Potter! Remember that one time when I was 11 and a Gryffindor? Oh and apparently liked flirting with the Weasley twins?" she teased.
Julianne also shared her favorite memories with People, admitting, "My greatest memory of that experience was that this was the first kind of set that I'd ever worked on for film or television or anything." One thing she regrets, though? Not realizing she should have pretended to eat. "Each take, I'd eat the whole thing! I was like, 'There has to be continuity!' — even at 10 years old I was thinking that. Anyway, it was the worst — I remember being so sick."