The Iconic Britney Spears Song That Was Really Meant For Katy Perry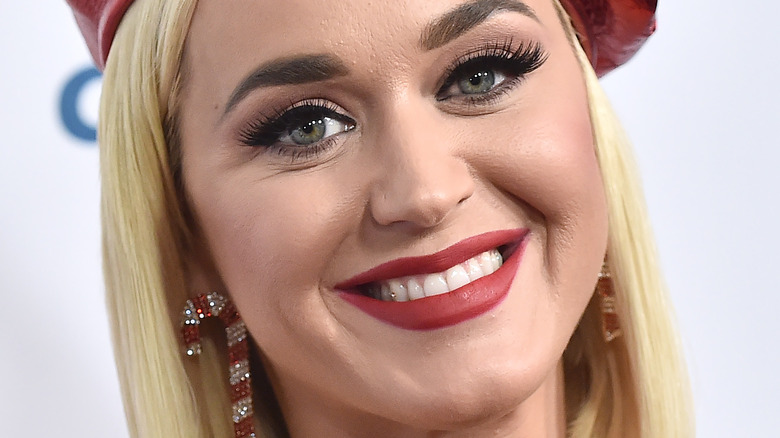 DFree/Shutterstock
Not only is Katy Perry a great entertainer, but she is also the songwriter behind many of her own hits, as well as other artists' back catalogs.
During a 2020 interview on "The Howard Stern Show," Perry opened up about her creative process when penning an original song. "I'm a lyricist and a melody person mostly, so that's where I pull my weight," the "Waking Up In Vegas" hitmaker explained, adding, "I'm really actually influenced by a beat, by the sonic landscape of something that comes to me." With a career spanning over 10 years, Perry has achieved a lot of success, racking up 9 chart-toppers on the US Billboard Hot 100. In addition to writing her own smashes, she has also given a helping hand to some of our other faves. As noted by Rolling Stone, the Grammy Award-nominated star has a writing credit on songs from Nicki Minaj, Kelly Clarkson, Selena Gomez, and Britney Spears, to name a few.
Even though Perry has established herself as one of today's most successful songwriters, that hasn't stopped other writers from hoping she will take their songs and record them. In fact, one of Spears' hits that we've been singing along to all this time was actually meant for Perry.
Katy Perry inspired Britney Spears' No. 1 hit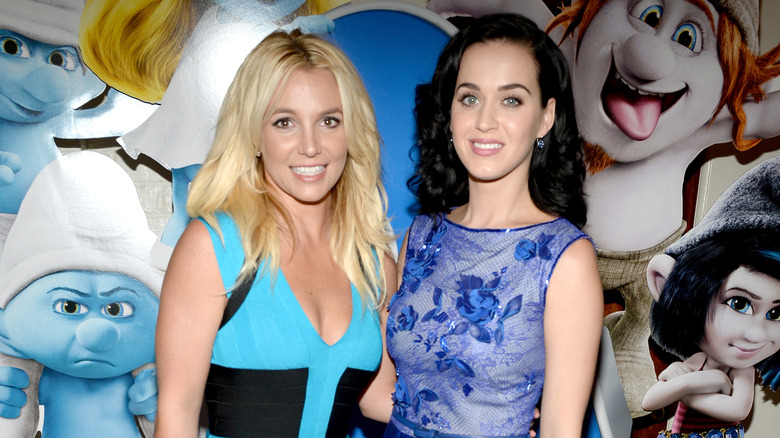 Michael Buckner/Getty Images
Britney Spears' 2011 album "Femme Fatale" was full of jams and its lead single, "Hold It Against Me," was no exception. Despite becoming a huge smash for Spears, the songwriter behind the song, Bonnie McKee, revealed on Twitter in 2017 that its lyrics were inspired by Katy Perry. "The inspiration for @britneyspears's song Hold it Against Me was @katyperry's babely bod. True story," she tweeted.
In a 2013 interview with The Hollywood Reporter, McKee described Spears taking "Hold It Against Me" as a "happy accident." She continued, "I was writing with [Perry] at the time and I went in the other room where I was working on Britney in between. She came into the room in some tight, sexy little dress and I jokingly said, 'Damn, Katy if I told you you had a nice body would you hold it against me?' I was like, 'Bingo!' and I wrote that song."
Even though "Hold It Against Me" didn't work out for Perry, it wasn't wasted on Spears. Not only did it become her fourth chart-topper on the US Billboard Hot 100, but she also became the second artist alongside Mariah Carey to debut at No. 1 on the chart more than once, per Billboard.
This isn't the first time a Britney Spears song was written for someone else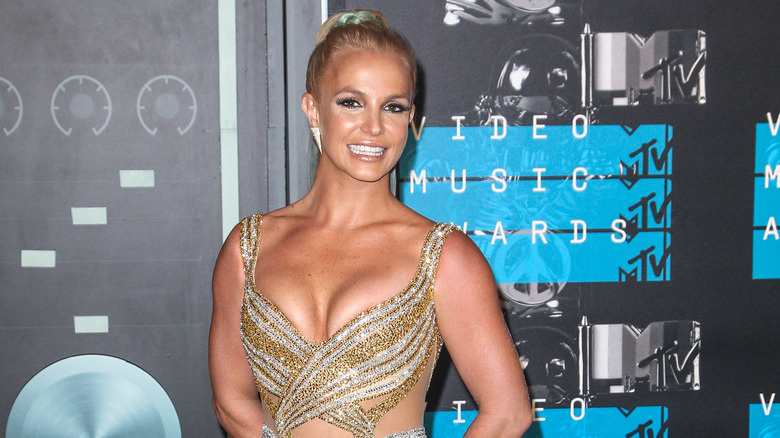 Press Line Photos/Shutterstock
A huge reason for Britney Spears' high-profile status is due to her plethora of bops that have had us singing and dancing for decades. 
Her debut single, "...Baby One More Time," is not only a timeless classic but essentially put Spears on the map globally. Despite its phenomenal success, the song was originally offered to iconic '90s girl group TLC, who turned it down because they weren't feeling the flirty track for themselves. "I was like, I like the song but do I think it's a hit? Do I think it's TLC? I'm not saying 'hit me baby.' No disrespect to Britney," T-Boz told MTV News in 2013, adding, "I'm clear that it was a hit, but I'm also clear that it wasn't for TLC."
This isn't the only smash that wasn't originally written for Spears. In 2018, Cathy Dennis told the Ivors Academy in 2018 that she wrote "Toxic" in Sweden with Janet Jackson in mind. The same goes for "I'm A Slave 4 U." During a 2020 interview on "Drink Champs," Pharrell Williams admitted that the song was originally recorded by Jackson. "The queen, Janet Jackson, our sis, we made 'Slave 4 U,' and she actually recorded it, but she just didn't use it," he explained. "And when she didn't use it, we gave it to Britney Spears."