Why Katy Perry Doesn't Go By Her Real Name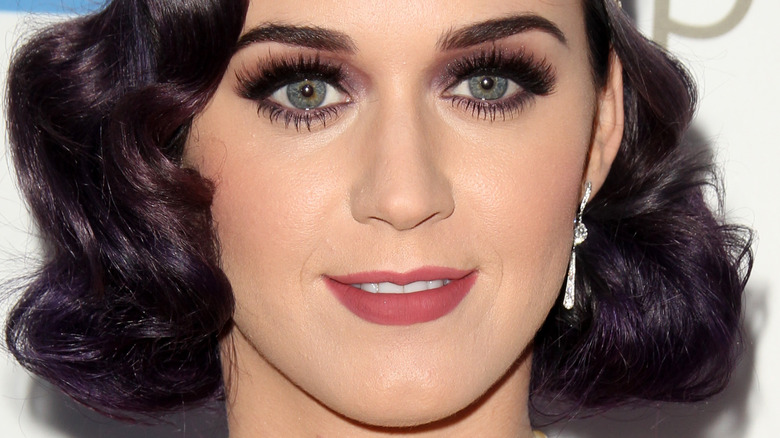 Kathy Hutchins/Shutterstock
Katy Perry burst onto the music scene with her provocative single "I Kissed a Girl" in 2008. By 2011, Perry was at the top of the pop world and made history with her album "Teenage Dream." She became the first female musician to have five songs from one album all reach the number one spot on the Billboard Hot 100. The songs "Last Friday Night (T.G.I.F.)," "Firework," "E.T.," "California Gurls," and "Teenage Dream" helped Perry become the second person to ever accomplish the feat in addition to Michael Jackson.
In 2015, Perry showed her appeal by performing at the Super Bowl, which became the most-watched halftime show ever for the sporting event, according to Bustle. The performance was a success both with her medley of career hits plus the viral moment from her costumed backup dancer, nicknamed "Left Shark," via NPR. When "American Idol" returned for its 16th season on ABC in 2017, Perry joined as one of the judges, via Variety. This wasn't the end of Perry's time on stage as she started a residency in 2021 at the Resorts World Theatre in Las Vegas, per her website. The shows featured the kind of kitsch Perry became well-known for including a giant red toilet, dancing mushrooms, and emotional singing, Vulture recapped.
And though she's been in the music industry for years, Katy Perry is actually her stage name and not her given name. Don't feel too deceived though, because she has a good reason for the change.
A rebrand for Katy Perry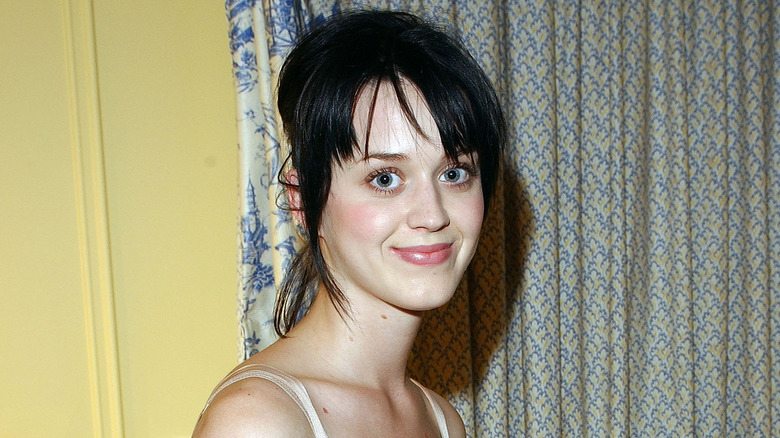 Amanda Edwards/Getty Images
While still in her teens, Katy Perry released her self-titled debut album called, "Katy Hudson," E! recapped. Perry, the daughter of two pastors, released the contemporary Christian record referencing her birth name Katheryn Elizabeth Hudson. Unfortunately, the record only sold 200 copies and she struggled to gain public traction as a musical artist. After performing at open mic nights around Los Angeles and a few record deals, Perry finally found the perfect home with Capitol Records. Partly to signal her new look and pop style, the singer used her mother's maiden name to take on the stage name of Katy Perry. "I didn't want to be Katheryn Hudson. I hated that, it was too scary for me, so I decided to be someone else," she told The Guardian.
After becoming a pop star, Perry may have briefly had another name. On "The Ellen DeGeneres Show" in 2010, the host asked Perry if she planned to go by Mrs. Brand since she was married to British comedian and actor Russell Brand. Perry revealed, "I'm in the process" of officially changing her name. The two wed in 2010 but separated the following year, People recapped.
Through all the name changes, Perry still fondly remembers life before all the fame. "I still am inspired by music but it's nice I get to go home to Santa Barbara and feel like Katheryn Hudson, which is who I really am," Perry said on SiriusXM Town Hall (via Us Weekly).
Perry wanted to avoid confusion with Kate Hudson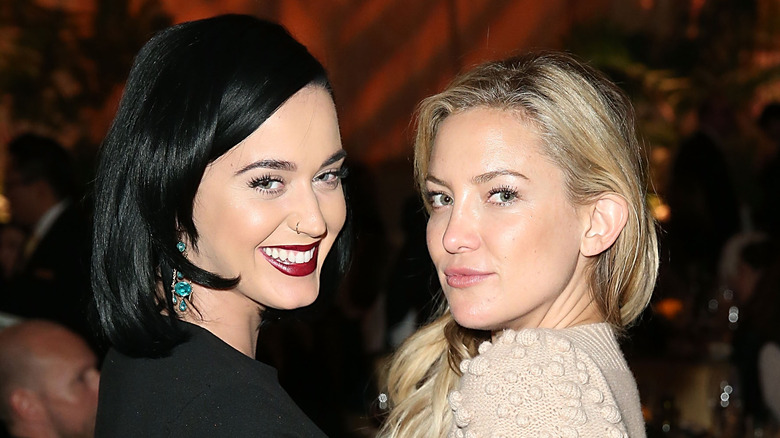 Joe Scarnici/Getty Images
Actor Kate Hudson was born in the city of stars Los Angeles, California, per Harper's Bazaar. It seemed practically destined she would become an actor after being raised by her famous mom, actor Goldie Hawn, and her stepfather Kurt Russell. Hudson's breakout role came in Cameron Crowe's 2000 film "Almost Famous." One year later, Katy Perry released her debut album "Katy Hudson" with a name that wasn't a nod to the actor but was rather Perry's first stage name. 
Perry is also a California girl, born in Santa Barbara, per Willamette Week. The name change from Katheryn Hudson to the stage name Katy Perry helped avoid any confusion between the two young entertainers, per Brittanica. Later, both ladies became friends in real life. "We are buds and we get along ... We have become friends and go to game nights together," instead of going to clubs, Perry explained on SiriusXM Town Hall (via Us Weekly). "And she is super-cool, she is gorgeous, to die for," Perry added about Hudson. The pair also head out in public together, like when Perry and Hudson were spotted with Jessica Alba in 2021 all going to a launch party in West Hollywood for Kendall Jenner's tequila brand, per Just Jared.
As for Hudson, she had kind words to say about the musician. "She's beautiful, talented, lovable, sparkly," Hudson said on stage as she introduced Perry before her performance at the 2013 iHeartRadio Music Festival.