Why Katy Perry Hasn't Talked To Russell Brand Since Their Split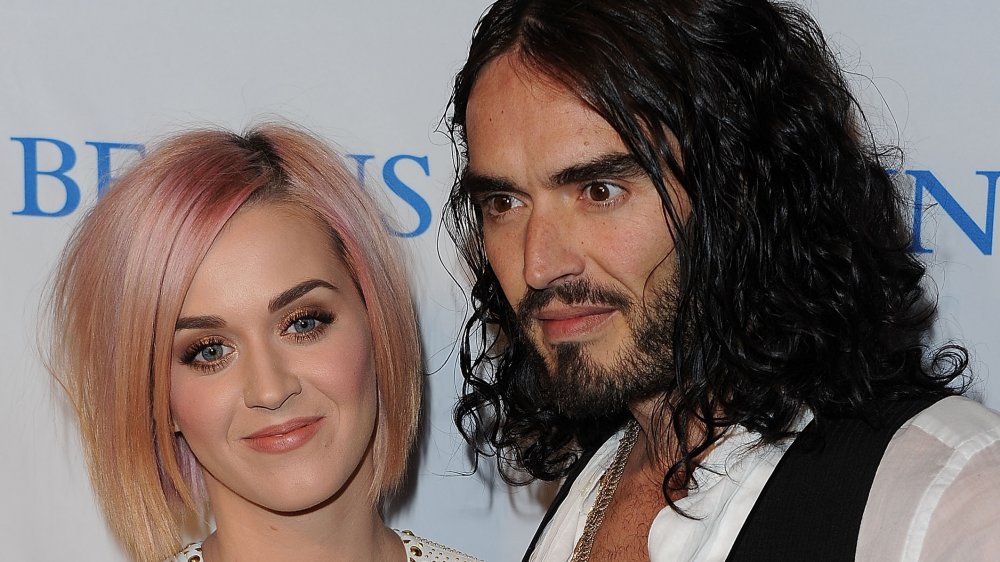 Jason Merritt/term/Getty Images
Katy Perry's relatively brief marriage to Russell Brand drew both attention and head-scratching — even from Perry herself. The "California Gurls" singer compared her marriage to the comedian to a "tornado," with "everything happening at once." In August 2020, Perry told 60 Minutes Australia: "I was having great success at 23, 24, and 25 and then I met someone that was interesting and stimulating." The pair first met at the 2008 Video Music Awards, per MTV. 
After that initial meeting, Perry ended up filming a cameo for Brand's 2009 film Get Him To The Greek. However, the scene ultimately got cut. The two crossed paths again at the 2009 Video Music Awards in September 2009 before making their official debut as a couple the following month, per MTV.
Brand popped the question on New Year's Eve in 2009, according to E! News, with the couple eventually tying the knot in October 2010. The relationship accelerated pretty quickly, with conflicting schedules reportedly not doing the newlyweds any favors, according to the Mirror. It was also rumored that Brand might have had a hard time being the less famous partner. After just 14 months of marriage, the couple split in 2011, per People. In August 2020, Perry revealed that she hadn't spoken to Brand since the separation — here's why.
The text that ended Katy Perry's marriage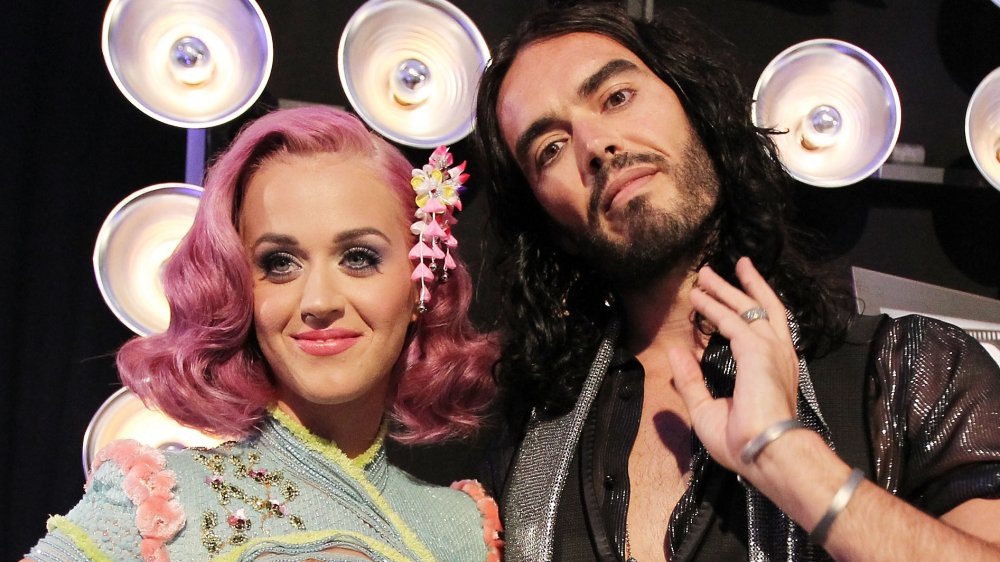 Christopher Polk/Getty Images
On Dec. 31, 2011, Russell Brand sent Katy Perry a text message to let her know that he was divorcing her, which was, as far as we know, their last interaction. Perry told Vogue in 2013, "Let's just say I haven't heard from him since he texted me saying he was divorcing me ..." Perry was seemingly bitter toward Brand (and understandably so) after the SMS announcement, and it probably didn't help that Brand continued to talk about Perry to the press. Case in point? In 2012, Brand compared his relationship with the singer to existing on "a diet of rice" during an interview with Howard Stern (via US Weekly).
In her 2013 Vogue interview, Perry admitted that her constant touring took a toll on her marriage, but also said: "I think a lot of times strong men do want an equal, but then they get that equal and they're like, 'I can't handle the equalness.'" The sudden divorce led to a period of depression for Perry, who called the incident the "first breaking of [her] idealistic mind" during her 2020 60 Minutes Australia interview.
While the split was seemingly difficult for Perry, both the singer and her ex-husband appear to have moved on. As of this writing, Perry is engaged to Orlando Bloom, and the two welcomed their first child together, a daughter name Daisy Dove, in August 2020. Brand remarried and said in 2017 that he was open to reconciling with Perry. Only time will tell if the two are able to patch things up once and for all.