Tom Brady Explains The Parenting Challenge That Comes With His Children's Privileged Lives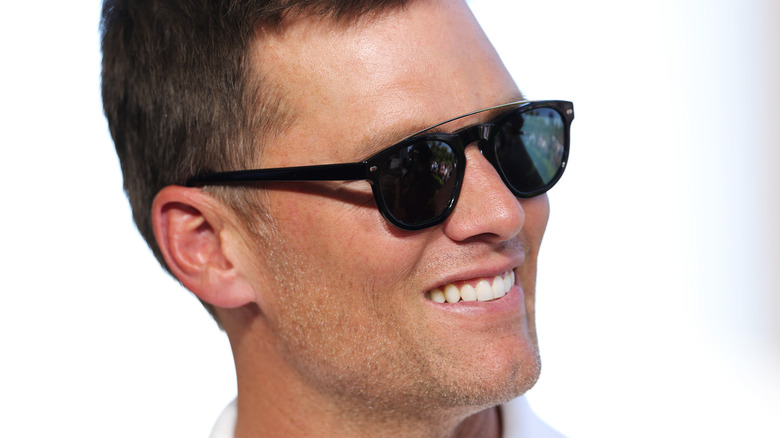 Carmen Mandato/Getty Images
Tom Brady has been in the NFL for over two decades. After leaving the New England Patriots and entering free agency, he was picked up by the Tampa Bay Buccaneers. Upon arrival, he pretty much made himself feel at home, as he accidentally walked into someone else's house, per ABC Action News. The Tampa Bay mayor said she'd even consider naming the city after him.
"I told him, we are not discussing changing our city's name until he brings home that Lombardi trophy, so Tom and I will have that discussion in due time," Tampa Bay Mayor Jane Castor told ESPN in 2021. "Yes, we will talk about that, changing 'Tampa,' since we are becoming a title town, to 'Tompa Bay.' We'll have those discussions."
Brady did end up winning Super Bowl LV against the Kansas City Chiefs, making it his seventh Super Bowl win, but the mayor has yet to rename the city. But through all of this fame and fortune, the football quarterback is also a family man. Brady and his wife, model Gisele Bündchen, are raising three children — Jack, Benjamin, and Vivian. While Brady is bringing trophy after trophy home, Bündchen focuses on motherhood, per British Vogue, and she homeschools the children. Although it was only for 40 days, Brady announced his retirement on Instagram saying that it was "time to focus [his] time and energy on things that require [his] attention," like his family.
Tom Brady has a hard time teaching his children about privilege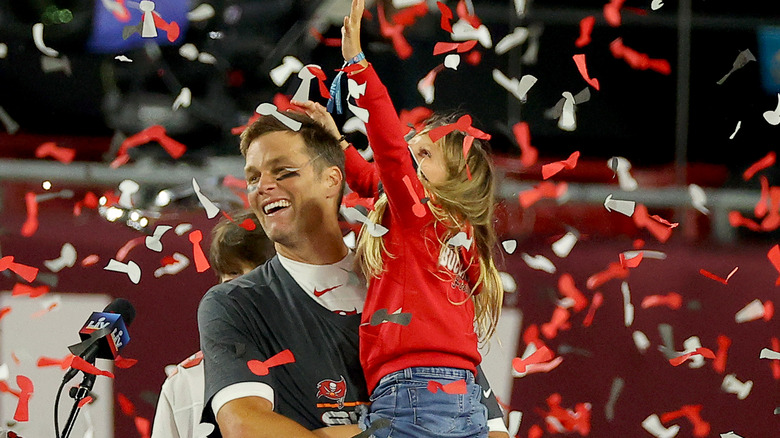 Kevin C. Cox/Getty Images
Even GOATs have struggles in life. Tom Brady believes his success and wealth makes it hard to raise his children. He also mentioned the "humble beginnings" of himself and his wife, which has helped them see the other side of life. He realizes that his family is privileged, and he struggles with teaching his children that.
"We have people that clean for us, we have people that make our food," Brady said on the "DRIVE" podcast with Jim Farley earlier this month. "That's my kids' reality — which is the hard part to say, guys, this is not the way reality really is. I think we can try to create experiences that are more along the lines of what most kids go through even though they will still have experiences that a lot of kids never do have."
The Tampa Bay Buccaneers quarterback's relationship with his family has been the upmost importance to him. He opened up to Men's Health about fatherhood in 2021, cherishing the moments he had with his own father as they would walk to the park and hit ground balls every evening. "Whenever he did that it meant the world to me," Brady said. "Just being there and being available. I try to do that with my kids." Even though parenting can be tough for Brady, it's clear that he loves his family with his whole heart.