Everything Hilarie Burton Has Shared About Her Pregnancy Journey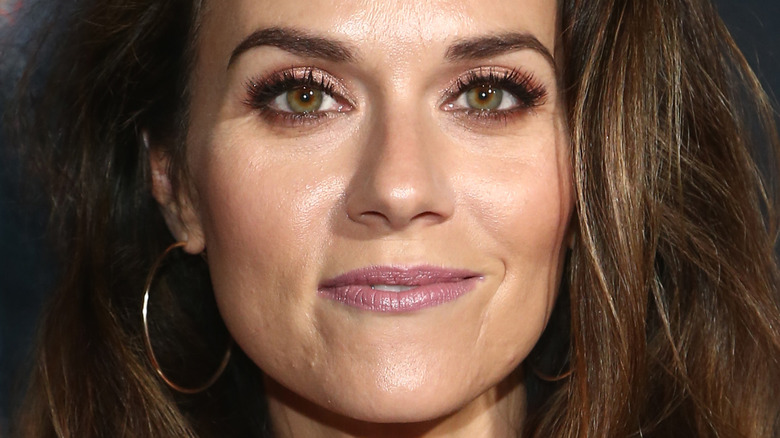 Tommaso Boddi/Getty Images
Hilarie Burton and Jeffrey Dean Morgan's relationship has been going strong for more than a decade. The actors met in 2009 thanks to Jensen and Danneel Ackles — Morgan's former "Supernatural" co-star and Burton's former "One Tree Hill" co-star, respectively — who sneakily invited both to join them on a double date. "I [got lit]. We all did. We ended up back at my house drinking shots of tequila," Morgan told HuffPost in 2015 (via E! News). Burton had a one-way ticket to Paris around that time, but she gave up the sabbatical to be with Morgan, she told ET Canada.
By 2010, Burton and Morgan were officially a couple before the public, having made their red carpet that year. But the couple had already been deep into their relationship for months. Burton became pregnant with their first child, Gus, shortly after meeting, though the news only came to light two months after the boy was born, Us Weekly reported in May 2010. Burton and Morgan managed to keep the pregnancy under wraps, avoiding photographers between April 2009 and May 2010. 
Burton and Morgan immediately fell in love with parenthood. "It's been spectacular," Morgan told E! News in November 2011. It was shared on Instagram in March 2018 that Burton and Morgan welcomed a second child, a daughter named George. Burton and Morgan didn't wait eight years to have another baby by choice, though. The couple struggled with infertility for years — a journey that Burton has been candid about.
Hilarie Burton suffered a series of miscarriages
After welcoming Gus in March 2010, Hilarie Burton and Jeffrey Dean Morgan knew they wanted to eventually expand their family. But the plan proved tragically difficult. When they started trying, it took them a year and a half to get pregnant, Burton told People in 2020, but it ended in miscarriage. "When you get blindsided by your body, that betrayal of your body is very hard to overcome," she said.
Burton struggled to accept her grief after being overwhelmed by excitement. "I surprised [Morgan] on Christmas with baby Seahawk booties. We cried. We celebrated. We picked out names. And we lost that baby," she shared on Instagram. Burton conceived once again, but she suffered another miscarriage. Burton and Morgan then endured a third loss, she detailed in her 2020 memoir, "The Rural Diaries" (via ET Canada). After five long years, Burton carried her fourth pregnancy to term and welcomed George.
Her experience also gave Burton a new level of appreciation for the importance of abortion laws. When the Supreme Court overturned Roe v. Wade in June, Burton sent a reminder that it also protected women who miscarry. "It doesn't matter if you use the term D&C. The official word on the hospital paperwork is abortion," she wrote on Instagram. "That's what it was." Burton explained the access to that procedure allowed her to conceive again, writing, "Having an abortion after my fetus died allowed for my uterus to heal."
Infertility took a toll on Hilarie Burton's relationship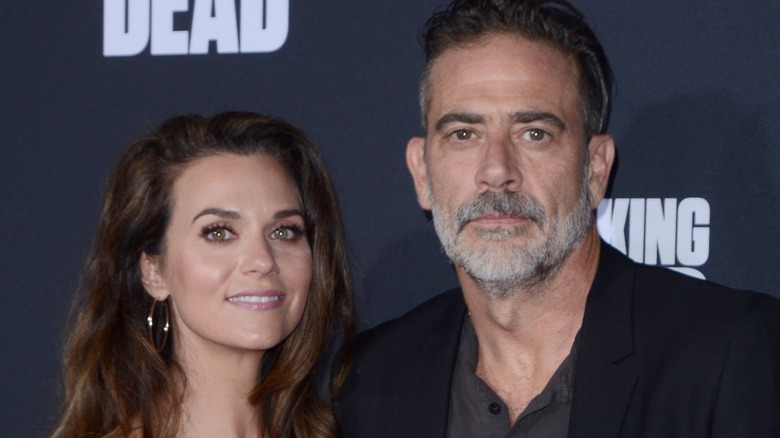 Kathy Hutchins/Shutterstock
Hilarie Burton and Jeffrey Dean Morgan's struggles to conceive didn't just take a toll on them as individuals. The journey also took a hit on their relationship, Burton detailed in "The Rural Diaries" (via ET Canada). For Burton's part, she put all her focus in her attempts to conceive, transforming the process into something strictly biological. "There was no romance; the whole thing had become a science experiment," she wrote. That attitude pushed "The Walking Dead" actor away, who began to feel like a donor. "He'd feel used and wouldn't respond to me, then I'd feel hurt and rejected," she added.
While Morgan retreated into his shell somewhat, he remained there for Burton, whose mental health was suffering as a consequence of her trauma. "I didn't think I had PTSD. I had other people tell me I had PTSD," she told People. Having Morgan be her rock kept her afloat. "Jeffrey was incredibly patient," she wrote in her book. "And, he's always been an optimist — that's one thing I fell in love with. For all my moments of doubt, he was so steady and sure."
Their commitment and love for each other prevailed. A year and a half after successfully expanding their brood, Burton and Morgan tied the knot. "We've lived as husband and wife for a decade ... Rather than make vows right out of the gate, we lived them," she wrote on Instagram in October 2019.