Who Is Kailyn Lowry's New Boyfriend, Elijah Scott?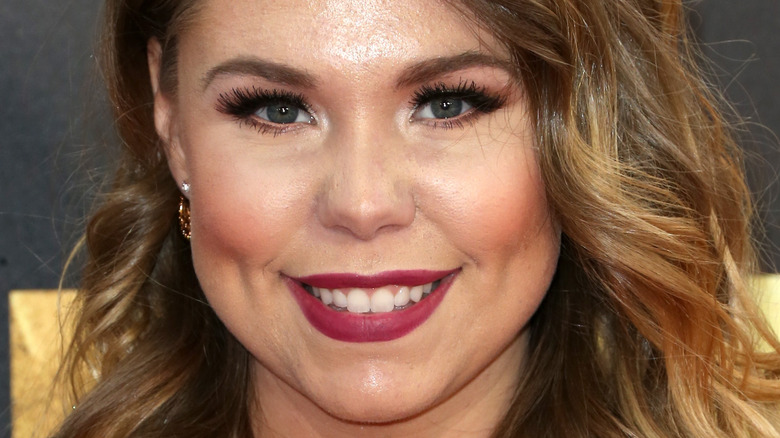 Frederick M. Brown/Getty Images
Kailyn Lowry has a new man in her life and fans are curious to know more about him. Lowry has been open book ever since she signed on to the MTV hit series "16 and Pregnant" in 2010, per Page Six. Tons of viewers tuned in every week to watch her navigate life as a young mother to her son Issac, along with the ups and downs she faced in her relationship with her then-boyfriend and son's father Jo Rivera.
After quickly becoming a fan-favorite, the reality star joined "Teen Mom 2" in 2011. She ended up spending more than a decade with the franchise, according to People, before recently choosing to part ways with the series. "I want to focus on my self-growth and my kids and I didn't feel like the show aligned with the goals that I have anymore," Lowry said during an interview with E! News' "Daily Pop." "I decided it was time for me to move on." 
Lowry's decision to exit the show appeared to have been a seamless transition considering the overwhelming criticism and ridicule she's faced over the years when it comes to her love life. Over the course of 11 years, fans have had a front-row seat into Lowry's relationships. However, this time around, she's doing everything a bit differently. Here's what we know about her new boyfriend. 
Kailyn Lowry is trying to keep her relationship private
Kailyn Lowry is apparently head-over-heels for her new boyfriend and he goes by the name Elijah Scott. The couple has reportedly been dating since April and publicly confirmed their relationship on social media after Lowry shared a photo of the two on Instagram. "All good over here," she wrote. According to The U.S. Sun, Scott is in the Army and was stationed in Virginia and Hawaii before moving to Delaware. In December 2021, he settled down and purchased a three-bedroom house which now also happens to be right next to Lowry's newly built mansion, based on court documents obtained by the outlet. The two initially met as neighbors prior to becoming romantically involved.
Aside from serving his country, Scott is also a construction worker. "Get you someone who pours concrete by day and sings R&B by night," Lowrey wrote in a video on her Instagram Story of Scott driving in the car with his uniform (via Us Weekly). Although the "Coffee Convos" podcast host is trying her hardest to keep her newfound romance private, things between the two are heating up rather quickly. 
During an episode of her podcast "Baby Mama's No Drama," Lowry revealed her boyfriend moved into her new mansion after only three months of dating. "This just happened the way it happened ... it was like why are we paying two mortgages?" she confessed (via Heavy). While that's great for the couple, some people weren't too happy about her decision.
Chris Lopez is against Kailyn Lowry's boyfriend moving in
Aside from Kailyn Lowry's first son Isaac, The New York Times best-selling author also shares Lincoln with ex-husband Javi Marroquin and has two sons Lux and Creed with ex-boyfriend Chris Lopez, per Entertainment Tonight. Juggling four kids, several businesses, and dealing with three different fathers has been very difficult for Lowry to say the least. And, now that she's got a new man, it appears someone in her life isn't on board with how she's navigating her relationship. 
During an episode of his "P.T.S.D. – Pressure Talks with Single Dads" podcast, Lopez revealed his sons were the ones who broke the news to him that their mom's boyfriend had moved in. The father-of-two claims he spoke to Lowry about the situation that he wasn't a fan of how he found out. "There's no reason why my 4-year-old should be telling me about every dude you sleeping with," he recounted telling her (via In Touch Weekly). "[Lux] was just telling me about this last dude, and now he's telling me about the new dude," Lopez continued. 
While Lopez was thrown off at first, he made it clear it's in the best interest Lowry remains happy.