Why Emily Ratajkowski Is Sparking Sad Relationship Rumors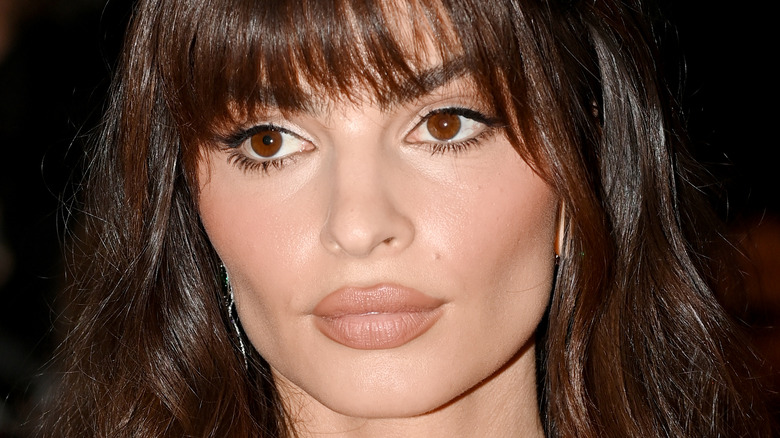 Pascal Le Segretain/Getty Images
From an outsider's perspective, Emily Ratajkowski and her husband Sebastian Bear-McClard appeared to rush into marriage after barely knowing each other. Only weeks after being romantically-linked, the "Gone Girl" actor announced she married Bear-McClard with posts to her Instagram Stories. "Soooo ... I have a surprise," Ratajkowski wrote over two snaps in 2018, via Page Six. "I got married today," she announced alongside a photo of her husband kissing her on the cheek.
Although they had not been dating very long, the couple were far from strangers before taking the plunge. "No, we knew each other for a long time before," Ratajkowski said about her husband while appearing on "Busy Tonight" in 2018, via Bustle. The "Blurred Lines" video star said Bear-McClard joked that she "vetted [him] for two years" before they dated.
In March 2021, the pair had their first child together. Almost a year later, the model celebrated her four-year wedding anniversary by posting rare snaps from her wedding day to her Instagram Stories in February, per the Daily Mail. The couple had opted for a low-key ceremony at a courthouse where Ratajkowksi did not wear a conventional wedding dress. "I never loved the idea of wearing white for a wedding because I'm not a pure woman," the "My Body" author told Vanity Fair in 2018. Months after their latest anniversary, rumors are swirling that the couple's relationship was in trouble.
Emily Ratajkowski was spotted without her wedding ring
On July 14, photos circulated of Emily Ratajkowski taking her son for a stroll without her wedding ring. As noted by the Daily Mail, the "I Feel Pretty" actor had been spotted ring-less "on multiple occasions." Around the same time the photos were published, sources started to claim that Ratajkowski and Sebastian Bear-McClard were calling it quits due to infidelity. "It's, like, known that her husband has cheated on her and they're filing for divorce," influencer Claudia Oshry alleged on an episode of "The Morning Toast" podcast, via Page Six. "When the inevitable Instagram post or PR statement [about their break up] comes out, we won't be that surprised."
Rumors of Bear-McClard's alleged cheating started to gain steam a day after photos of Ratajkowski without her wedding ring went public. Another source claimed the model's husband had been unfaithful. "Yeah, he cheated," the insider told Page Six on July 15. Apparently, the alleged infidelity was not a one-off. "He's a serial cheater. It's gross. He's a dog," the source added.
Once articles spread that the Sports Illustrated Swimsuit model's relationship was potentially in trouble, fans shared their reactions online, as many were shocked to hear the reports. "Emily Ratajkowski divorcing should be proof to all women that a man cheating is never about the woman that was cheated on," one fan tweeted. "Imagine cheating on emily ratajkowski i feel sick," another added.