The Truth About Emily Ratajkowski's Husband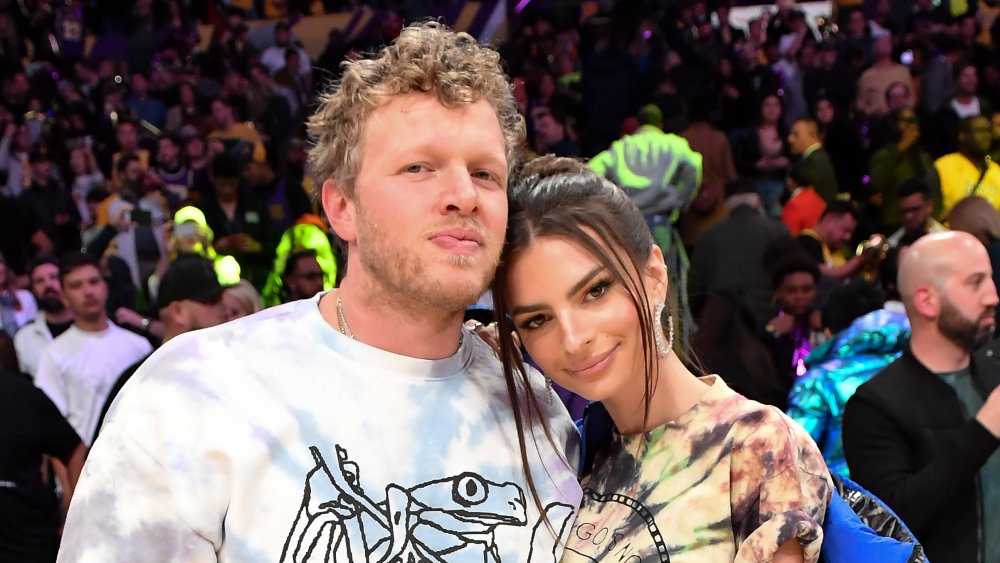 Allen Berezovsky/Getty Images
After breaking up with her boyfriend of almost four years music producer Jeff Magid, model and actress Emily Ratajkowski found her forever person in actor Sebastian Bear-McClard. The paparazzi spotted the soon-to-be-married couple kissing on Valentine's Day in 2018 after enjoying dinner at a French restaurant in Los Feliz, Calif., The Daily Mail reported. According to W Magazine, the couple was married on Feb. 23, 2018. The wedding surprised many people with some calling it a whirlwind romance.
It turns out that Ratajkowski and Bear-McClard had actually known each other for a few years before becoming romantically involved. During an appearance on Busy Phillips' talk show, Ratajkowski discussed the whirlwind talk. "We knew each other for a long time before, and he likes to joke 'yeah everyone thinks we got married quickly, but you vetted me for two years," she revealed (via E! News). On the couple's one-year-wedding anniversary Ratajkowski posted a somewhat risqué photo of her showcasing her wedding band and massive engagement ring, simply captioned, "one year."
That engagement ring was quite the upgrade, considering her "first ring" was a paperclip. Ratajkowski explained on The Tonight Show, "He proposed to me at Minetta Tavern, and he didn't have a ring so I was like, 'Mmm, nah.' And then he took the paper clip that the bill was paid with and made me a ring, which I actually thought was really romantic." So, what else do we know about Ratajkowski's husband? Continue reading to find out.
Sebastian Bear-McClard worked on one of Adam Sandler's recent hits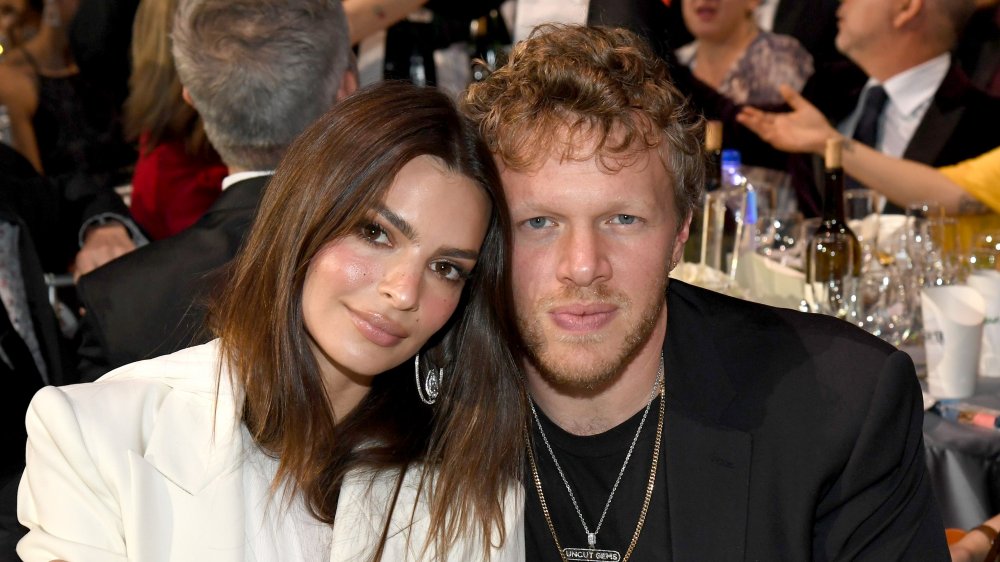 Kevin Mazur/Getty Images
According to his IMDb page, Emily Ratajkowski's husband, Sebastian Bear-McClard, has been acting since 2005. He has produced movies since 2006, the most famous being the critically acclaimed 2019 movie Uncut Gems starring Adam Sandler. He also owns a production company with the Safdie brothers and producer Oscar Boyson called Elara Pictures.
Bear-McClard does have a few famous pals. One of his closest friends is Josh Ostrovsky — better known on social media as The Fat Jewish — who, according to Vanity Fair, attended the couple's wedding. The two have known each other since childhood. While producing the film Good Life, InStyle reported that Bear-McClard befriended one of the film's stars, Robert Pattinson, and the two have been close since.
Bear-McClard's parents are involved in the creative arts. His mother, Liza Bear, is a filmmaker, writer, and activist who founded two magazines, one called Bomb, which is dedicated to the arts. According to the Evening Standard, his father, Michael McClard, is an artist whose work has been featured at New York City's Museum of Modern Art.
Emily Ratajkowski's husband hasn't avoided controversy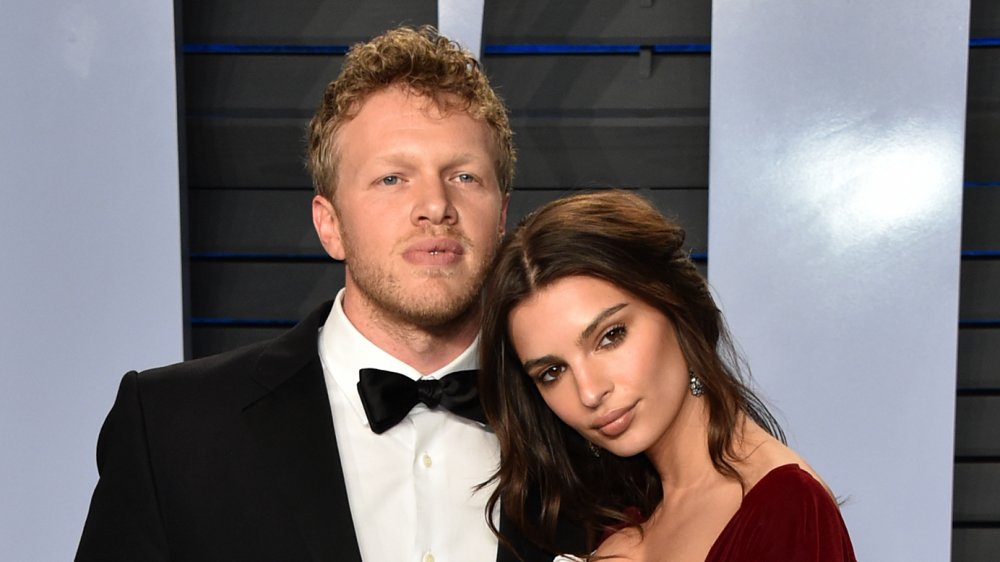 John Shearer/Getty Images
Emily Ratajkowski, a Black Lives Matter activist, posted to Instagram after the protests following the murder of George Floyd, writing, "Feel so useless," Us Weekly reported. BET style director Danielle Prescod replied to her post, stating, "I actually have an idea. You could start by talking to your husband, a white man, who has used the n-word repeatedly in my presence. So much so that another black friend was so disgusted she left. Another black woman had the same exact experience."
Prescod was quick to add, "You probably have never seen this behavior. I would like you to address the issues in your home and then you can help us out here. I would like you to ask him what he can do differently... I mean this with the utmost sincerity. It was hurtful and abusive."
On July 4, 2020, Sebastian Bear-McClard apologized on Twitter (per Us Weekly), "I used a word casually like it was mine to use. It's not, it never was, and never will be. In the past few years I've learned a lot about my privilege as a man and as a white person and about the history of racism in this country. Owning our missteps is a crucial part of changing the way the world operates. I'm embarrassed and ashamed and I sincerely apologize to everyone who I may have hurt." However, the tweet and his account no longer appear to exist.
Ratajkowski and her husband have seemingly put this controversy behind them and continue to enjoy a happily married life.