The Truth About Selma Blair And Sarah Michelle Gellar's Friendship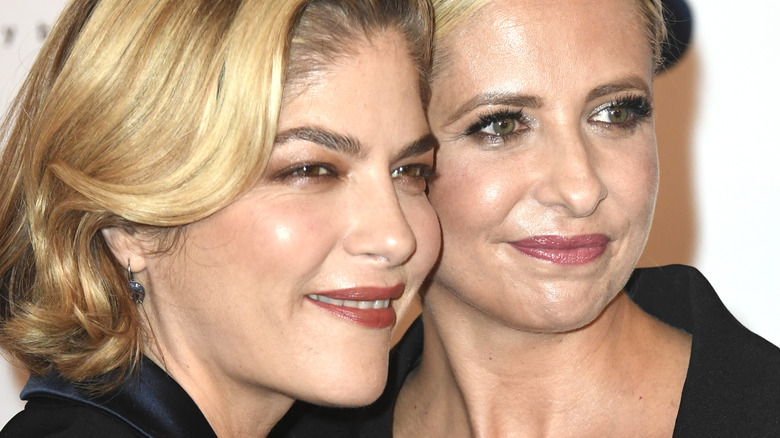 Frazer Harrison/Getty Images
Selma Blair fell in love with a demon and got her soul sucked out of her body in "Hellboy," while Sarah Michelle Gellar battled bloodsuckers in "Buffy the Vampire Slayer" and solved supernatural mysteries in "Scooby-Doo." But when the two women appeared together in 1999's "Cruel Intentions," the only evil viewers saw was of the manipulative type that rich, spoiled teens can inflict upon each other.
The two actors were at different points in their career when they were cast in the provocative drama. Gellar was already starring in "Buffy" at the time and had also appeared in the horror flick "I Know What You Did Last Summer," but Blair's acting credits were mostly smaller roles, an example being "Girl Mike Hits On #1" in the teen rom-com "Can't Hardly Wait." While promoting "Cruel Intentions" in 1999, she told reporter Bobbie Wygant, "I don't get recognized at all." But the film helped put Blair on Hollywood's radar, and by 2001, she was re-teaming up with another "Cruel Intentions" co-star, Reese Witherspoon, in the hit comedy "Legally Blonde."
Gellar and Blair's careers eventually slowed down, but they've both used Instagram to keep fans updated on their lives. The two actors often interact on the platform, too, reminding us that a certain sloppy kiss resulted in a lasting friendship.
Sarah Michelle Gellar's sweet birthday tribute to Selma Blair
When Selma Blair celebrated her 50th birthday in June 2022, Sarah Michelle Gellar commemorated the special occasion by sharing a throwback photo that was snapped during a different birthday celebration: her 21st. "If I told that little girl on the right, that the girl to her left was going to be her lifelong friend ... she would say 'I know,'" Gellar wrote on Instagram. "From the day I met you I knew you were special and would be by my side for ever." Blair returned the sentiment in the comments section, writing, "You have loved me more than any friend here." 
Gellar proved just how much she loves her BFF after Blair was diagnosed with multiple sclerosis in 2018. Blair told Variety that Gellar and a few other celeb pals started taking care of her — whether she liked it or not. "I hated having caregivers in my house. ... But my God, did they help me," she admitted. Gellar made sure that she still felt more like a friend than a nurse by simply keeping Blair company when she needed it. "If she was having a bad day I would come over and crawl into bed with her, and we would lie there for hours and watch HGTV," she told Town & Country in 2021. Gellar might also have a tendency to spoil her friend. When Gellar celebrated her birthday in 2022, she gifted Blair a gorgeous gold ring.
Sarah Michelle Gellar enjoyed kissing Selma Blair in Cruel Intentions
In a 2018 Instagram post, Selma Blair revealed that she actually auditioned for "Buffy the Vampire Slayer," and while she didn't get the part, her lifelong friendship with the show's lead was an even better prize. Working alongside Sarah Michelle Gellar in "Cruel Intentions" was also a dream come true. "I couldn't believe I was in a film with Reese Witherspoon and Sarah Michelle Gellar. 'Cruel Intentions'? That was a coming out party," Blair told Variety. Speaking to Entertainment Weekly, Gellar said that as soon as she read with Blair, she knew the more inexperienced actor was right for the role of Cecile, the naïve pawn in her character's game of seduction.
One famous scene called for Blair and Gellar to kiss, and Gellar told Us Weekly that filming it was a rather pleasant experience. "Selma's a great kisser," she said. "It's just soft [lips]. She smells great." Their onscreen smooch was so memorable that it won the title of "GOAT: Legendary Lip Lock" at the MTV Movie & TV Awards: Greatest of All Time ceremony. To celebrate the honor, the pals hilariously recreated the kiss for the COVID era by keeping their mouths separated with a clear plastic panel. But according to Gellar, she and Blair don't mind locking lips with nothing between them. "We do it all the time. I love that girl," she told People. "She has a very smooth, very easy face to kiss."