Sarah Michelle Gellar Reveals What It Was Really Like Kissing Selma Blair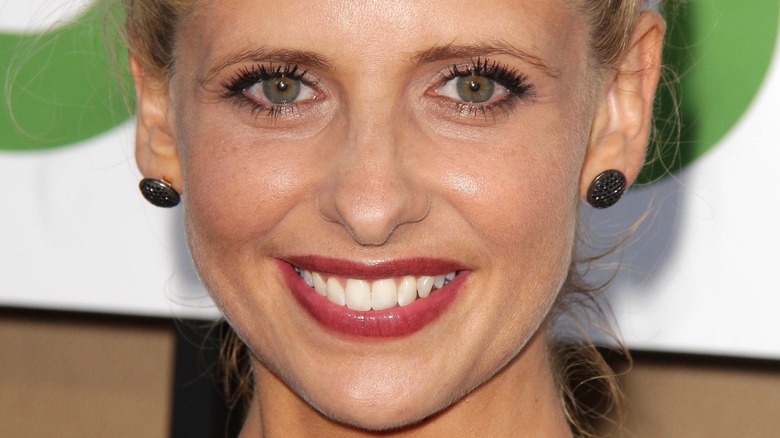 s_bukley/Shutterstock
Sarah Michelle Gellar and Selma Blair have been friends for decades. And they have the classic 1999 teen drama "Cruel Intentions" to thank for that. In January, Gellar celebrated their 24th friendversary by, of course, referencing the beloved flick. "24 annual meeting of the Secret Society ... everybody does it ... it's just that nobody talks about it," she captioned an Instagram selfie of her and Blair, using lines from "Cruel Intentions." Blair was still touched by the post months later. "I love you too much," she wrote in the comments section in May.
Gellar and Blair also reunited with director Roger Kumble the previous year, proving "Cruel Intentions" brought more than just the two of them together. "I can't show how good it feels to have my friends come and bring lunch and news of the world," Blair captioned Instagram photos featuring the trio at her home. The film clearly left a mark on those who worked on it. 
It also marked a generation for featuring an iconic kiss between Gellar and Blair at a time when same-sex sexuality was rarely seen in Hollywood. For many LGBTQ+ viewers, the scene had a deep impact. That includes Demi Lovato, who realized she was queer thanks to it. "I was like, 'I want to try it!' And then, when I was 17, I did get down with that. And that's when I knew," Lovato said on #ComingOut2020 on Facebook Watch. While not queer, Gellar also didn't mind locking lips with Blair.
Sarah Michelle Gellar thinks Selma Blair is rather kissable
Sarah Michelle Gellar has no complaints about having to kiss Selma Blair in "Cruel Intentions." In fact, she finds that her friend has traits that made the experience rather enjoyable. "She has a very smooth, very easy face to kiss," Gellar told People in a June 1 report. Gellar also addressed the recent recreation of the iconic kiss in the "Taste So Good" music released by Cann and Weedmaps on May 31 to kick off Pride Month. In Gellar's eyes, they nailed it. "Complete with spit. Because that's the key to it, you've got to get the spit. That's the hardest part," she joked.
This isn't the first time Gellar praises her friend's kissing abilities. "Selma's a great kisser," Gellar told Us Weekly in February 2021. "I mean, I'll tell you, it's just soft [lips]. She smells great." In fact, the "Buffy the Vampire Slayer" alum went so far as to say she liked the experience better than kissing men on-screen. "Kissing a girl on camera is way better because when you kiss a guy, all your makeup rubs off and then in between you have to get these touch-ups," she added.
Gellar and Blair aren't afraid to recreate the steamy scene. In December 2020, they did just that — with a glass between them, though. It was a safety measure taken during the COVID-19 pandemic, they joked in the clip filmed for the MTV Awards, during which the kiss was honored.