What Really Happened Between Kaia Gerber And Pete Davidson?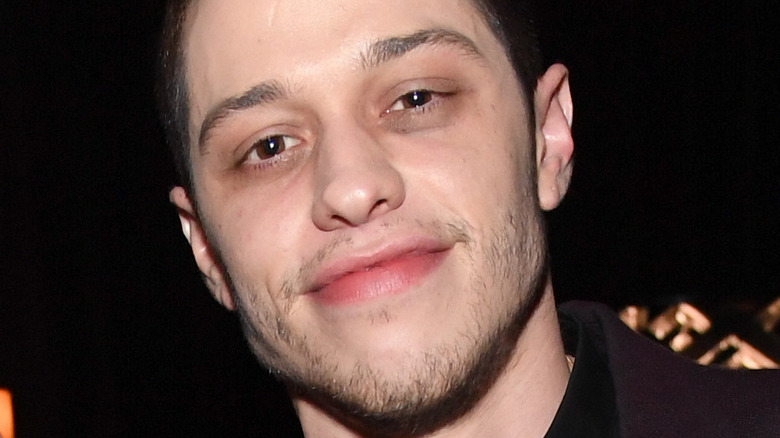 Kevin Mazur/Getty Images
Pete Davidson isn't just known for being an amazing comedian; he also has a pretty impressive roster of women he's been linked to. According to Page Six, the actor first dated fellow comedian Carly Aquilino back in 2015. While their romance was short-lived, a year later, Davidson was involved in a more serious relationship with the creator of "Seinfeld" Larry David's daughter Cazzie David. His flame with David was the start of his first long-term relationship, and the comedian even got his beau's name tattooed on his ring finger, per In Touch Weekly.
After spending more than two years together, David initially broke up with the former "Saturday Night Live" star. The "Eighty-Sixed" creator revealed the reason for the split was because she was having a hard time proving to him that she cared for him deeply, according to a profile published by Los Angeles Times. While she tried to get back with him, Davidson stopped her in her tracks and confessed he was "the happiest he had ever been" since they cut ties. 
Only days later, David learned her ex-boyfriend was in a new relationship with singer Ariana Grande. In 2018, after only a few weeks of dating, Davidson and Grande announced they were engaged, per The Sun. Unfortunately, the two broke up shortly after Grande's ex-boyfriend Mac Miller died of an accidental overdose. While Davidson dealt with a difficult time getting over split, he found solace in another beautiful lady: Kaia Gerber.
The issues between Kaia Gerber and Pete Davidson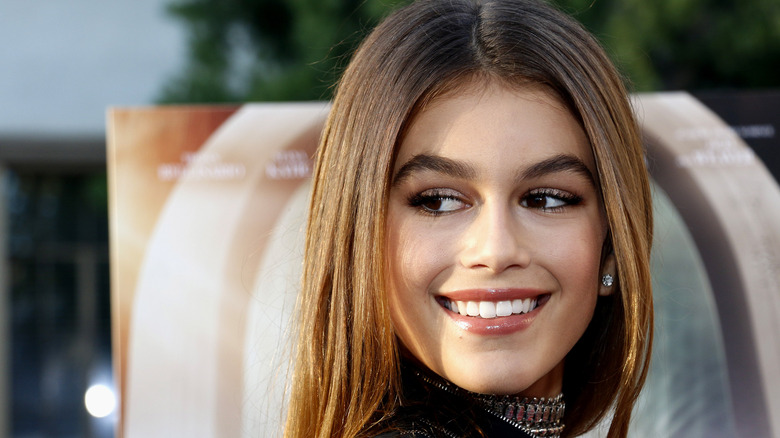 Tinseltown/Shutterstock
According to Us Weekly, news broke in 2019 that Pete Davidson was dating supermodel Cindy Crawford's daughter Kaia Gerber after the two were seen on a date in New York City. "Pete appeared happy to be with Kaia, and she seemed like she was into Pete," a source told the outlet. The pair had reportedly been getting to know each other for a few weeks and were trying to keep their relationship under wraps. While things appeared to be going well, after only three months the comedian and model called it quits.
During an interview with Charlamagne Tha God, the actor revealed Gerber's age and his mental health got in the way of their relationship. "She's very young, and I'm f***ing going through a lot and it was before I went to rehab," he told the radio host. At time, Gerber was only 18 and he was 26. The actor also added that the timing was off. "She shouldn't have to worry about some dude that just has issues," he said. 
Pete Davidson's age gap relationship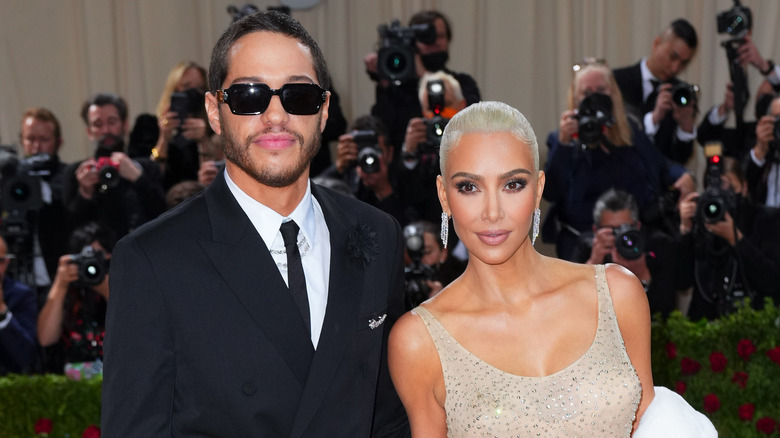 Gotham/Getty Images
Kaia Gerber never publicly addressed her breakup from Pete Davidson, but did note why she was often led to older guys. "I had never had a high school sweetheart or anything," she told Vogue. "I tended to date older people because those were the people I was around." Although the age gap with Gerber was an issue for Davidson, it appears the roles have reversed as he has now found love with an older woman.
According to Cosmopolitan, Pete Davidson and Kim Kardashian started dating shortly after her iconic hosting appearance on "Saturday Night Live" in October 2021. The two were spotted out on several causal dates before going public about their relationship. "I just either hang with my friends or chill with my girlfriend inside," Davidson revealed to People in February, referring to the reality star. 
About a year prior, the beauty mogul filed for divorce from Kanye "Ye" West after spending more than seven years together, according to TMZ. The mother of four was declared legally single shortly after while her and Ye battled it out in court. "The Kardashians" star opened up about her newfound romance with Davidson and gushed about how it's so different than her past relationships. "It feels good to have someone that you can really laugh with and just be yourself with," Kardashian told TODAY. "I'm completely, 100% myself, and that is just the best feeling."