Who Is James Kennedy's Famous Father?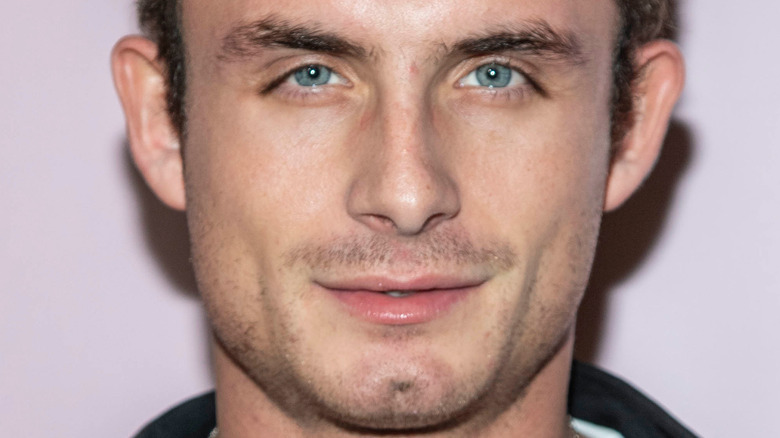 Eugene Powers/Shutterstock
James Kennedy is not for the faint of heart, as he's been at the center of some messy drama on the hit reality TV show "Vanderpump Rules." Throughout the series, we've followed Kennedy's battle with sobriety and beef with other castmates, with Jax Taylor once telling Kennedy, "You can't go a day without getting your a** kicked," to which Kennedy replied, " 'Cause I'm a rockstar and you're a bartender."
These days, Kennedy seems to be leading a bustling lifestyle off-screen. The reality TV star has been busy DJing at hotels in Hollywood and Las Vegas, releasing electronic songs, and spending time with his new girlfriend Ally Lewber, per Instagram.
Kennedy appears to be at the top of his game. Fortunately for him, success in the music industry runs in the family. Yup, the rising star has had a little dose of good luck, thanks to his famous father Andros Georgiou. But it hasn't been all fun and games for the former producer-manager dad. It seems that drama also runs in the family. 
James Kennedy's father Andros Georgiou had drama with George Michael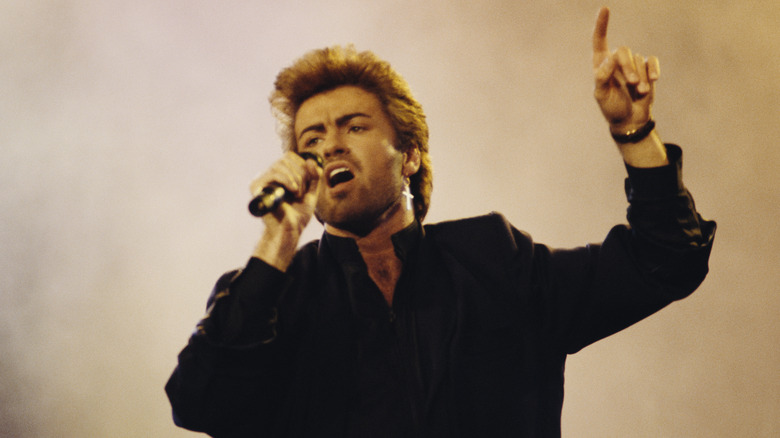 Michael Putland/Getty Images
On an episode of "Vanderpump Rules," James Kennedy name-dropped his godfather, George Michael, who had a tight-knit relationship with his dad. According to Bravo, the two went way back and Andros Georgiou once managed Aegean Records, Michael's 1990s record label.
However, in 1998, the longtime friends had a falling out after Michael was arrested in a Beverly Hills park. Their relationship further spiraled when Georgiou gave HELLO! Magazine a photo of Michael's late mother, which Michael was extremely unhappy about. The friendship finally came crashing down when Georgiou insulted Michael's friend Geri Halliwell (Ginger Spice) when discussing her at a lunch meeting, per Bravo. According to Bustle, Georgiou then quit his job at the record label.
Even after Michael's death, Georgiou couldn't avoid the drama. In June 2022, Georgiou called out filmmakers of the Michael documentary, "Freedom Uncut," for allegedly using video footage that he had taken, per The Sun. "I've complained to George's estate over this new documentary, but been ignored." He continued, "I don't have the money for a legal fight because it would be me against the estate — my bank account against theirs." He did disclose his own film in progress, "George and I," that compiles behind-the-scenes footage he captured of Michael.
Despite Michael and Georgiou's turbulent relationship, Kennedy remembers Michael fondly. He told The Sun, "He was like a second dad but we never really got to talk again, which is heartbreaking."
Andros Georgiou had connections to Lisa Vanderpump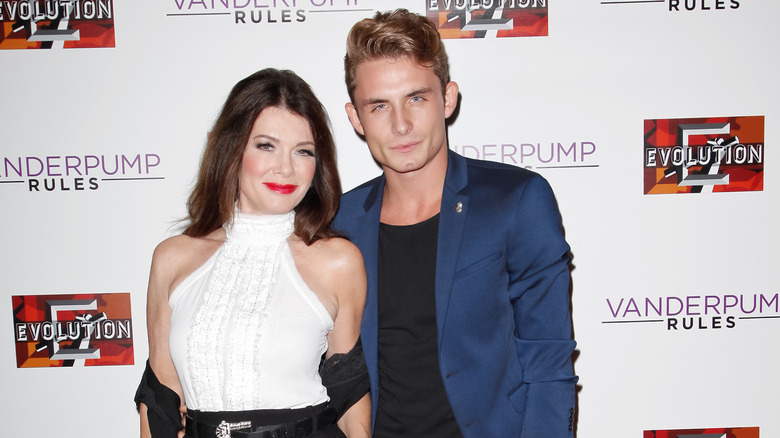 Tibrina Hobson/Getty Images
Back in the day, Lisa Vanderpump met Andros Georgiou with George Michael, and Vanderpump's husband — Ken Todd — was familiar with James Kennedy's dad through the bar scene. Years later, she was introduced to Kennedy's parents through "Dancing With the Stars" judge Bruno Tonioli. On Bravo TV's "The Daily Dish" podcast, Vanderpump explained, "We had dinner that night and they both said, you know, could you give one of my sons, James, a job, maybe as a busser or a barback?"
Georgiou even appeared on the show, which his son was thrilled about. In 2018, Kennedy posted a throwback Instagram photo of his dad. He wrote, "Tonight in 'Vanderpump Rules' you'll all have the chance to meet him! I'm excited and anxious, he means the world to me and is my best mate!"
The two are very alike, as Kennedy's father Georgiou was also a DJ. In a clip of "Vanderpump Rules" Season 6, Kennedy said, "It was definitely a very musical environment growing up, you know? There was music playing in every room all the time. You know, I'd always just see music, you know? So obviously I want to make my dad proud."