Inside Megan Thee Stallion And Pardi Fontaine's Relationship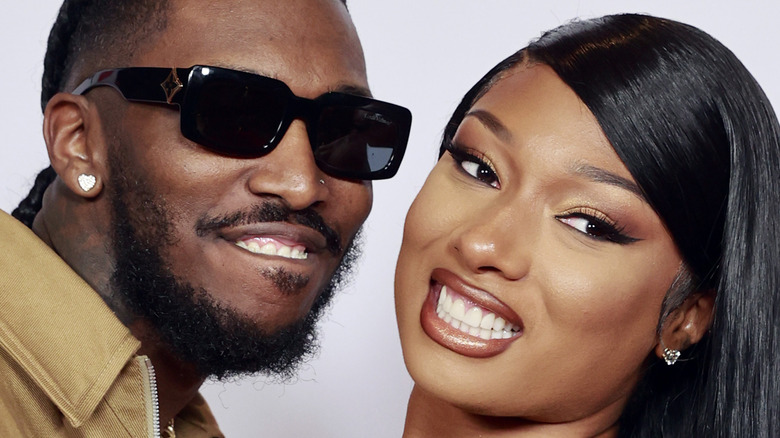 Emma Mcintyre/Getty Images
Megan Thee Stallion and Pardison Fountaine have become one of the most talked about couples in the rap industry. Megan, a Texas native, gained notable popularity after rapping in "The Houston Cypher" in 2016. Since then, the lyricist has released her debut studio album "Good News," and won a Grammy for the remix of her hit single "Savage," featuring Beyoncé. Like her professional endeavors, Megan's love life has also flourished in recent years.
In February 2021, Megan took to Instagram Live to confirm rumors that she was dating fellow-rapper Fountaine, after months of speculation. "I didn't like what they were trying to say about Pardi because he is so calm and so sweet, and very protective," Megan said. "And I just really like him." The "WAP" artist went on to add, "Yeah, he's my boyfriend." The pair enjoyed their first Valentine's Day together and have been an item ever since, but their relationship extends far beyond romance. 
Megan Thee Stallion and Pardison Fountaine collaborated on music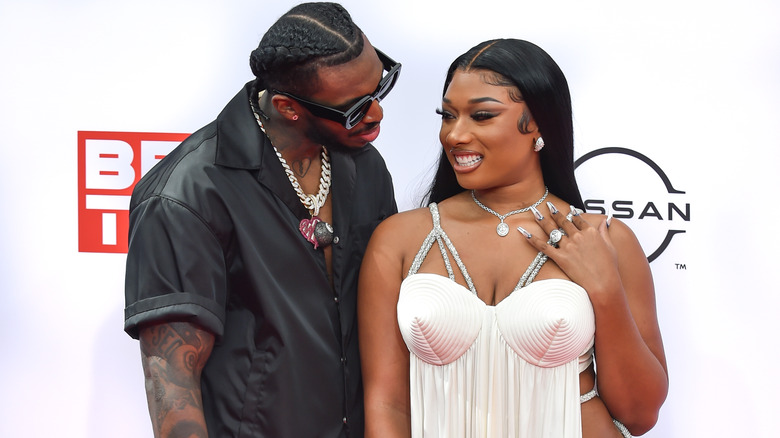 Aaron J. Thornton/Getty Images
Long before Megan Thee Stallion and Pardison Fountaine became a couple, the two collaborated on her 2020 remix of "Savage." Fountaine, who's real name is Jordan Thorpe, is listed as one of the composers on the track, alongside Megan, Beyoncé, and Shawn Carter (also known as Jay-Z). Fountaine was later listed as a writer for Megan's second No. 1 single — "WAP," with Cardi B. When the song was certified five-times platinum, Fountaine took to Instagram to show his girl some love.
"MEN LIE .. WOMEN LIE (better) BUT [diamonds] DON'T," Fountaine wrote, alongside a screenshot showing the news. "CONGRATS @iamcardib !! N Tell that baddie next to you I said COME HOME."
Fountaine also gushed over his rapper beau in an interview with Revolt. When asked if he was inspired by any female artists, Fountaine had an obvious answer. "I be with one every day that f**king inspires me! [Megan Thee Stallion] is f**king amazing," he said. "To see what she does — and on such a high level. Her dedication, her focus, it's f**king phenomenal."
The couple is going strong
Shareif Ziyadat/Getty Images
Like most famous couples, Megan Thee Stallion and Pardison Fountaine's relationship was once riddled with breakup rumors. Speculation about their alleged split began to brew in January, when the rappers removed the images of one another off of their Instagram grids, according to Rap-Up. Per the outlet, fans also noticed that Megan did not wish Fountaine a happy birthday on social media. However, Fountaine quickly shot down the break-up rumors, and disputed claims of domestic violence.
"Stop this cap nobody puttin hands on nobody ...(At least not in that way )," he wrote on his Instagram Story (via Hot New Hip-Hop). "Been seein the break up rumors and was lettin y'all imaginations run ..but y'all gettin too crazy ....ain't give n****s a story so they made one ... we really been on it double time." Megan has also since shared images of the two online, affirming that their relationship is still going strong.