Drake's Legal Drama In Sweden Fully Explained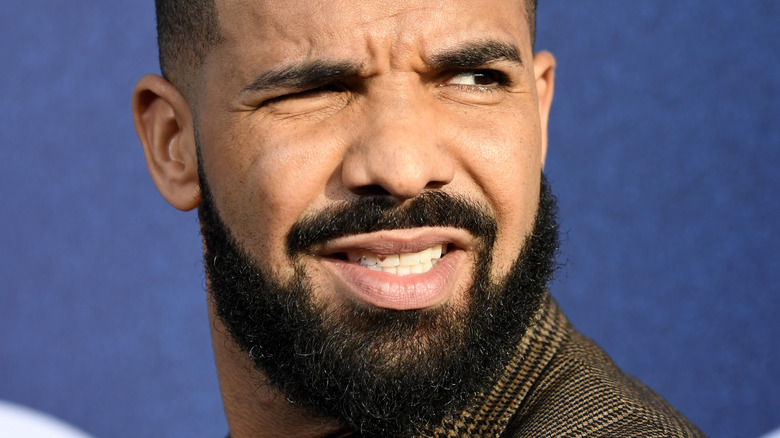 Frazer Harrison/Getty Images
It seems rappers just can't stay out of legal trouble in Sweden! First, there was G-Eazy who, as we previously reported, was arrested there in 2018 for allegedly assaulting security at a nightclub and for having cocaine in his pocket. Shortly thereafter, a trial was held at Stockholm District Court and G-Eazy pled guilty to assault and drug possession charges. As E! News reported, the rapper was fined $10,000, ordered to pay the bouncer he assaulted between $800 and $900, and was then set free. Following his release, the rapper said he was "embarrassed & apologetic beyond words."
Jump to 2019 and A$AP Rocky had his own run-in with Swedish authorities when he and two friends were arrested and charged with assault, according to BBC. A video showed them getting into a street fight with a group of men who, according to A$AP, wouldn't stop following them. The "Praise the Lord" rapped argued it was self-defense, but nonetheless, he was taken into police custody on July 3 and held until a trial could take place on July 30. A$AP later admitted, "It was a little scary because I wasn't familiar with that country [and] their rules is different." In the end, he was found guilty of assault, but the presiding judges only ordered him to pay some fines and set him free, per TMZ, as they acknowledged his nearly month-long stint in prison was punishment enough. Now, another A-lister has landed in hot water with Sweden's Polisen.
Was Drake arrested in Sweden?
Did he or didn't he get arrested? That's the question Drake fans were asking after the Canadian rapper touched down in Sweden on July 13 and rumors began to spread on July 14 that he had been arrested for marijuana possession while partying at a Stockholm nightclub. Soon, the keywords "free Drake" were trending with one Twitter user joking that President Biden would "free Drake to boost his approval rating." Without missing a beat, Drake's team soon told The Hollywood Reporter that Champagne Papi had not been taken into custody. Meanwhile, Philip Lewis, the senior front page editor at HuffPost, tweeted that he had spoken with Swedish police who confirmed Drake was not in custody at that moment. What's more, the rapper's team told him, "Drake is at his hotel and has not been arrested."
Well, it seems that wasn't exactly true. On July 17, Drake took to Instagram to post a number of snaps from his European romp and among them was a photo which appeared to confirm that he did have a run-in with Swedish police. The pic shows a piece of paper issued by the Public Prosecutor's Office and National Police Board titled, "Information for those suspected of a crime and subsequently detained." It lists all of the rights an individual has under Swedish law and outlines the steps to follow, starting with an interrogation. As TMZ points out, it's unclear if a court date will follow, but Drake was clearly released, as he's since traveled on to Ibiza, Spain.