What Anna Delvey Does For Money Now After Her Scandal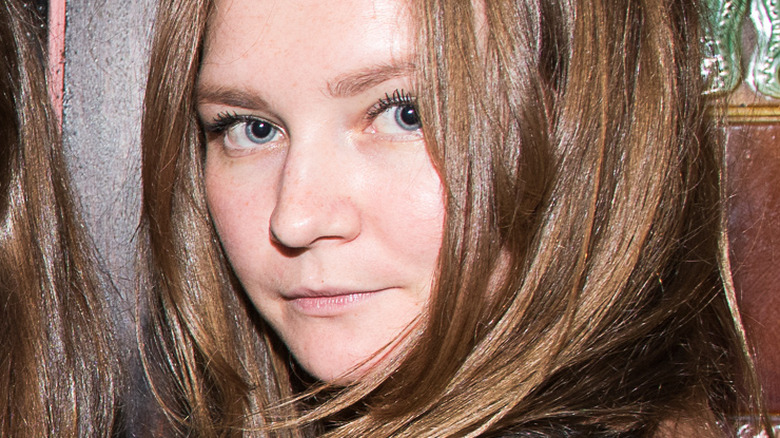 Dave Kotinsky/Getty Images
These days, it feels like the world can't get enough stories about scammers. One star of the modern con-artist scene is Anna Delvey (legal name: Anna Sorokin), a Russian-born aspiring socialite who ingratiated herself with New York City's elite by splashing out staggering amounts of money in the summer of 2018. All of Delvey's tales of wealth came crashing down when one of her ex-friends published a tell-all in Vanity Fair, describing Delvey as a "magician of Manhattan" who left her high and dry after an expensive Moroccan get-away. 
After the Vanity Fair story, journalist Jessica Pressler followed up with a piece in New York Magazine, exposing Delvey as a fraudulent heiress who had been ripping off her elite friends, hotels, and banks. The real-life premise was TV gold, and Shonda Rhimes turned the story into a Netflix series called "Inventing Anna."
Since the series was released in 2022, Delvey has been tried, sentenced, incarcerated, released, and arrested again, according to Town & Country. In March, Delvey was awaiting deportation to Germany, when that went on hold, per the New York Post and by June, she was in ICE custody awaiting her appeal. "It's very boring. It's just like absolutely nothing to do in here," Delvey told NBC News. "So I'm just trying to keep busy with all the projects that I have going on." What projects could Delvey possibly be referring to?
Anna Delvey is launching a collection of NFTs
"Inventing Anna" portrays Anna Delvey as a would-be heiress obsessed with money and social standing — so you can bet that the real-life Delvey is intent on making bank, ICE custody notwithstanding. In June, Delvey spoke to NBC News about her plans to launch a collection of NFTs called "Reinventing Anna." According to ARTNews, the NFTs feature prints created by Delvey that depict various happenings in her life, each retailing for about $90. NFTs can be purchased with cryptocurrency, and grant the buyer special perks, such as "exclusive access" to Delvey herself, as well as "packages of personal items."
The whole thing is a bid to shed Delvey's tarnished media image and start fresh. "I'm trying to move away from this ... quote unquote scammer persona," she explained, per NBC News. "This ... has been pushed upon me by the prosecution and by the following media and by the Netflix show, but I'm trying to move away from that definitely." Details are still scarce on the "Reinventing Anna" website, and it's unclear which platform will host the NFTs; however, anyone interested can visit the page to mint their own. Delvey is also clear on the purpose behind the launch. "I'm very excited to join the NFT community and contribute to the change in the way artists/creators interact with their fan base," she shared. "...In this new chapter of my journey, I'm hoping to use my voice for a positive (and legal) cause."
Anna Delvey is making a name for herself in the art world
This new NFT line isn't Anna Delvey's first foray into the art world. In March, The Cut reported on an NYC-based art show — titled "Free Anna Delvey" — which highlighted the works of 33 other artists, all of whom were inspired by Delvey's unique experience. Delvey's own artwork was reproduced by Alfredo Martinez from drawings she made while behind bars. This artwork was posted to her Instagram account and shows Delvey reading books and lounging in designer clothing. Her collaborator, Martinez, told the New York Times that he hoped the art show would underscore Delvey's talent and prove that she still has more to offer society.
Indeed, the success of "Free Anna Delvey" prompted a solo art exhibition called "Allegedly," which debuted in May, per Page Six. "This is a collection of sketches I've created while in ICE Orange County detention," Delvey told the outlet. "I wanted to capture some of the moments of the past years, both never-seen-before and iconic, using the limited tools I have at my disposal." The con artist, who studied fashion illustration at Parsons, added, "You've heard so many voices already, but this is the beginning of me telling my story, my narrative, from my perspective." According to Variety, her art dealer valued the collection between $400-500K. Next up, Delvey's post-prison plans include a deal with Bunim-Murray Productions to star in a limited docuseries that tracks her life after prison, per Deadline.