The Truth About Wolfgang Van Halen's Relationship With His Famous Dad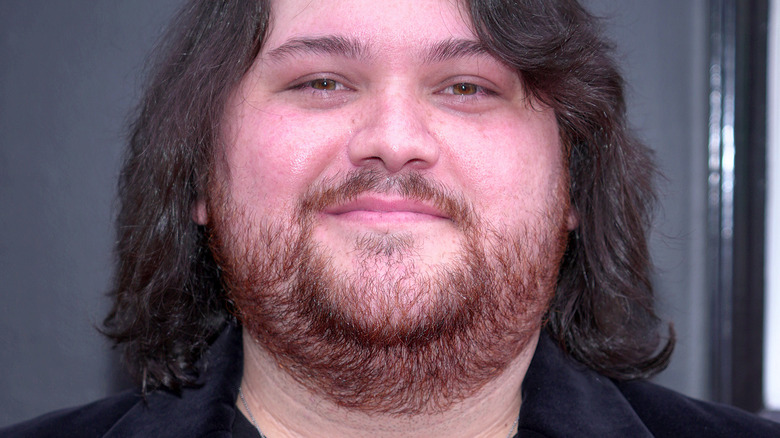 Kevin Mazur/Getty Images
Fans were left reeling on October 6, 2020, when it was confirmed that the legendary rocker Eddie Van Halen had died of cancer. Still, it's safe to say that no one was more upset than Eddie's one and only child, his son Wolfgang Van Halen. 
"I can't believe I'm having to write this, but my father, Edward Lodewijk Van Halen, has lost his long and arduous battle with cancer this morning," Wolfgang penned in a somber tweet along with a photo of his famous father. "He was the best father I could ever ask for... My heart is broken and I don't think I'll ever fully recover from this loss. I love you so much, Pop."
But what was the father and son's relationship really like prior to Eddie's tragic death? And how does Wolfgang continue to honor his late father? Grab some Kleenex and get ready for a good cry... 
Eddie and Wolfgang Van Halen bonded over music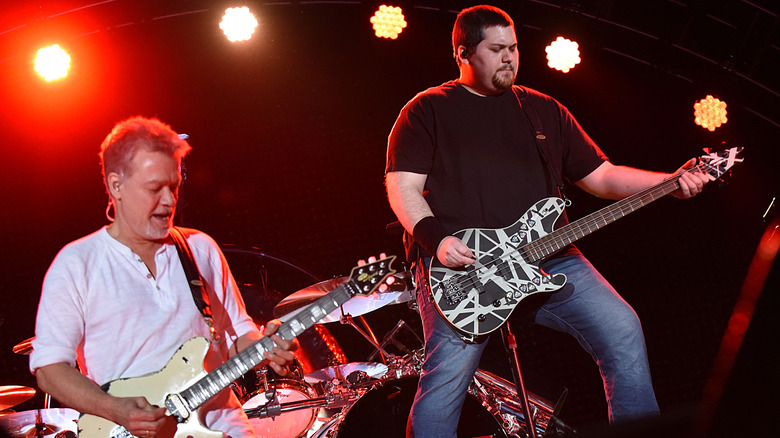 Chris Mckay/Getty Images
While it's no secret that Eddie Van Halen enjoyed a long and illustrious career in the music industry, he was always adamant that he wouldn't force his son to follow in his footsteps. 
"I'm going to let Wolfgang be whatever he wants to be," Eddie vowed when his son, Wolfgang Van Halenn was only four years old (via TheThings). "I don't see how he won't somehow be into music, being exposed to it all the time. But I'm not going to force him to play piano or take music lessons like my parents did to me," he maintained. And yet, that's exactly what Wolfgang went on to do. In the end, the decision would prove to instill a lifelong bond between the father and son. "Wolfgang breathes new life into what we're doing," the proud papa once gushed to Guitar World (via MusicRadar) about his teenage son joining Van Halen. "He brings youthfulness to something that's inherently youthful. He's only been playing bass for three months, but it's spooky. He's locked tight and puts an incredible spin on our s***. The kid is kicking my a**!" he playfully declared. 
And as it turns out, music also helped Wolfgang manage his grief after the loss of his father...
Wolfgang Van Halen honored his late father with a song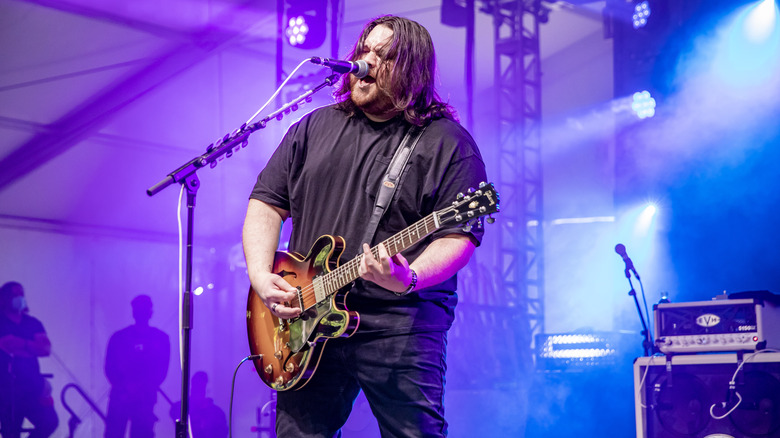 Scott Legato/Getty Images
Following his father's tragic death, Wolfgang Van Halen did what he and his father had always done: he turned to music.
Only weeks after Eddie Van Halen's death, Wolfgang released a song aptly titled "Distance" to honor his late father. "Chuck, my editor, really did a wonderful job putting together all the footage I gave him for the video," Wolfgang told MusicRadar about the touching single. "I wrote that song around the same time as everything else that's on the album, around 2015. My Dad had been up and down with his health. I wanted to get that emotional struggle out, I guess. I was kinda imagining how different life would be on the other side of something like that," he explained.
"Music is a really therapeutic thing," he also revealed in a candid interview with People in June 2021. "And being able to focus on that and just paying tribute to my dad and our relationship was a really helpful thing for me to grieve in that way," he continued about his grieving process. "I'm an extension of him and I'm just happy to be here to spread the good word of who he was and how he should be remembered." RIP Eddie Van Halen.