Chris Pratt's Son Jack Stole All The Attention In The Actor's New Selfie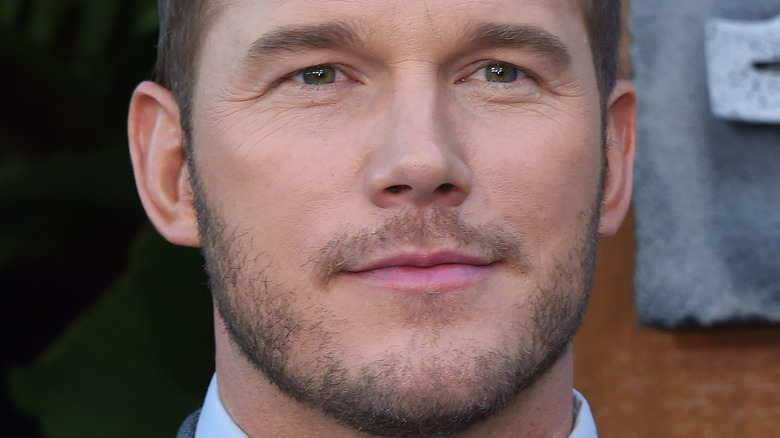 DFree/Shutterstock
Chris Pratt and Anna Faris welcomed son, Jack, in 2012 and agreed to split custody of him upon their divorce in 2018. Jack was born prematurely and as a result had cerebral hemorrhaging (also known as brain bleeding) and a myriad of other issues as an infant, per The Sun."The pediatric neurosurgeon sat Chris and me down to tell us that Jack had some severe brain bleeding and there was a chance that he could be developmentally disabled," Farris wrote in her memoir, per The Blast. By all accounts Jack is doing just fine these days and the results from his hemorrhaging have been minimal.
As for Pratt, after splitting with Faris he married Katherine Schwarzenegger with whom he has since welcomed two daughters Lyla and Elois. That's when the trouble started. In 2021, Pratt posted an emotional Instagram caption thanking his wife for giving him the gift of a "healthy" child, per Page Six. That didn't go over well with fans, who felt it was dismissive of Jack and critical of his possible disabilities.
Since then, Pratt's relationship has been a subject of intense debate. Now that a few years have passed since Pratt's comments, people are wondering where they stand today.
Chris Pratt keeps his son close
If a recent selfie from Chris Pratt is any indication, his relationship with son Jack is going great. Pratt shared a photo of himself in a dressing room and the mirror selfie showed off Pratt's toned body and a sweet little note from Jack reading "See you at 8:00 ish" on a yellow Post-it. Pratt had lovingly pasted the little note on his mirror seemingly as a sweet reminder of his son.
So, what exactly is their relationship like these days? Is it as distant as everyone assumes after those 2021 "healthy baby" comments? According to Pratt, that was taken out of context. "A bunch of articles came out and said, 'That's so cringeworthy. I can't believe Chris Pratt would thank [his wife] for a healthy daughter when his first child was born premature,'" Pratt explained of the fallout from his Instagram post, per Men's Health. "And I'm like, That is f****d up. My son's gonna read that one day. He's nine. And it's etched in digital stone," Pratt said. "It really f***ing bothered me, dude. I cried about it."
It seems that Pratt's relationship with Jack has remained strong despite what may have been printed in the press. Jack is reportedly quite close with his little sister as well. "Their birthdays are in August, he's gonna be nine and she'll be a year old," Pratt told Entertainment Tonight in June 2021. "He's really great with her. He just loves her. He's so gentle and sweet," he continued. "You know, he's a great big brother."