How Camila Cabello Is Making The Best Of Her Diagnosis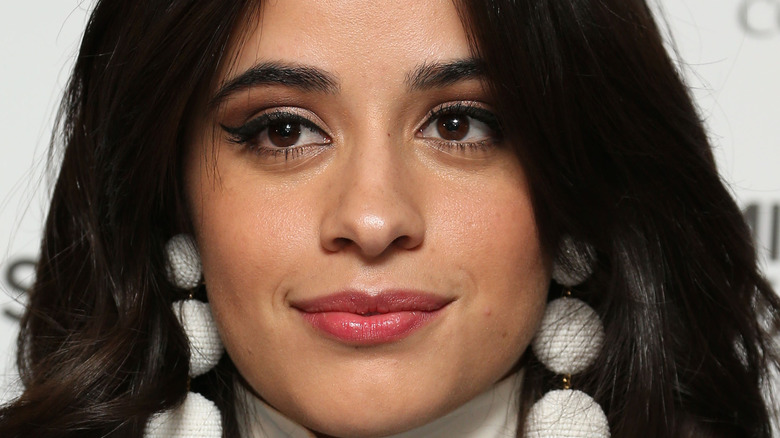 Cubankite/Shutterstock
Celebrities often seem immune to the day-to-day problems that "normal" people face. Just recently, the Daily Mail reported on Kylie Jenner's decision to take a 12-minute trip in her private jet, in order to avoid the hassle of a 39-minute car ride. With headlines like that, it can be easy to feel like the rich and powerful are their own species.
Even the biggest A-listers can't avoid health problems, however. Celebrities who are struggling personally often use their platforms to spread awareness and hope. Billie Eilish, for example, recently opened up to David Letterman about living with Tourette's syndrome. And following the onset of the coronavirus pandemic, we've only gained further proof that celebrities are just like us. When CNN announced in early March 2020 that Tom Hanks had contracted the virus, it was a wake-up call for many.
Although many have resumed pre-pandemic activities, high-profile cases of the illness continue to remind us that the battle wages on. Camila Cabello is the latest to share that she has been diagnosed with COVID-19 ... but she's taking it in stride.
Camila Cabello announced her COVID diagnosis in the most upbeat way
Between her breakup with long-term partner Shawn Mendes and her recent COVID diagnosis, Camila Cabello can't seem to catch a break. Fortunately, she doesn't seem to mind. The "Havana" singer decided to do what we all did when stuck in isolation: get on TikTok.
She posted a video dancing around her room with various medicines and cough drops, as she sang along to the song "Watagatapitusberry" by Pitbull featuring Sensato del Patio, Black Point, El Cata, and Lil Jon.  Cabello's high energy would suggest that she was the picture of health, but her caption clarified things, "I got the rona." She later reposted the video to her Instagram Stories, via Page Six, and wrote, "If u got the rona and still gonna live it up in isolation make some f**kin noise."
Fans wished the singer well, while also expressing their shock at her high-spirits. "She's got so much energy lol," one tweeted. "I couldn't hardly move when I had Covid without throwing up." Others were happy to have something in common with the artist: "my biggest flex is having covid at the same time as fav @camila_cabello lol." Wishing a speedy recovery for Camila (and her fan)!