Everything We Know About Season 2 Of RuPaul's Secret Celebrity Drag Race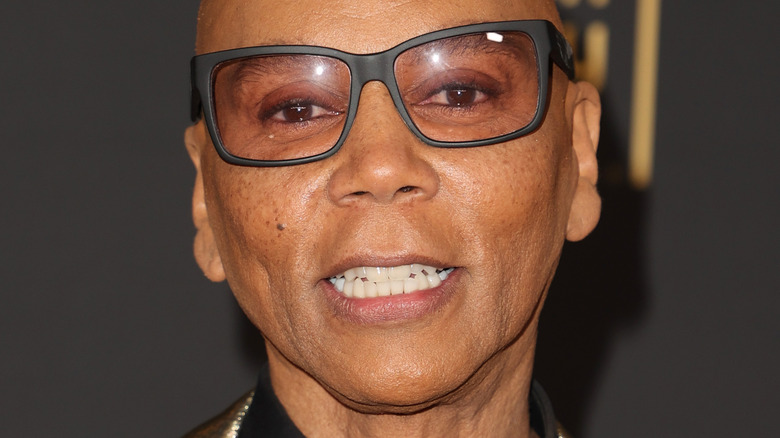 Kevin Winter/Getty Images
Celebrities, start your engines! "Secret Celebrity Drag Race" is officially returning to bless our TVs for a second glamorous season.
After over a decade of expanding the "RuPaul's Drag Race" empire into franchises around the world, executive producer RuPaul decided to create a different kind of competition show. The premise behind "Secret Celebrity Drag Race" is that drag mentors— returning "Drag Race" alumni— fully transform their assigned celebrities into drag queens. The star-studded cast then competes in a challenge, where the best-performing celebrity is chosen to win $100,000 for charity. "SCDR" premiered its first season in 2020, and the cast was full of both queer and ally icons; including singer/actor Hayley Kiyoko, pop singer Madison Beer, and comedian Loni Love.
Now, the all-star program is coming back for Season 2 and in a surprising rule change, one celebrity will be crowned America's Next Celebrity Drag Race Superstar at the end of the season. "Honestly, ['SCDR'] was realer than 'Drag Race,'" said Season 1 drag mentor Trixie Mattel to HuffPost. "These celebrities are not performing. They are having authentic, transformative human experiences in front of us." So, what is in store for the illustrious second season?
When is Secret Celebrity Drag Race premiering?
The second season of "Secret Celebrity Drag Race" is set to be an end-of-summer treat. According to VH1's trailer for Season 2, the premiere episode will be airing on August 12 with more episodes on the following Fridays. The only way to watch this season of "SCDR" will be either to catch it live on VH1, or on VH1's website with a cable login. And it will not be available to stream on Paramount Plus, which carries new episodes of the regular "RuPaul's Drag Race" and the currently-airing "Drag Race All-Stars 7."
"I am extremely grateful to all the amazing and talented 'Drag Race' queens — past, present, and future — that continue to inspire us to find new ways to tell their stories," RuPaul told EW when "SCDR" was confirmed. "Through love, light, and laughter, they remind all of us that the most powerful thing you can do is to become the image of your own imagination."
The celebrity cast will hide their identities from the start
Now onto what matters the most on "Secret Celebrity Drag Race": the celebrities! In terms of the drag mentors who will be transforming their contestants, it's "Drag Race" alumni galore. The VH1 commercial revealed that the mentors include Queen of the North Brooklyn Hytes, "Drag Race" royalty Jujubee, and "All-Stars 4" winner Monét X Change. Plus, Pop Crave reported that the show will bring on many "Drag Race" alumni as special guests, like Gottmik, Violet Chachki, Katya, Morgan McMichaels, Silky Nutmeg Ganache, and Eureka.
Unlike Season 1— where the audience knew which celebrities were being transformed from the beginning of the episode— Season 2 will completely hide the celebrities' identities until the judges guess who they are after they perform in a "lip sync showdown." Also, instead of only having three celebrities per episode (such as in Season 1), all nine contestants will stay to compete from the first episode until they are eventually eliminated and their identities are revealed. With this change of format, Season 2 is expected to be a rollercoaster! And from the looks of the trailer, fans have noticed that this season's budget has gone drastically up, compared to last season.
So, which celebrity will come out on top as America's Next Celebrity Drag Race Superstar? Well, we will have to wait until August 12 to see who comes out on top.