How Jodie Comer Really Feels About Ryan Reynolds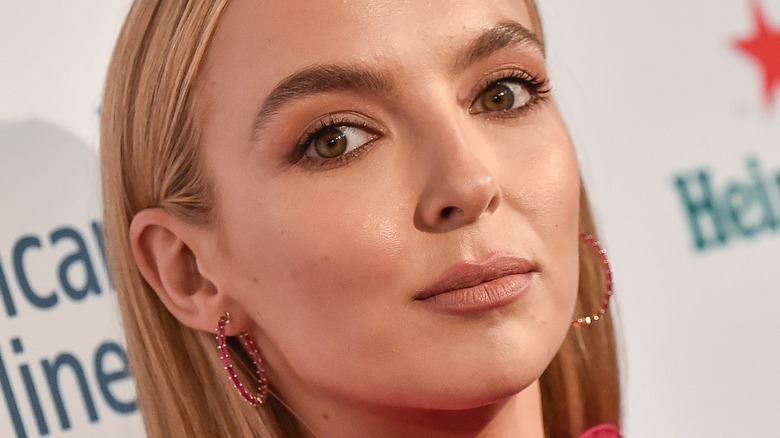 DFree/Shutterstock
Jodie Comer and Ryan Reynolds had some obvious on-screen chemistry when they joined forces on the 2021 alternate reality movie "Free Guy," and it turns out it was thanks to the latter that the former actually landed the big screen role. Reynolds co-produced the blockbuster and revealed that he and the movie's director, Shawn Levy, just couldn't get enough of the "Killing Eve" star's impressive talent for accents when she auditioned. "I think she did three different accents in one particular scene in her audition," Reynolds recalled to Total Film in 2020 (via Digital Spy). "She just had it. It's one of those moments where Shawn and I are looking at each other, going, 'Let's just stop now, and get to work,'" he added.
But that's far from the only time Reynolds has praised his talented co-star. Reynolds doubled down on the notion that he knew Comer was the one for the role from the very beginning, telling Collider in 2021, "When Jodie came in, one line out of her mouth and both Shawn and I were like, 'That's our girl. That's the character. That's everything we ever hoped for, and more.'" Coming from Reynolds? Now that's a compliment!
So it's pretty clear that Blake Lively's man is a fan of Comer and her impressive acting chops, but is that sweet sentiment reciprocated?
Jodie Comer thinks Ryan Reynolds is a 'genius'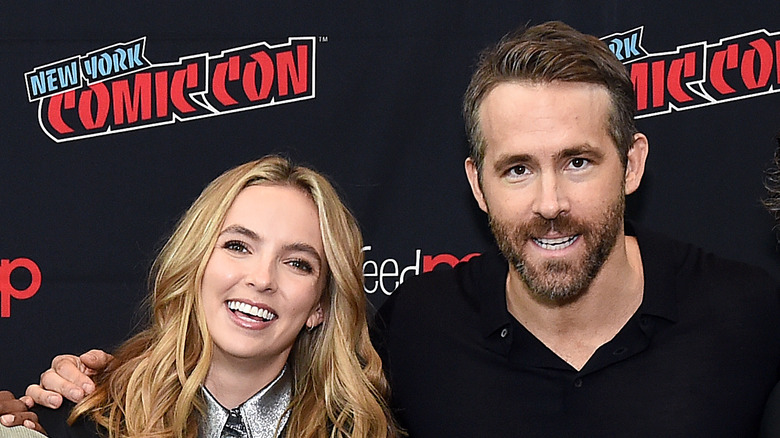 Ilya S. Savenok/Getty Images
We've always assumed that working with Ryan Reynolds has to be a laugh a minute (particularly if the hilarious banter he shows off with wife Blake Lively online is anything to go by) — and it sounds like we were right. "It was incredible," Comer responded when asked by Collider what it was like working with Reynolds on "Free Guy." The star shared she felt supported by Reynolds and Shawn Levy right from the very start of the process, noting, "I immediately felt like they were rooting for me and that just continued throughout the whole process. They were incredibly nurturing." She also touched on Reynolds famous funny bone, confessing, "Ryan is a genius, especially in the sense of how fast his brain works and his comedic timing."
Comer shared a similar sentiment to The Hollywood Reporter in 2021, gushing of the "The Proposal" star, "He's so smart, and what I love about him is that he doesn't take himself too seriously." She admitted Reynolds had her in stitches even while filming promo material (which came before they'd actually started shooting the actual movie!), sharing, "Ryan makes it so much fun, and it should be fun."
And third time's the charm when it comes to how Comer really feels about Reynolds. "It was incredible, he's so wonderful," she said of working with the father of two while speaking to PA Media (via Yahoo!). "What you see is what you get with Ryan."
Would Jodie Comer work with Ryan Reynolds again?
So we know Jodie Comer and Ryan Reynolds are friends who have nothing but sweet words for one another, but the true test of a great time is if you'd do it again, right? Well, back in October 2021, Comer was just waiting for the green light to reunite with Reynolds on the set after it was rumored that "Free Guy" could potentially get a sequel. "I would honestly jump at the chance to be back on a set with all those guys. It was such a joyous experience — so to hear that that may be in the cards sound like a ton of fun," she told Screen Rant.
And, thankfully for us and the movie's stars, it sounds like we will be seeing more of Comer and Reynolds together as their "Free Guy" characters Blue Shirt Guy and Millie Rusk. 20th Century Studios President Steve Asbell confirmed there is definitely more to come with the franchise when chatting with The Hollywood Reporter in March, confirming, "We're awaiting a script that is days away. It's a fantastic story." And it sounds like it might be even more than just one more installment that's on the way... "We have more 'Avatar' movies coming, we have more 'Free Guy' movies coming. We're going to be pretty busy," he teased.
Jodie Comer and Ryan Reynolds back together on screen? Count us in!