What Tina Fey Had To Say About Working With Paris Hilton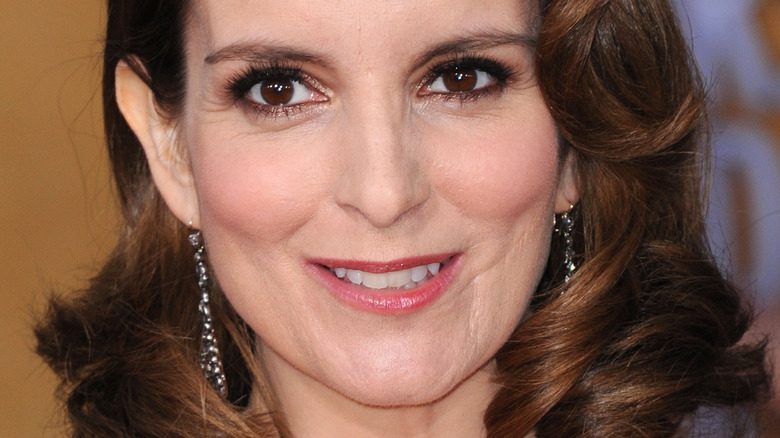 DFree/Shutterstock
People seem to love to hate Paris Hilton — fellow celebrities included. Stars like Blake Lively and Sienna Miller have publicly spoken out against her, with Lively once stating that she didn't like being compared to the heiress. "I once heard someone say that I'm similar to Paris Hilton — since I have a dog and blonde hair, that must mean we're alike," she told Seventeen in 2008 (via People).
Lively continued, "It's a dumb thing to say. I don't think that makes Paris and me similar ... I don't go to clubs, I don't party, I don't dance on tables, and I don't like sex tapes." Miller also had some choice words about Hilton while reacting to being branded America's next "It Girl" in her 2004 profile for W Magazine (via Irish Examiner). "Do I look like a f***ing Hilton sister? Yeah, and check me out on the internet having sex," she said. "The fact is I'd rather be at home cooking."
All that being said, the two actors aren't the only famous faces that have made some pretty controversial remarks about Hilton in the past. Comedian and writer Tina Fey publicly criticized the blonde while recalling their time working together on the late-night television sketch show "Saturday Night Live."
Tina Fey reveals what she really thinks about Paris Hilton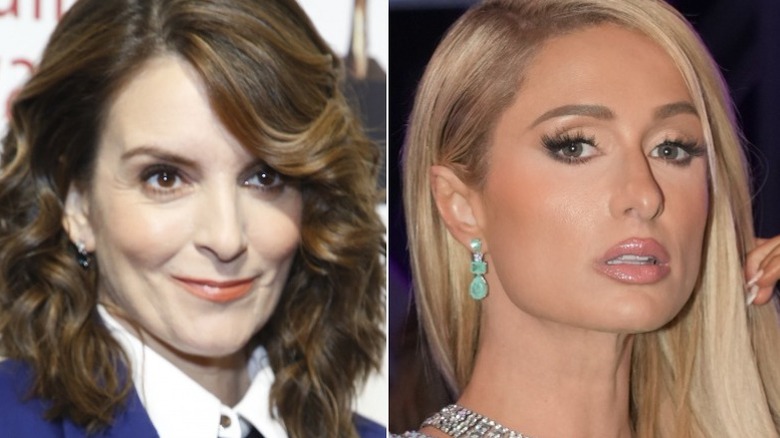 John Lamparski, Jeff Kravitz/Getty Images
Tina Fey did not hold back when it came to sharing her opinions about Paris Hilton and what it was really like working with her on "Saturday Night Live." In a 2006 interview with Howard Stern, Fey made it clear that she was not a huge fan of the socialite, calling Hilton a "piece of s***" who plays into the dumb blonde stereotype. "I think many people were like maybe she'll be fun, you know, she won't take herself so seriously. She takes herself super seriously!" Fey told Stern. "She's so dumb; she's so proud of how dumb she is."
It didn't help that Hilton was also a diva, according to Fey, who recalled an instance where the "Paris In Love" star refused to do a sketch and locked herself in her dressing room in protest. "This guy Jim Downey wrote this really, really funny sketch. It was supposed to be like Lorne [Michaels] just finding out that she had a sex tape and being like, 'Oh, I didn't know about this. You can't host the show. We have standards here.'"
Fey continued, "She [Hilton] was like, 'I'm not doing it,' and she wouldn't come out of her dressing room ... which, nobody does that stuff." What's more, Hilton would allegedly leave wads of what Fey described as "Barbie hair" on random spots of the set, which only further irritated the "SNL" alum. "Her hair is like a Fraggle," Fey added.
Tina Fey backtracks on Paris Hilton comments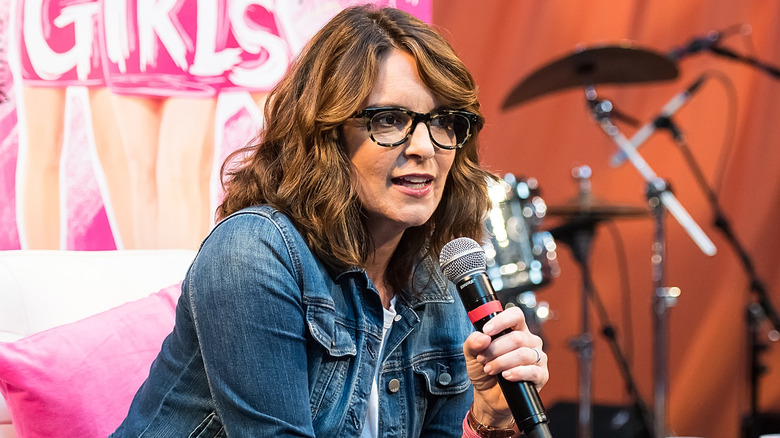 Gilbert Carrasquillo/Getty Images
Tina Fey would later backpedal on her controversial comments about Paris Hilton. In a December 2006 interview with journalist Gavin Edwards, Fey admitted that she regretted some of the things that she had said about the reality star. "I had a little flare-up the other day because they started asking me about hosts on Howard Stern, and I felt bad because I spoke ill of Paris Hilton further than I would have liked."
According to Fey, her real issue with Hilton is that she doesn't think the socialite is a good role model for the many young girls who look up to her. "I find it so weird that lots of little twelve- and thirteen-year old girls really admire her. But I didn't make anything better by losing my temper," she said. 
Fey shared that even her mom wasn't thrilled about her Regina George moment on Stern's show. "My mom was not pleased I said that about Paris Hilton. Not that she has any affection for Paris," she said. While Fey has steered clear of publicly discussing Hilton in recent years, fans probably shouldn't expect the two to collaborate anytime soon.