Inside Dorit Kemsley And Teddi Mellencamp's Friendship Today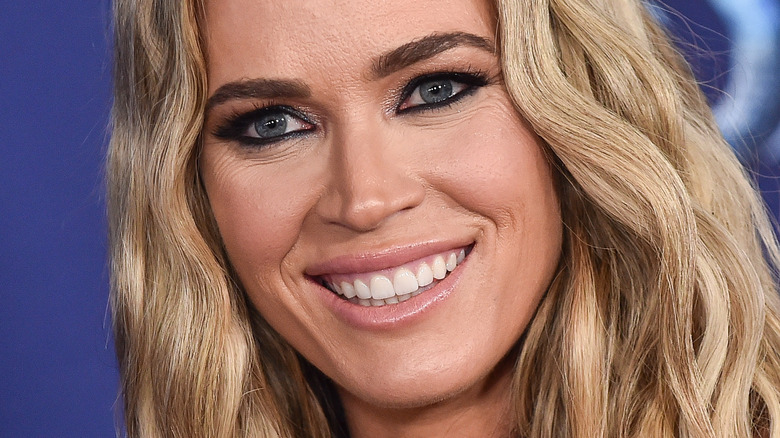 DFree/Shutterstock
When self-proclaimed accountability coach Teddi Mellencamp joined "The Real Housewives of Beverly Hills" Season 8, her relationships with other cast members quickly spiraled into outright chaos. Over the next couple of seasons, Mellencamp's friendship with fashion designer Dorit Kemsley was tested, with the castmates having their fair share of catty and dramatic moments.
Fans remember Mellencamp's annoyed reaction toward Kemsley when she was stood up for drinks, along with the elaborate Puppygate scandal that put Mellencamp in the middle of some Vanderpump dog drama. The gossip about Kemsley returning a dog that wasn't a good fit for her family became blown out of proportion, with Mellencamp participating in petty text messages about Kemsley. "I don't want my private matter being brought up and discussed with anyone, especially with Teddi," Kemsley said in Episode 1, Season 9 of "RHOBH," according to People. Mellencamp later took accountability for her actions, telling Kemsley, "I was in on the scheme. I was part of the scheme. I was set up and I took the bait but could not go through with it."
Since Mellencamp has left the series, fans are curious about whether Kemsley and Mellencamp still have beef. Fortunately, it appears the two have resolved their issues and developed a tighter friendship.
Teddi Mellencamp supported Dorit Kemsley after her home invasion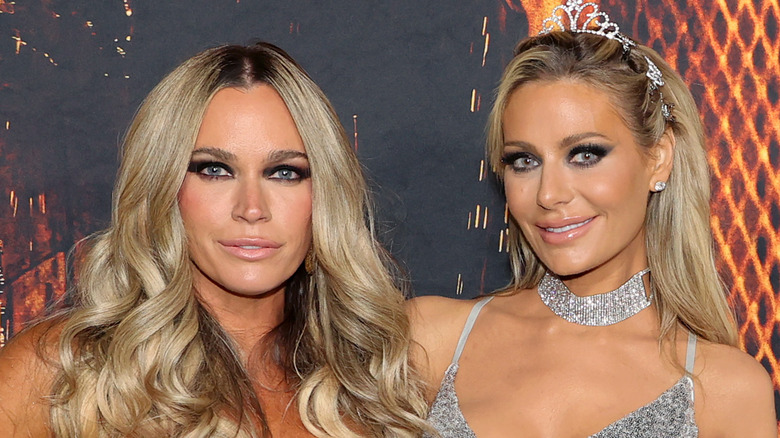 Amy Sussman/Getty Images
Following Dorit Kemsley's home invasion robbery, Teddi Mellencamp showed the utmost support for her friend. In October 2021, Kemsley was held at gunpoint by burglars who stole an approximate $1 million in jewelry and handbags. "I thought, 'This is it, this is how I'm going to die,'" Kemsley said of the traumatic incident in a "The Real Housewives of Beverly Hills" confessional clip (via The Los Angeles Times).
Mellencamp accused "RHOBH" alum Dana Wilkey of putting Kemsley at risk in a now-deleted Instagram post (via Page Six). Wilkey posted a photo of a deposition revealing Kemsley's LLC. While her actual home address wasn't revealed, the LLC shared the same name as her residential street. Though there was confusion as to why Wilkey posted the basic document, Kemsley's husband, Paul "PK" Kemsley, vehemently claimed that Wilkey did so to "garner more attention." According to Page Six, Mellencamp stood up for Kemsley on Wilkey's Instagram post, commenting, "I hope you sleep really well tonight. You put her and her kids in danger by posting this. Disgusting."
In an interview with Us Weekly, Mellencamp was asked how Kemsley was holding up after the break-in, and the former "RHOBH" star had some thoughtful words for Kemsley. She told the outlet, "She was so strong, she really was. And of course we're all there for her, whatever it is that she needs."
Dorit Kemsley reflected on her and Teddi Mellencamp's thriving friendship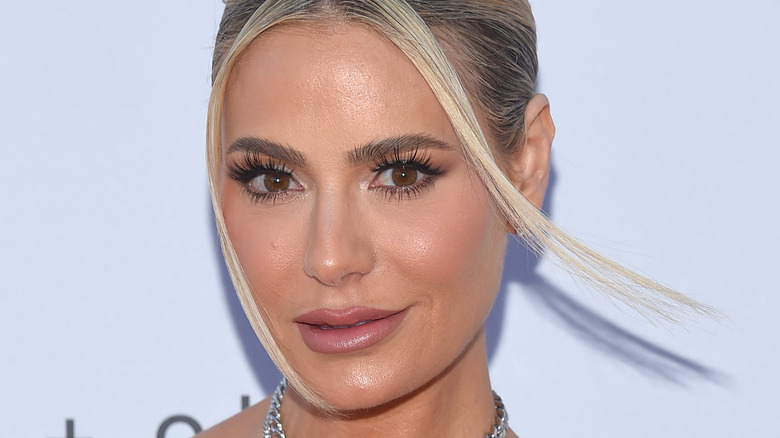 DFree/Shutterstock
Teddi Mellencamp and Dorit Kemsley bonded in the aftermath of these devastating circumstances. In May, Kemsley posted an Instagram photo of her, Erika Girardi, Lisa Rinna, Kyle Richards, and Teddi Mellencamp looking as close as ever. "Tonight's episode covers an incredibly traumatic event in my life," Kemsley captioned the picture. She continued, "PK was still in London at the time and these phenomenal women rushed to my home upon hearing the news." Kemsley expressed gratitude for the "support" of the ladies, writing, "Waking up that morning and seeing these women in my living room gave me a sense of comfort and strength I thought impossible."
Even before Kemsley's home invasion, the reality TV stars had patched up their past. In a 2021 interview with Access Hollywood, Kemsley remarked, "You know, the really funny thing is I've become better friends with Teddi now that she's not on the show than I ever was when she was on the show." And the two share something in common. "You know, we have sons that are very similar in age and they get along really well. So, we have established a friendship outside of the show that's growing."