Inside Julianne Hough's Close Relationship With Brother Derek Hough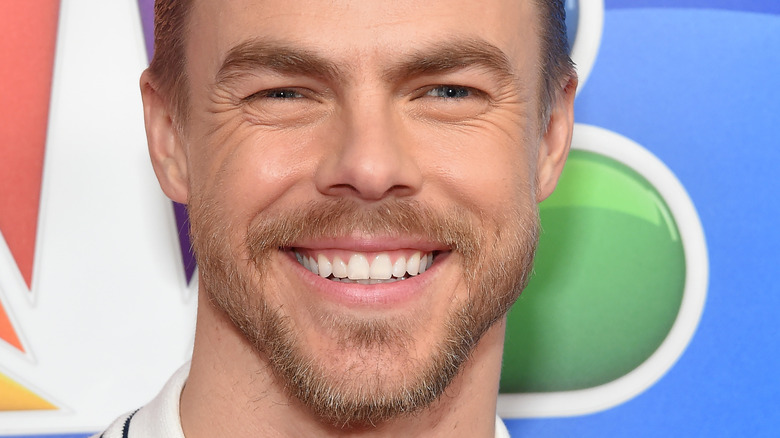 DFree/Shutterstock
It is likely that no iconic sibling duo can dance better than Derek and Julianne Hough. (Chris Hemsworth tried, but quickly learned dancing isn't his forte). According to People, the dancing duo was sent to London to train at Shirley and Corky Ballas' dance studio while their parents were going through a divorce.
"We moved to England at a young age, she was 10, I was 13, and so we basically had to look out for each other," Derek told Closer Weekly in 2019. "We were like a team growing up, more mature then than we probably are now. Now we are more like siblings, more like kids where we tease each other ... We are just best friends."
Derek and Julianne went through a lot growing up. According to Cosmopolitan, Julianne was abused as a child, claiming, "While I was in London, I was abused, mentally, physically, everything." The two also choreographed and performed a contemporary piece on "Dancing With the Stars," diving into the past and showing their feelings on their parents' divorce. But with all of the hardships they faced, the siblings got through it together.
Derek and Julianne Hough are all about friendly competition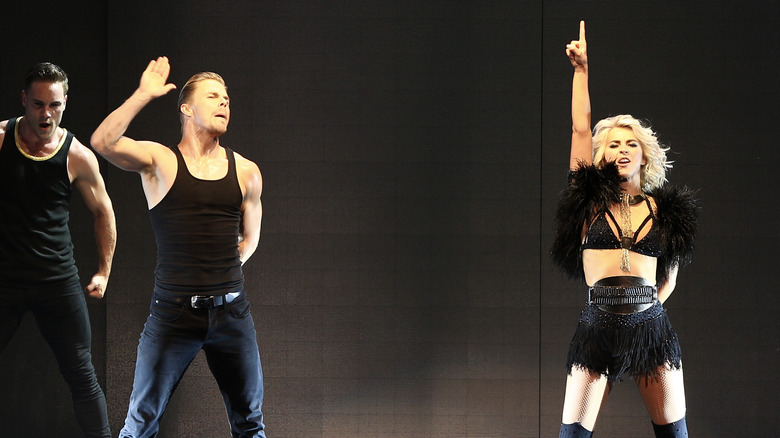 Debby Wong/Shutterstock
A little sibling rivalry never hurt anybody. Derek and Julianne Hough have seemingly done it all with each other. Julianne joined "Dancing With the Stars" and won the mirrorball trophy for Seasons 4 and 5, per Deadline. Derek then became a professional dancer on the show, and claimed six mirrorball trophies, per Parade. Both have also judged on the show. Even though there's a bit of a competition between the siblings, they have fun with it.
"When we were little, competing, I always wanted to beat him, because I'm his baby sister," Julianne told Entertainment Tonight in 2018. "I remember I beat him a couple times and would never let him live it down ... To have somebody that close, that's like in the same world as you, that understands it ... we've both been very, very lucky to be each other's support. He's rad. I love him."
She also mentioned that she's learned her older brother's language, especially when he's in his creative state of mind. She said that their minds working together is a "good blend" and a "good mix." And now, they even joke about their rivalry, as they performed a Disney medley based around it in their Move Beyond tour in 2017. It seems that the rivalry is just for fun, as they always support one another no matter what.
Derek and Julianne Hough's support carries into their personal lives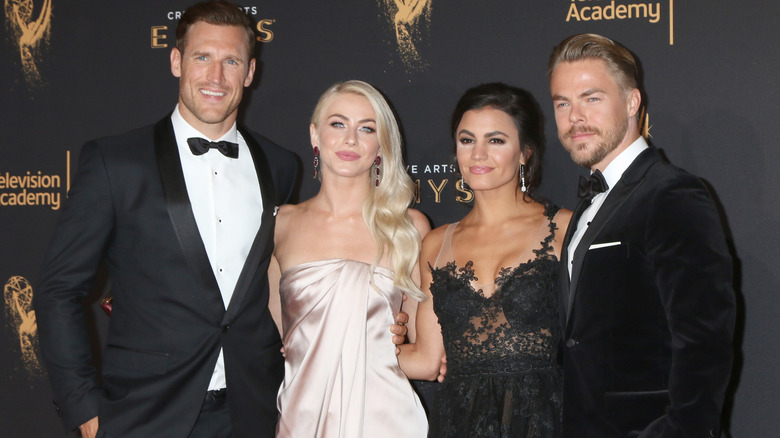 Kathy Hutchins/Shutterstock
Besides sharing their love for dance, Derek and Julianne Hough also show how close they are by supporting each other's love lives. According to OK!, Julianne respected her older brother's friendship with her ex-husband Brooks Laich, and although she was scared that she would be brought up in a conversation, she didn't let the friendship wreck her relationship with her brother. Julianne also fully supported Derek's engagement to dancer Hayley Erbert.
"Julianne is beyond thrilled for Derek and Hayley," a source told Hollywood Life in June. "She feels so lucky to have seen their relationship grow over the years and she sees how perfectly Hayley compliments Derek." In fact, being with Erbert has changed Derek for the better. The insider noted, "Julianne has never seen Derek so happy with somebody before and she can't wait to see them take this next step in their relationship."
Throughout their lives — personal and professional — Derek and Julianne Hough have been by the other's side. They have put on a number of dance shows that aired on ABC, including "Holidays with the Houghs" in 2019 and "Step into... the Movies" in March 2022. We hope that these two continue to impress the world with their dance skills, and warm peoples' hearts with their sibling love and support.