RuPaul Made A Cameo In This Music Video Before He Got Famous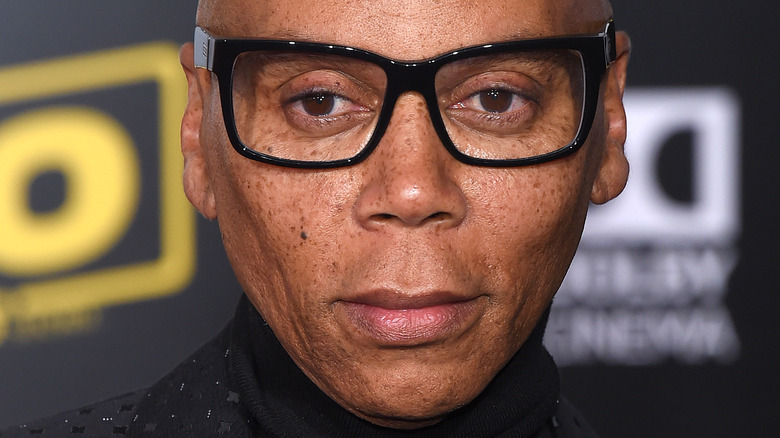 DFree/Shutterstock
Today, RuPaul Charles is most famous for finding the latest and greatest in Drag Superstars on his reality competition show "RuPaul's Drag Race." He's gone on to become probably the most famous drag queen in the world (they don't call her the Queen of Drag for no reason!), and, even in the early days, he always knew he was destined to be a star in one way or another.
"I thought my future would be — I'd be a star. I'd be a famous star. I didn't know how I would do that. In my mind, I thought, well, we'll start with, I'll be the next David Bowie, and that's where it started," RuPaul told NPR in 2020. But life had other plans than having him ask if there's life on Mars. Over time, the rising star's act evolved, along with his talents. "But then as life unfolded, other things came up, and I said, 'Oh, OK. You know, part of being a human on this planet is learning how to read the landscape, and I learned how to read the landscape.' And drag presented itself to me, and I thought, well, OK, that's what I'll do," he recalled.
But did you know RuPaul did actually have a big musical connection before becoming a household name?
RuPaul's 'Love Shack' cameo
Take a look at B-52's music video for "Love Shack" above. Recognise someone? In the white ensemble with the gorgeous big hair? Yep! That's RuPaul Charles himself making an epic cameo. Before becoming the Queen of Drag, RuPaul popped up in the 1989 music video — and it sounds like he made quite the impression on the set. Clearly everyone knew RuPaul was destined for stardom even back then, with B-52's frontman Fred Schneider telling Yahoo! Music in 2017, "He was already really working on his look, his star look. He got the line-dance going, that's for sure!" That certainly sounds like our Mama Ru.
So how did Ru end up in the video? B-52's Cindy Wilson explained to Billboard in 2017 that she got to know the up-and-coming Drag Superstar when they started hanging out in New York. "It was really wonderful because it was love and friends, and there was a wonderful sense of coming together, being silly, and hoping for the future. It was really special," she shared. Wilson also had nothing but praise for her music video co-star and all the success RuPaul has gone on to have, even describing "RuPaul's Drag Race" as "one of the best shows on right now."
RuPaul didn't even change clothes before his music video gig
It sounds like RuPaul Charles' appearance in the B-52 music video didn't exactly come when the star was fully rested and ready to go, despite him seeming so alert. RuPaul explained in 2017 that he and fellow drag queen Lahoma turned up to the set in the same clothes they wore to a club the night before, getting straight off a night bus with no sleep. "I remember being so exhausted, but we did it!" he recalled to The Hollywood Reporter in 2017. 
As for how RuPaul got in front of the camera? His big moment came when the gang tried to do a Soul Train line but couldn't quite get it, so RuPaul being RuPaul, he got front and center to show them. "They were very impressed by the fact that I was able to do that," he recalled. "There have been several times in my life where I pretend to be, not necessarily a wallflower, but someone who is a conscious observer. I'll step in and go 'OK, this is what needs to happen.'"
RuPaul is fond of a trip down memory lane to remember his cameo, too. In 2014, he retweeted a message from a fan claiming they'd loved him since his "Love Shack" days alongside several stills. He touched on his early career highlight once again in 2017 alongside a GIF, writing, "I filmed 'Love Shack '89' after an all-nighter up in da clubs." Iconic.